Shayari for Country"Apni Ye Pehchaan Hai"
|
Aan Desh Ki Shaan Desh Ki Desh Ki Hum Santan Hai.
Teen Rango Se Ranga Tiranga Apni Ye Pehchaan Hai.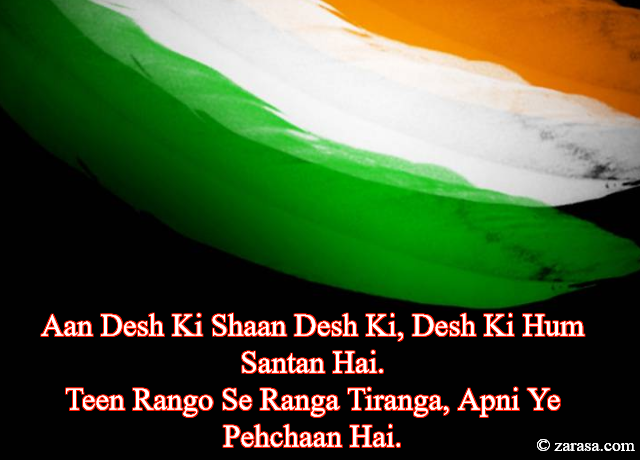 ---

ाँ देश की शान देश की , देश की हम संतान है .
तीन रंगो से रंगा तिरंगा , अपनी ये पहचान है .


---

آن دیش کی شان دیش کی , دیش کی ہم سنتان ہے .
تین رنگو سے رنگ ترنگا , اپنی یہ پہچان ہے .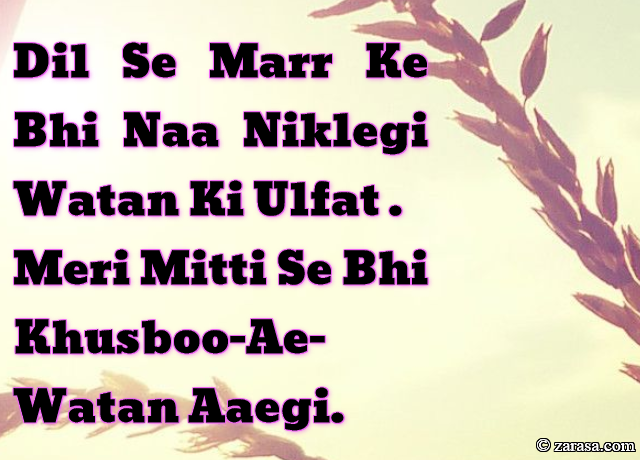 Dil Se Marr Ke Bhi Naa Niklegi Watan Ki Ulfat .
Meri Mitti Se Bhi Khusboo-Ae-Watan Aaegi.
दिल से मर के भी ना निकलेगी वतन की उल्फत .
मेरी मिटटी से भी खुसबू -ऐ -वतन आएगी .
دل سے مر کے بھی نا نکلیگی وطن کی الفت .
میری میٹی سے بھی خسبو -اے -وطن ایگی .
---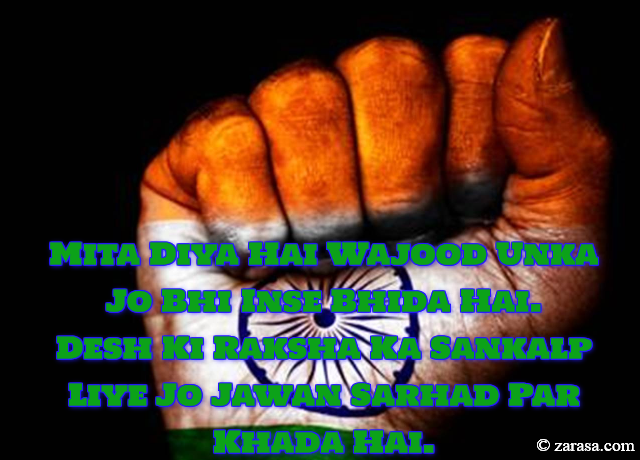 Mita Diya Hai Wajood Unka Jo Bhi Inse Bhida Hai.
Desh Ki Raksha Ka Sankalp Liye Jo Jawan Sarhad Par Khada Hai.
मिटा दिया है वजूद उनका जो भी इनसे भिड़ा है .
देश की रक्षा का संकल्प लिए जो जवान सरहद पर खड़ा है .
مٹا دیا ہے وجود انکا جو بھی انسے بھدا ہے .
دیش کی رکشہ کا سنکلپ لئے جو جوان سرحد پر خدا ہے .
---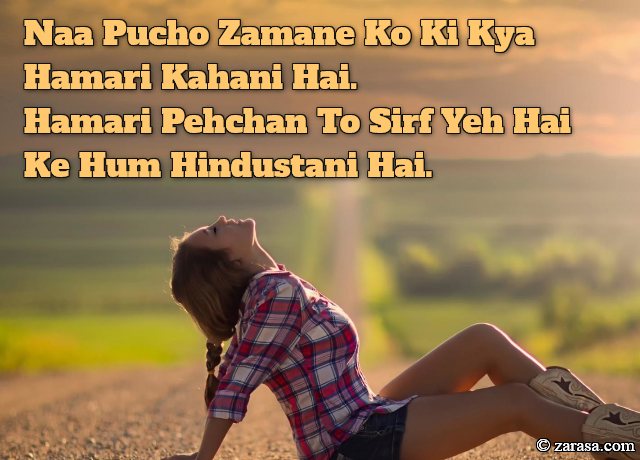 Naa Pucho Zamane Ko Ki Kya Hamari Kahani Hai.
Hamari Pehchan To Sirf Yeh Hai Ke Hum Hindustani Hai.
ना पूछो ज़माने को की क्या हमारी कहानी है .
हमारी पहचान तो सिर्फ यह है के हम हिंदुस्तानी है .
نا پوچھو زمانے کو کی کیا ہماری کہانی ہے .
ہماری پہچان تو صرف یہ ہے کے ہم ہندوستانی ہے .
---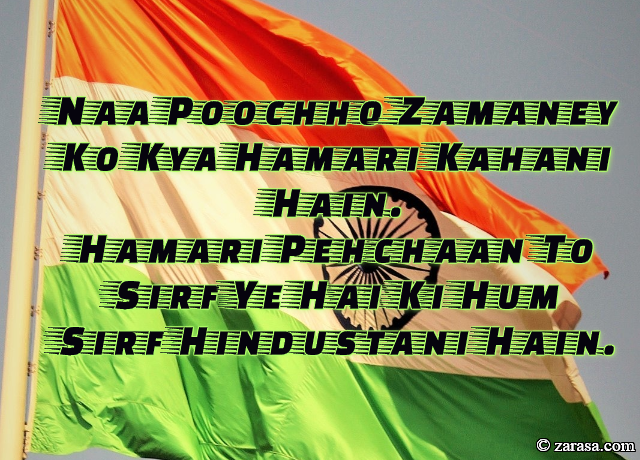 Naa Poochho Zamaney Ko Kya Hamari Kahani Hain.
Hamari Pehchaan To Sirf Ye Hai Ki Hum Sirf Hindustani Hain.
ना पूछो ज़माने को क्या हमारी कहानी हैं .
हमारी पहचान तो सिर्फ ये है की हम सिर्फ हिंदुस्तानी हैं .
نا پوچھو زمانے کو کیا ہماری کہانی ہیں .
ہماری پہچان تو صرف یہ ہے کی ہم صرف ہندوستانی ہیں .
---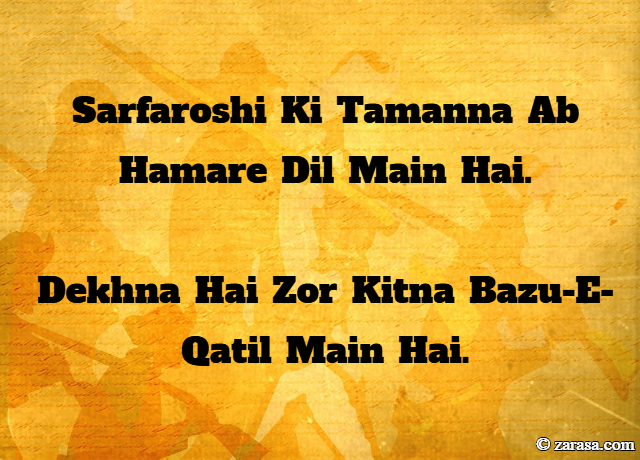 Sarfaroshi Ki Tamanna Ab Hamare Dil Main Hai.
Dekhna Hai Zor Kitna Bazu-E-Qatil Main Hai.

सरफ़रोशी की तमन्ना अब हमारे दिल में है।

देखना है ज़ोर कितना बाज़ू-ए-क़ातिल में है।
سرفروشی کی تمنّا اب ہمارے دل می ہے
دیکھنا ہے زور کتنا بازو ے قاتل می ہے
---