Shayari for Country"Kabhi Watan Ko Mehboob Bana Kar Dekho"
|
Ishq Toh Karta Hai Har Koi, Mehboob Pe Marta Hai Har Koi.
Kabhi Watan Ko Mehboob Bana Kar Dekho,Tujhpe Marega Har Koi.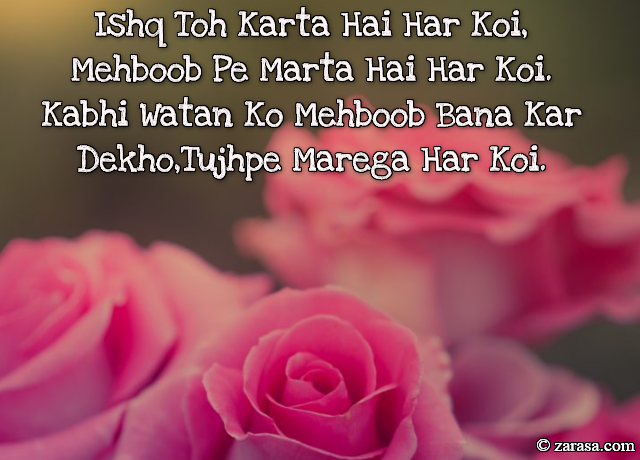 ---

इश्क़ तोह करता है हर कोई , मेहबूब पे मरता है हर कोई .
कभी वतन को मेहबूब बना कर देखो ,तुझपे मरेगा हर कोई .


---

عشق توہ کرتا ہے ہر کوئی , محبوب پی مارتا ہے ہر کوئی .
کبھی وطن کو محبوب بنا کر دیکھو ,تجھپے مریگا ہر کوئی .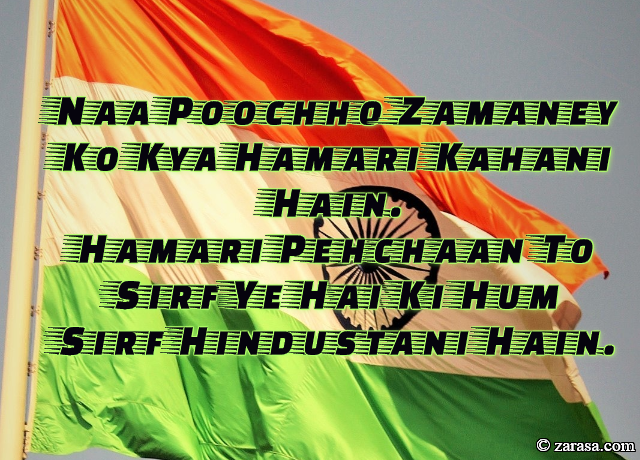 Naa Poochho Zamaney Ko Kya Hamari Kahani Hain.
Hamari Pehchaan To Sirf Ye Hai Ki Hum Sirf Hindustani Hain.
ना पूछो ज़माने को क्या हमारी कहानी हैं .
हमारी पहचान तो सिर्फ ये है की हम सिर्फ हिंदुस्तानी हैं .
نا پوچھو زمانے کو کیا ہماری کہانی ہیں .
ہماری پہچان تو صرف یہ ہے کی ہم صرف ہندوستانی ہیں .
---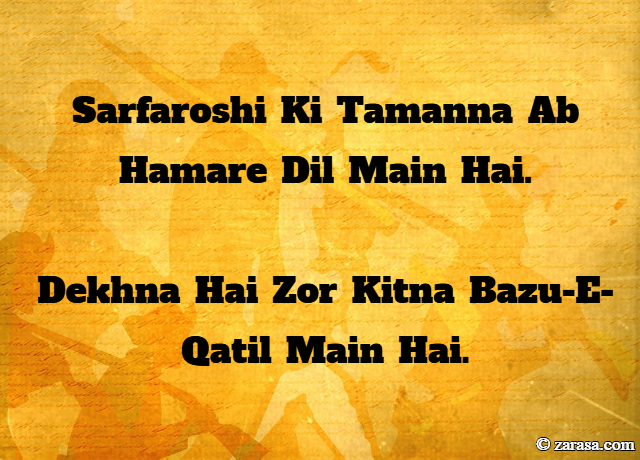 Sarfaroshi Ki Tamanna Ab Hamare Dil Main Hai.
Dekhna Hai Zor Kitna Bazu-E-Qatil Main Hai.

सरफ़रोशी की तमन्ना अब हमारे दिल में है।

देखना है ज़ोर कितना बाज़ू-ए-क़ातिल में है।
سرفروشی کی تمنّا اب ہمارے دل می ہے
دیکھنا ہے زور کتنا بازو ے قاتل می ہے
---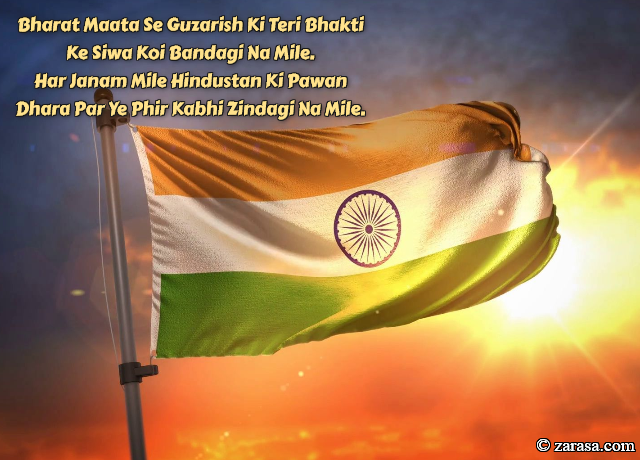 Bharat Maata Se Guzarish Ki Teri Bhakti Ke Siwa Koi Bandagi Na Mile.
Har Janam Mile Hindustan Ki Pawan Dhara Par Ye Phir Kabhi Zindagi Na Mile.
भारत माता से गुज़ारिश की तेरी भक्ति के सिवा कोई बंदगी ना मिले .
हर जनम मिले हिंदुस्तान की पवन धरा पर ये फिर कभी ज़िन्दगी ना मिले.
بھارت ماتا سے گزارش کی تیری بکتی کے سوا کوئی بندگی نہ میل .
ہر جنم میل ہندوستان کی پون دہرا پر یہ پھر کبھی زندگی نہ میل .
---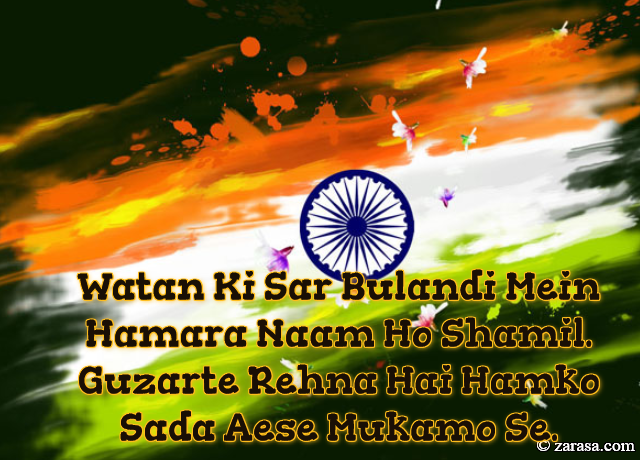 Watan Ki Sar Bulandi Mein Hamara Naam Ho Shamil.
Guzarte Rehna Hai Hamko Sada Aese Mukamo Se.
वतन की सर बुलंदी में हमारा नाम हो शामिल .
गुज़रते रहना है हमको सदा ऐसे मुकामो से .
وطن کی سر بلندی میں ہمارا نام ہو شامل .
گزرتے رہنا ہے ہمکو سدہ ایسے مکمو سے .
---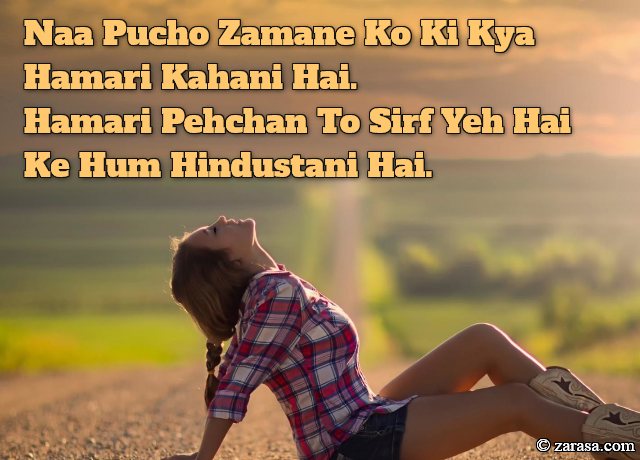 Naa Pucho Zamane Ko Ki Kya Hamari Kahani Hai.
Hamari Pehchan To Sirf Yeh Hai Ke Hum Hindustani Hai.
ना पूछो ज़माने को की क्या हमारी कहानी है .
हमारी पहचान तो सिर्फ यह है के हम हिंदुस्तानी है .
نا پوچھو زمانے کو کی کیا ہماری کہانی ہے .
ہماری پہچان تو صرف یہ ہے کے ہم ہندوستانی ہے .
---