Shayari for Country"Deshbhakti Ki Chamak Rakhta Hoon"
|
Seene Mai Junoon, Aankhon Mai Deshbhakti Ki Chamak Rakhta Hoon.
Dushman Ki Sansein Tham Jaye, Aawaz Mai Wo Dam Rakhta Hoon.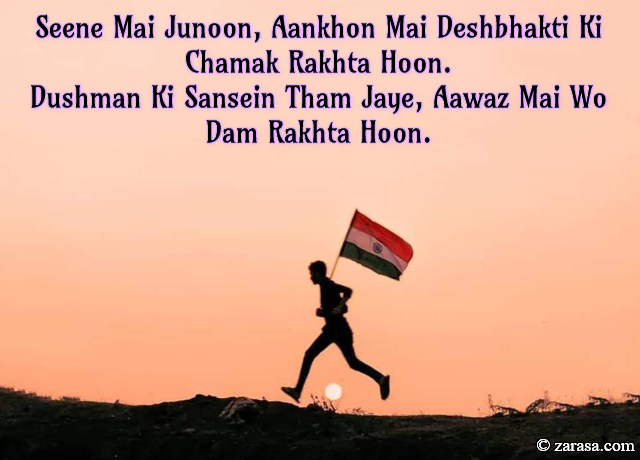 ---

सीने मैं जूनून , आँखों मैं देशभक्ति की चमक रखता हूँ .
दुश्मन की सांसें थम जाये , आवाज़ मैं वो दम रखता हूँ .


---

سینے می جنوں , آنکھوں می دشبھکتی کی چمک رکھتا ہوں .
دشمن کی سانسیں تھام جائے , آواز می وو ڈیم رکھتا ہوں .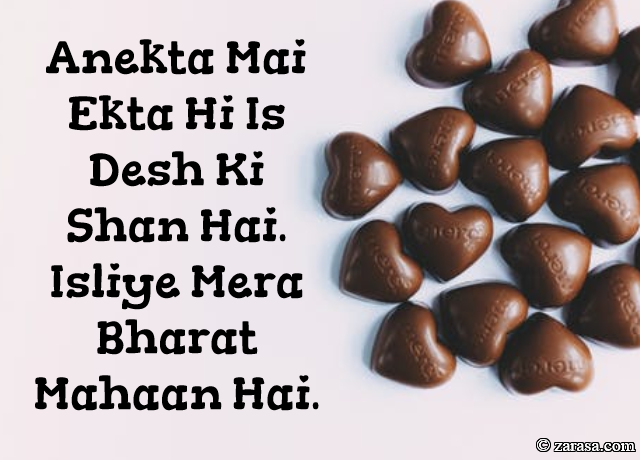 Anekta Mai Ekta Hi Is Desh Ki Shan Hai.
Isliye Mera Bharat Mahaan Hai.
अनेकता मैं एकता ही इस देश की शान है .
इसलिए मेरा भारत महान है .
انیکتا می ایکتا ہی اس دیش کی شان ہے .
اسلئے میرا بھارت مہان ہے .
---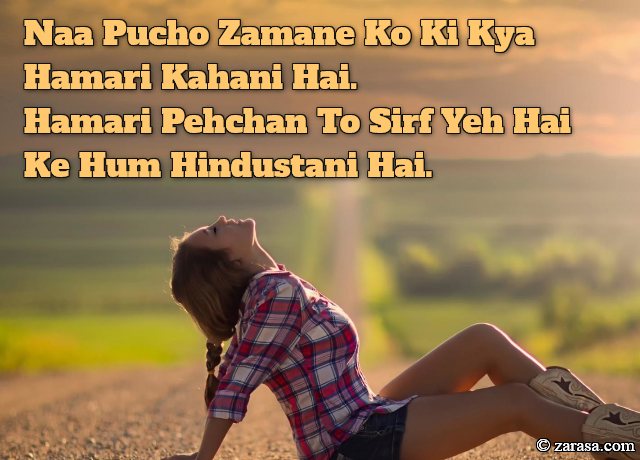 Naa Pucho Zamane Ko Ki Kya Hamari Kahani Hai.
Hamari Pehchan To Sirf Yeh Hai Ke Hum Hindustani Hai.
ना पूछो ज़माने को की क्या हमारी कहानी है .
हमारी पहचान तो सिर्फ यह है के हम हिंदुस्तानी है .
نا پوچھو زمانے کو کی کیا ہماری کہانی ہے .
ہماری پہچان تو صرف یہ ہے کے ہم ہندوستانی ہے .
---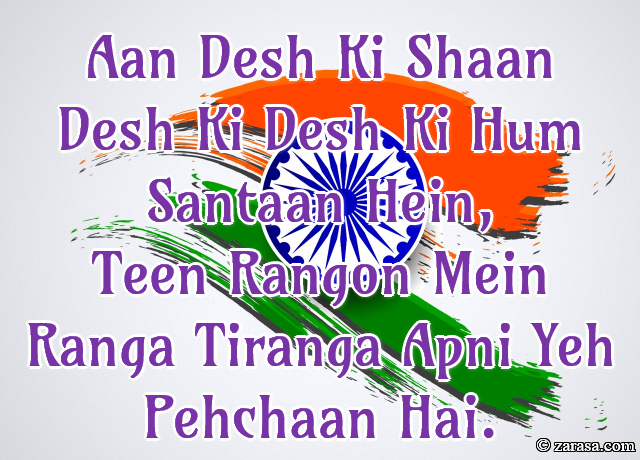 Aan Desh Ki Shaan Desh Ki Desh Ki Hum Santaan Hein,
Teen Rangon Mein Ranga Tiranga Apni Yeh Pehchaan Hai.
ाँ देश की शान देश की देश की हम संतान हैं ,
तीन रंगों में रंगा तिरंगा अपनी यह पहचान है .
ان دیش کی شان دیش کی دیش کی ہم سنتان ہیں ,
تین رنگوں میں رنگ ترنگا اپنی یہ پہچان ہے .
---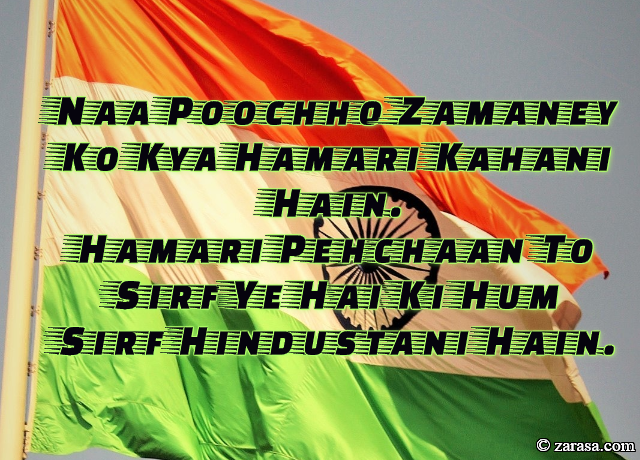 Naa Poochho Zamaney Ko Kya Hamari Kahani Hain.
Hamari Pehchaan To Sirf Ye Hai Ki Hum Sirf Hindustani Hain.
ना पूछो ज़माने को क्या हमारी कहानी हैं .
हमारी पहचान तो सिर्फ ये है की हम सिर्फ हिंदुस्तानी हैं .
نا پوچھو زمانے کو کیا ہماری کہانی ہیں .
ہماری پہچان تو صرف یہ ہے کی ہم صرف ہندوستانی ہیں .
---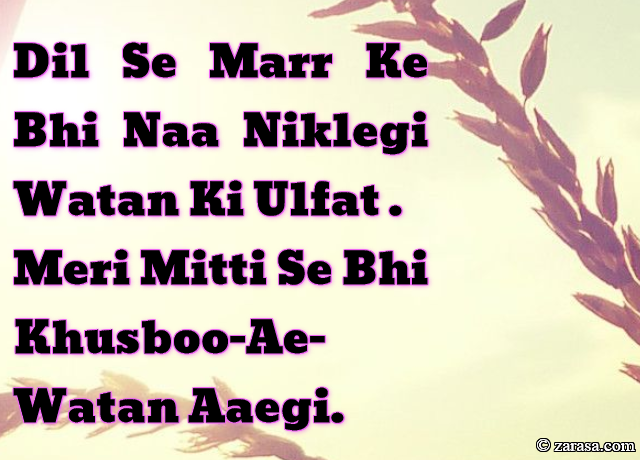 Dil Se Marr Ke Bhi Naa Niklegi Watan Ki Ulfat .
Meri Mitti Se Bhi Khusboo-Ae-Watan Aaegi.
दिल से मर के भी ना निकलेगी वतन की उल्फत .
मेरी मिटटी से भी खुसबू -ऐ -वतन आएगी .
دل سے مر کے بھی نا نکلیگی وطن کی الفت .
میری میٹی سے بھی خسبو -اے -وطن ایگی .
---