Shayari for Kamyabi (success)"Thodi Si Ebaadat Bohat Sa Sila Deti Hai"
|
Thodi Si Ebaadat Bohat Sa Sila Deti Hai
Gulab Ki Tarha Chehra Khila Deti Hai
Allah Ki Yaad Ko Dil Se Jane Na Dena
Kabhi Kabhi Choti Si Dua Arsh Hila Deti Hai

---

थोड़ी सी इबादत बोहत सा सिला देती है
गुलाब की तरह चेहरा खिला देती है
अल्लाह की याद को दिल से जाने न देना
कभी कभी छोटी सी दुआ अर्श हिला देती है


---

تھوڑی سی عبادت بہت سا سلا دیتی ہے
گلاب کی طرھ چہرہ کھلا دیتی ہے
الله کی یاد کو دل سے جانے نہ دینا  
کبھی کبھی چھوٹی سی دوا عرش ہلا دیتی ہے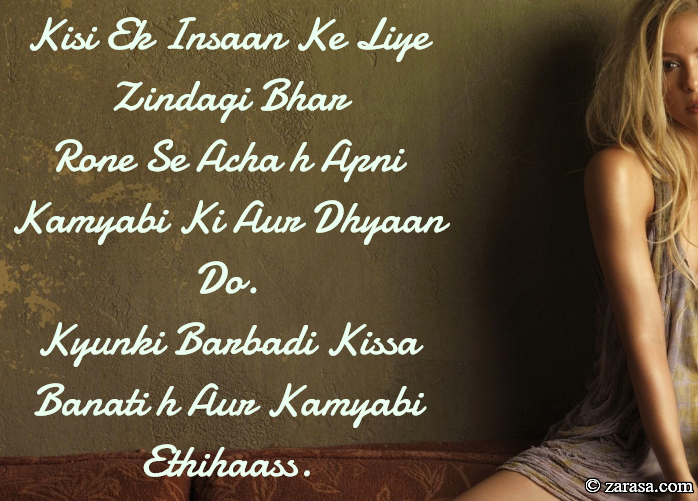 Kisi Ek Insaan Ke Liye Zindagi Bhar
Rone Se Acha h Apni Kamyabi Ki Aur Dhyaan Do.
Kyunki Barbadi Kissa Banati h Aur Kamyabi Ethihaass.
किसी एक इंसान के लिए ज़िन्दगी भर
रोने से ाचा ह अपनी कामयाबी की और ध्यान दो ..
क्यूंकि बर्बादी किस्सा बनती ह और कामयाबी इतिहास.
کسی ایک انسان کے لئے زندگی بھر
رونے سے اچھا ہ اپنی کامیابی کی اور دھیان دو .
کیونکی بربادی کسسا بناتی ہ اور کامیابی ایتھاسس .
---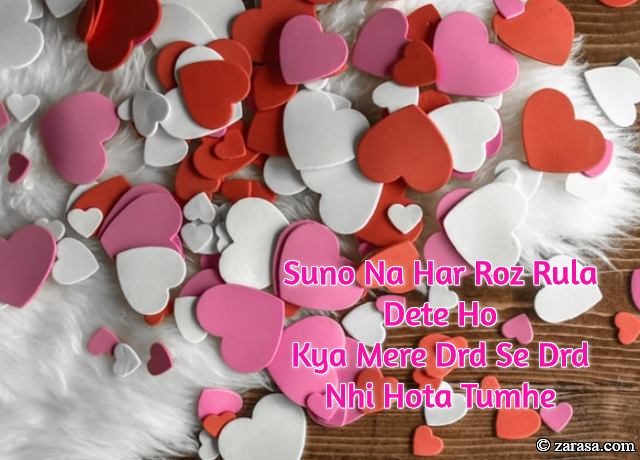 Suno Na Har Roz Rula Dete Ho
Kya Mere Dard Se Dard Nhi Hota Tumhe
सुनो ना हर रोज़ रुला देते हो
क्या मेरे दर्द से दर्द नहीं होता तुम्हे
سنو نا ہر روز رلا دیتے ہو
کیا میرے درد سے درد نہی ہوتا تمھ
---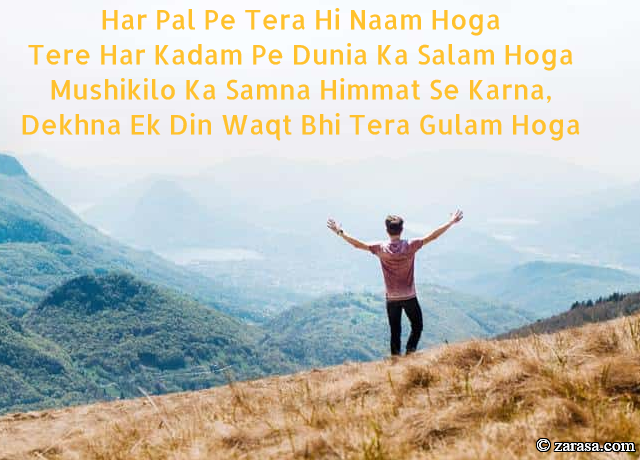 Har Pal Pe Tera Hi Naam Hoga
Tere Har Kadam Pe Dunia Ka Salam Hoga
Mushikilo Ka Samna Himmat Se Karna,
Dekhna Ek Din Waqt Bhi Tera Gulam Hoga




हर पल पे तेरा ही नाम होगा
तेरे हर कदम पे दुनिआ का सलाम होगा
मुशिकिलो का सामना हिम्मत से करना
देखना एक दिन वक़्त भी तेरा गुलाम होगा
ہر پل پہ تیرا ہی نام ہوگا
تیرے ہر قدم پہ دنیا کا سلام ہوگا
مشیکلو کا سامنا ہیممت سے کرن
دیکھنا ایک دن وقت بھی تیرا غلام ہوگا
---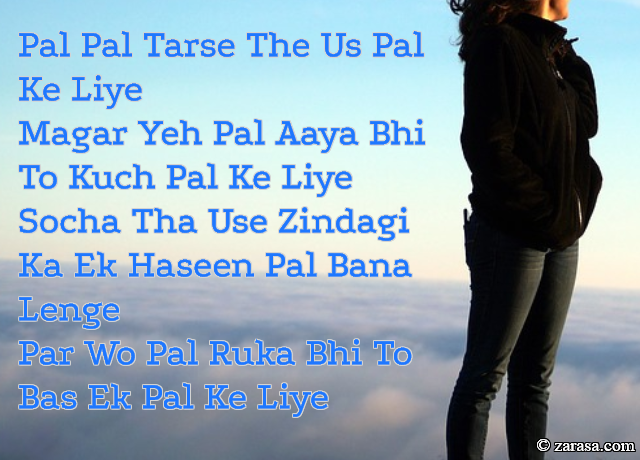 Pal Pal Tarse The Us Pal Ke Liye
Magar Yeh Pal Aaya Bhi To Kuch Pal Ke Liye
Socha Tha Use Zindagi Ka Ek Haseen Pal Bana Lenge
Par Wo Pal Ruka Bhi To Bas Ek Pal Ke Liye
पल पल तरसे थे उस पल के लिए
मगर यह पल आया भी तो कुछ पल के लिए
सोचा था उसे ज़िन्दगी का एक हसीं पल बना लेंगे
पर वो पल रुका भी तो बस एक पल के लिए
پل پل ترسے تھے اس پل کے لئے
مگر یہ پل آیا بھی تو کچھ پل کے لئے
سوچا تھا اسے زندگی کا ایک حسین پل بنا لینگے
پر وو پل روکا بھی تو بس ایک پل کے لئے
---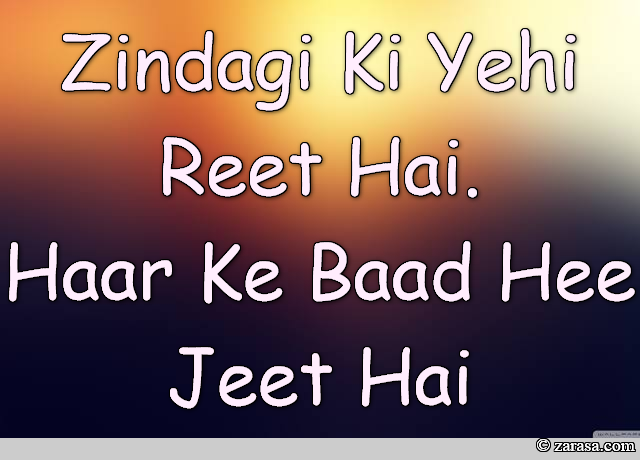 Zindagi Ki Yehi Reet Hai.
Haar Ke Baad Hee Jeet Hai.
ज़िन्दगी की एहि रीत है ,
हार के बाद ही जीत है
زندگی کی یہ i رے t ہے ,
ہار ک کے بعد ہی جیت ہے
---