Shayari for Kamyabi (success)"Thodi Si Ebaadat Bohat Sa Sila Deti Hai"
|
Thodi Si Ebaadat Bohat Sa Sila Deti Hai
Gulab Ki Tarha Chehra Khila Deti Hai
Allah Ki Yaad Ko Dil Se Jane Na Dena
Kabhi Kabhi Choti Si Dua Arsh Hila Deti Hai

---

थोड़ी सी इबादत बोहत सा सिला देती है
गुलाब की तरह चेहरा खिला देती है
अल्लाह की याद को दिल से जाने न देना
कभी कभी छोटी सी दुआ अर्श हिला देती है


---

تھوڑی سی عبادت بہت سا سلا دیتی ہے
گلاب کی طرھ چہرہ کھلا دیتی ہے
الله کی یاد کو دل سے جانے نہ دینا  
کبھی کبھی چھوٹی سی دوا عرش ہلا دیتی ہے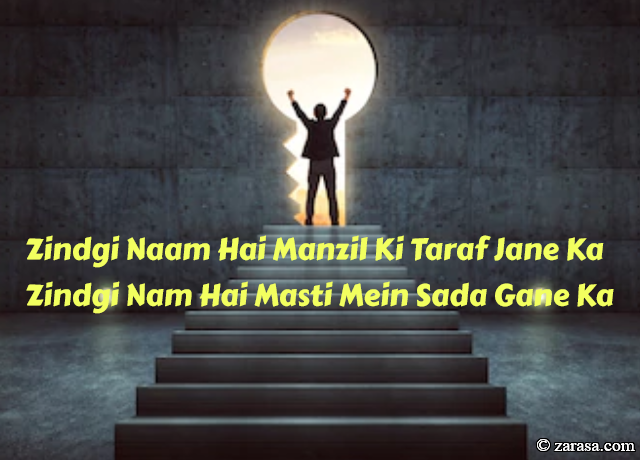 Zindgi Naam Hai Manzil Ki Taraf Jane Ka
Zindgi Nam Hai Masti Mein Sada Gane Ka
ज़िंदगी नाम है मंज़िल की तरफ जाने का
ज़िंदगी नाम है मस्ती में सदा गाने का
زندگی نام ہے منزل کی طرف جانے کا
زندگی نام ہے مستی میں سادہ گانے کا
---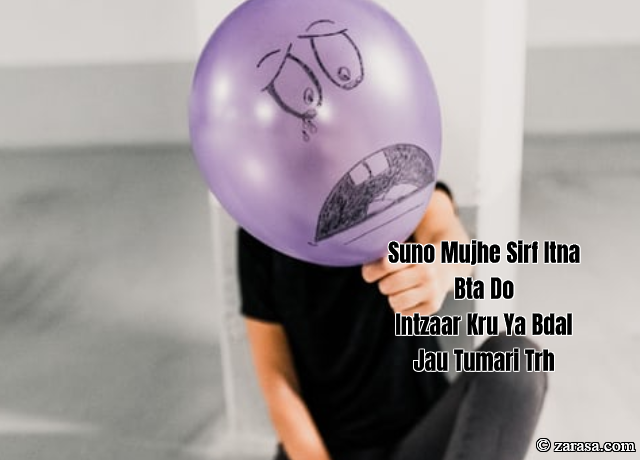 Suno Mujhe Sirf Itna Bta Do
Intzaar Kru Ya Bdal Jau Tumhari Tarh
सुनो मुझे सिर्फ इतना बता दो
इंतज़ार कृ या बदल जाऊ तुम्हारी तरह
سنو مجھے صرف اتنا بتا دو
انتظار کرو یا بدل جاؤ تماری طرح
---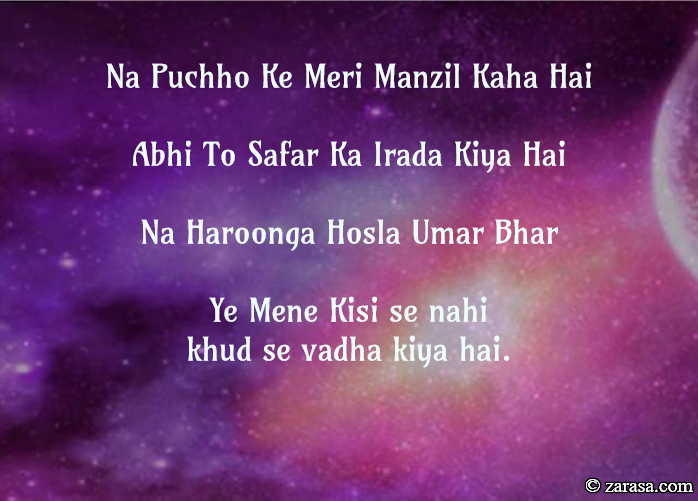 Na Puchho Ke Meri Manzil Kaha Hai
Abhi To Safar Ka Irada Kiya Hai
Na Haroonga Hosla Umar Bhar
Ye Mene Kisi se nahi khud se vadha kiya hai.
न पूछो के मेरी मंज़िल कहा है
अभी तो सफर का इरादा किया है
न हरूँगा हौसला उम्र भ
ये मेने किसी से नहीं खुद से वधा किया है .
نہ پوچھو کے میری منزل کہاں ہے
ابھی تو سفر کا ارادہ کیا ہے
نہ حرونگا حوصلہ امر بھر
یہ مینے کسی سے نہیں خود سے ودھ کیا ہے .
---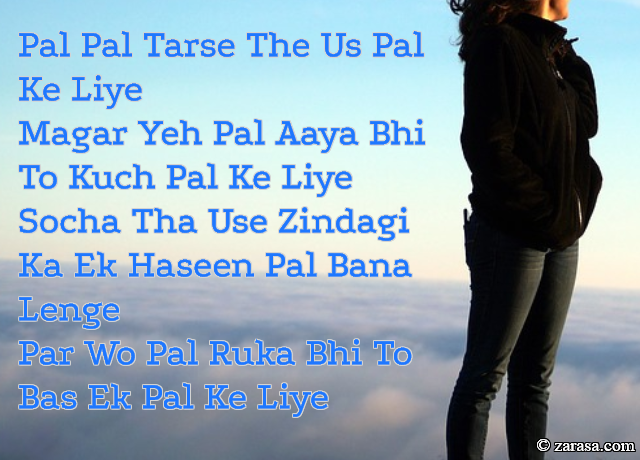 Pal Pal Tarse The Us Pal Ke Liye
Magar Yeh Pal Aaya Bhi To Kuch Pal Ke Liye
Socha Tha Use Zindagi Ka Ek Haseen Pal Bana Lenge
Par Wo Pal Ruka Bhi To Bas Ek Pal Ke Liye
पल पल तरसे थे उस पल के लिए
मगर यह पल आया भी तो कुछ पल के लिए
सोचा था उसे ज़िन्दगी का एक हसीं पल बना लेंगे
पर वो पल रुका भी तो बस एक पल के लिए
پل پل ترسے تھے اس پل کے لئے
مگر یہ پل آیا بھی تو کچھ پل کے لئے
سوچا تھا اسے زندگی کا ایک حسین پل بنا لینگے
پر وو پل روکا بھی تو بس ایک پل کے لئے
---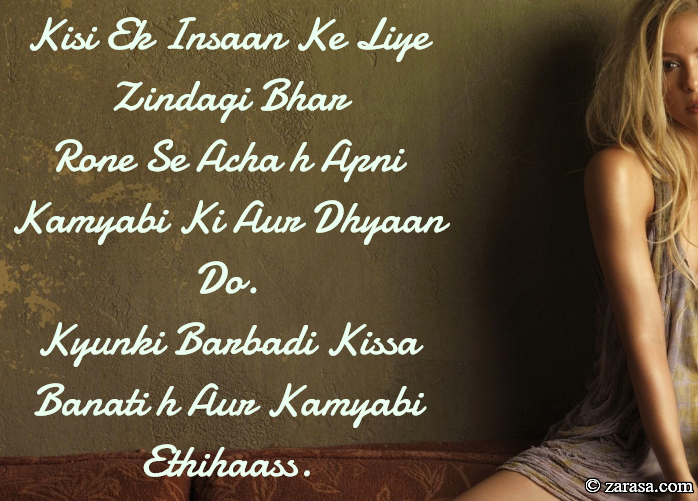 Kisi Ek Insaan Ke Liye Zindagi Bhar
Rone Se Acha h Apni Kamyabi Ki Aur Dhyaan Do.
Kyunki Barbadi Kissa Banati h Aur Kamyabi Ethihaass.
किसी एक इंसान के लिए ज़िन्दगी भर
रोने से ाचा ह अपनी कामयाबी की और ध्यान दो ..
क्यूंकि बर्बादी किस्सा बनती ह और कामयाबी इतिहास.
کسی ایک انسان کے لئے زندگی بھر
رونے سے اچھا ہ اپنی کامیابی کی اور دھیان دو .
کیونکی بربادی کسسا بناتی ہ اور کامیابی ایتھاسس .
---