Shayari for Kamyabi (success)"Thodi Si Ebaadat Bohat Sa Sila Deti Hai"
Thodi Si Ebaadat Bohat Sa Sila Deti Hai
Gulab Ki Tarha Chehra Khila Deti Hai
Allah Ki Yaad Ko Dil Se Jane Na Dena
Kabhi Kabhi Choti Si Dua Arsh Hila Deti Hai

---

थोड़ी सी इबादत बोहत सा सिला देती है
गुलाब की तरह चेहरा खिला देती है
अल्लाह की याद को दिल से जाने न देना
कभी कभी छोटी सी दुआ अर्श हिला देती है


---

تھوڑی سی عبادت بہت سا سلا دیتی ہے
گلاب کی طرھ چہرہ کھلا دیتی ہے
الله کی یاد کو دل سے جانے نہ دینا  
کبھی کبھی چھوٹی سی دوا عرش ہلا دیتی ہے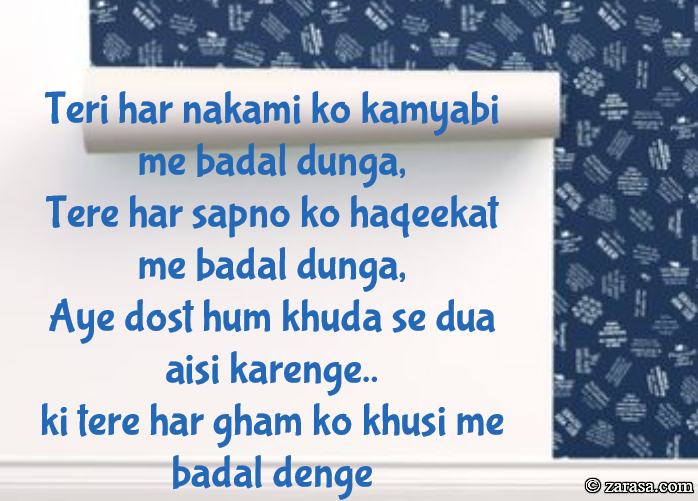 Teri Har Nakami Ko Kamyabi Me Badal Dunga.
Tere Har Sapno Ko Haqeekat Me Badal Dunga.
Aye Dost Hum Khuda Se Dua Aisi Karenge.
Ki Tere Har Gham Ko Khusi Me Badal Denge.
तेरी हर नाकामी को कामयाब में बदल दूंगा ,
तेरे हर सपनो को हक़ीक़त में बदल दूंगा ,
ए दोस्त हम खुदा से दुआ ऐसी करेंगे ..
की तेरे हर ग़म को खुसी में बदल देंगे
تیری ہر ناکامی کو کامیابی مے بدل دونگ ,
تیرے ہر سپنو کو حقیقت مے بدل دونگا ,
ہے دوست ہم خدا سے دوا ایسی کرینگے ..
کی تیرے ہر غم کو خصی مے بدل دینگے
---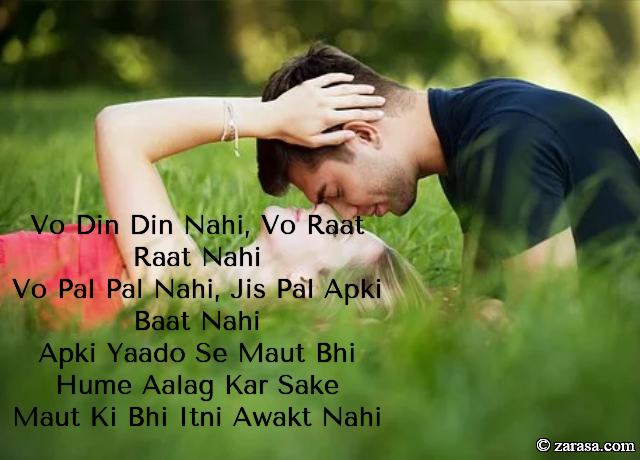 Vo Din Din Nahi, Vo Raat Raat Nahi
Vo Pal Pal Nahi, Jis Pal Apki Baat Nahi
Apki Yaado Se Maut Bhi Hume Aalag Kar Sake
Maut Ki Bhi Itni Awakt Nahi
वो दिन दिन नहीं , वो रात रात नहीं
वो पल पल नहीं , जिस पल आपकी बात नहीं
आपकी यादो से मौत भी हमे अलग कर सके
मौत की भी इतनी अव्यक्त नहीं
وہ دن دن نہیں , وو رات رات نہیں
وہ پل پل نہیں , جس پل آپکی بات نہیں
آپکی یادو سے موت بھی ہمیں الگ کر سکے
موت کی بھی اتنی آواکت نہیں
---
Insaan ko Us waqt Tak Koi Nahi Hara Sakta
Jab Tak Wo Apne Aap Se Na Haar Jaye
इंसान को उस वक़्त तक कोई नहीं हरा सकता
जब तक वो अपने आप से नहार जाये
انسان کو اس وقت تک کوئی نہیں ہر سکتا
جب تک وو اپنے آپ سے نہ ہار جائے
---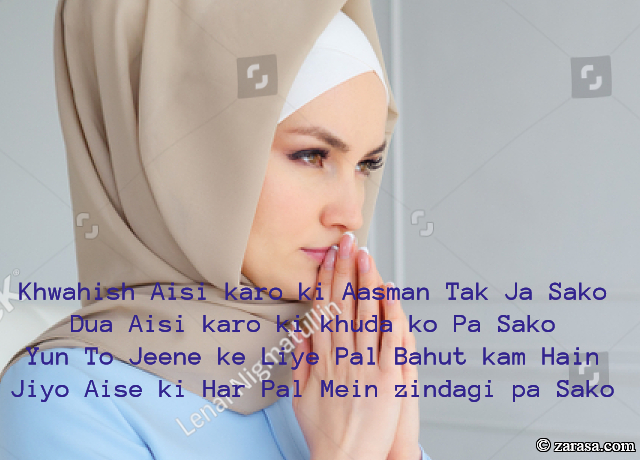 Khwahish Aisi karo ki Aasman Tak Ja Sako
Dua Aisi karo ki khuda ko Pa Sako
Yun To Jeene ke Liye Pal Bahut kam Hain
Jiyo Aise ki Har Pal Mein zindagi pa Sako
ख्वाहिश ऐसी करो की आसमान तक जा सको
दुआ ऐसी करो की खुदा को प् सको
यूँ तो जीने के लिए पल बहुत काम हैं
जियो ऐसे की हर पल में ज़िन्दगी प् सको
خواہش ایسی کرو کی آسمان تک جا سکو
دوا ایسی کرو کی خدا کو پا سکو
یوں تو جینے کے لئے پل بہت کم ہیں
جیو ایسے کی ہر پل میں زندگی i پا سکو
---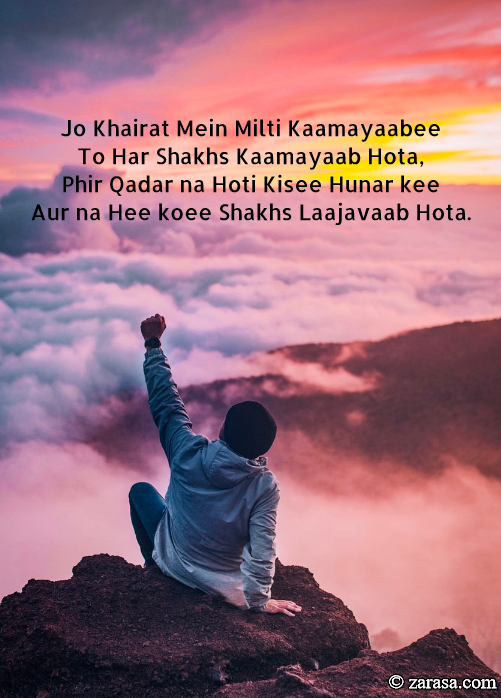 Jo Khairat Mein Milti Kaamayaabee
To Har Shakhs Kaamayaab Hota,
Phir Qadar na Hoti Kisee Hunar kee
Aur na Hee koee Shakhs Laajavaab Hota.
जो खैरात में मिलती कामयाबी
तो हर शख्स कामयाब होता ,
फिर क़दर न होती किसी हुनर की
और न ही कोइ शख्स लाजवाब होता


جو خیرات میں ملتی کامےابے
تو ہر شخص کامیاب ہوتا
پھر قدر نہ ہوتے کیسے ہنر کی
اور نہ ہی کوئی شخص لاجواب ہوتا
---