Shayari for Eyes "कभी वक़्त डूबा कभी हम दुबे"
|
Kabhi Waqt Duba Kabhi Hum Dube,
Teri Akhon Ko Log Bhi To Jheel Kaha Karte The.
Bade Beabroo Bane Pyar Ki Khatir Hum,
Tere Kuche Main Bankar Hum Dhul Raha Karte The.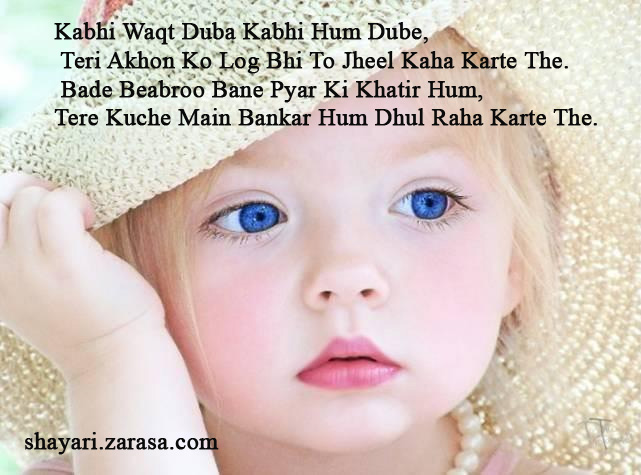 ---

कभी वक़्त डूबा कभी हम दुबे,
तेरी आँखों को लोग भी तो झील कहा करते थे.
बड़े बेआबरू बने प्यार की खातिर हम,
तेरे कूचे मैं बनकर हम धूल रहा करते थे।


---

کبھی وقت ڈوبا کبھی ہم ڈوبے
تیری انکھون کو لوگ بھی جھیل کہا کرتے تھے
برھے بےابرو بنے پیار کی خھاتر ہم
تیرے کوچے مے بنکر ہم دھول رحا کرتے تھے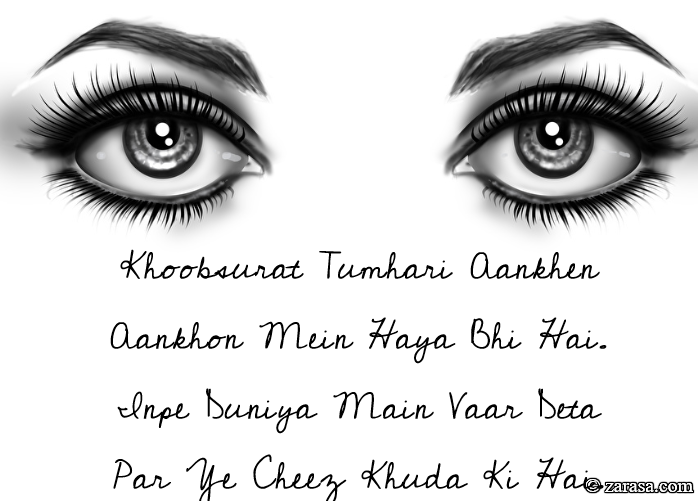 Khoobsurat Tumhari Aankhen Aankhon Mein Haya Bhi Hai.
Inpe Duniya Main Vaar Deta Par Ye Cheez Khuda Ki Hai.
खूबसूरत तुम्हारी आँखें आँखों में हाय भी है .
इनपे दुनिया मैं वार देता पर ये चीज़ खुदा की है .
خوبصورت تمہاری آنکھیں آنکھوں میں ہی بھی ہے .
انپے دنیا میں وار دیتا پر یہ چیز خدا کی ہے .
---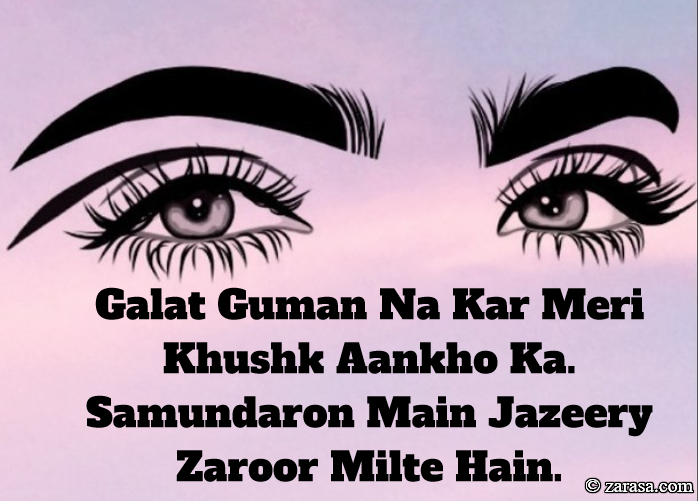 Galat Guman Na Kar Meri Khushk Aankho Ka.
Samundaron Main Jazeery Zaroor Milte Hain.
गलत गुमान ना कर मेरी खुश्क आँखों का .
समन्दरों मैं जज़ीरी ज़रूर मिलते हैं .
گلت گمان نہ کر میری خشک آنکھوں کا .
سمندروں میں جزیرے ضرور ملتے ہیں
---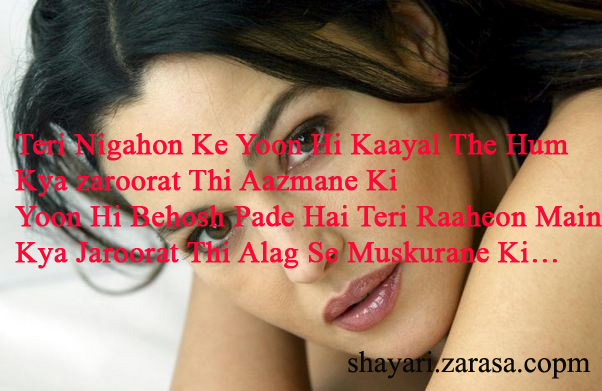 Teri Nigahon Ke Yoon Hi Kaayal The Hum
Kya zaroorat Thi Aazmane Ki
Yoon Hi Behosh Pade Hai Teri Raaheon Main
Kya Jaroorat Thi Alag Se Muskurane Ki…



तेरी निगाहों के यूं ही कायल थे हम
क्या ज़रुरत थी आज़माने की
यूं ही बेहोश पड़े है तेरी राहों मैं
क्या जरूरत थी अलग से मुस्कुराने की…
تیری نگاہوں کے یوں ہی کایل تھے ہم
کیا ضرورت تھی آزمانے کی
یوں ہی بیہوش پڑے ہے تیری راہوں میں
کیا ضرورت تھی الگ سے مسکرانے کی
---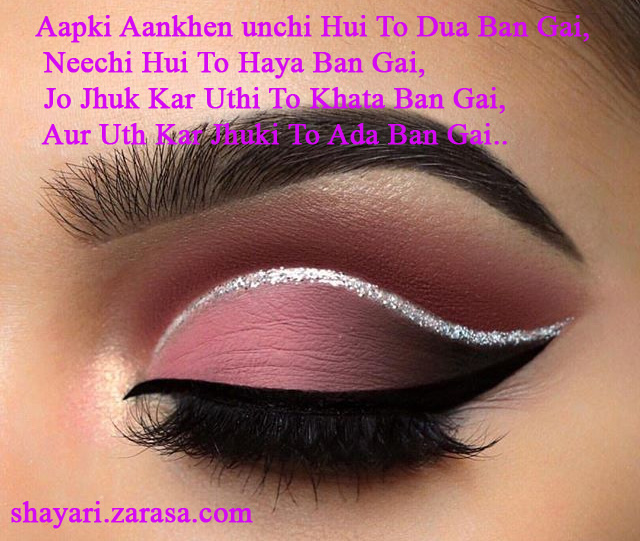 Aapki Aankhen unchi Hui To Dua Ban Gai,
Neechi Hui To Haya Ban Gai,
Jo Jhuk Kar Uthi To Khata Ban Gai,
Aur Uth Kar Jhuki To Ada Ban Gai..



आपकी आँखें ऊँची हुई तो दुआ बन गई,
नीची हुई तो हाय बन गई,
जो झुक कर उठी तो खता बन गई,
और उठ कर झुकी तो अदा बन गई।
اپ کی انکحعن اءنچی حوی تو حےا بن گی
نععچحی حوی تو حےا بن گین
جو جھک کر اٹھی تو ختا بن گین
اور اٹھ کر جھکی تو ادا بن گین۔
---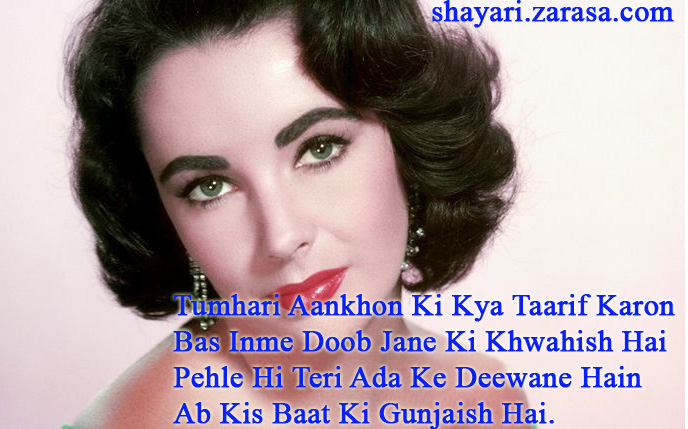 Tumhari Aankhon Ki Kya Taarif Karon
Bas Inme Doob Jane Ki Khwahish Hai
Pehle Hi Teri Ada Ke Deewane Hain
Ab Kis Baat Ki Gunjaish Hai.




तुम्हारी आँखों की क्या तारीफ़ करूं,
बस इनमे डूब जाने की ख्वाहिश है,
पहले ही तेरी अदा के दीवाने हैं,
अब किस बात की गुंजाईश है।
تمہاری انکھون کی کیا تاریف کرون
بس ان مین ڈوب جانے کو جی چاحتا ہے
پہلے حی تیری ادا کے دیوانے ہین
اب کسبات کی گنجایش ہے۔
---