Shayari for Happiness "खुद ही मुस्कान आ जाती है "
|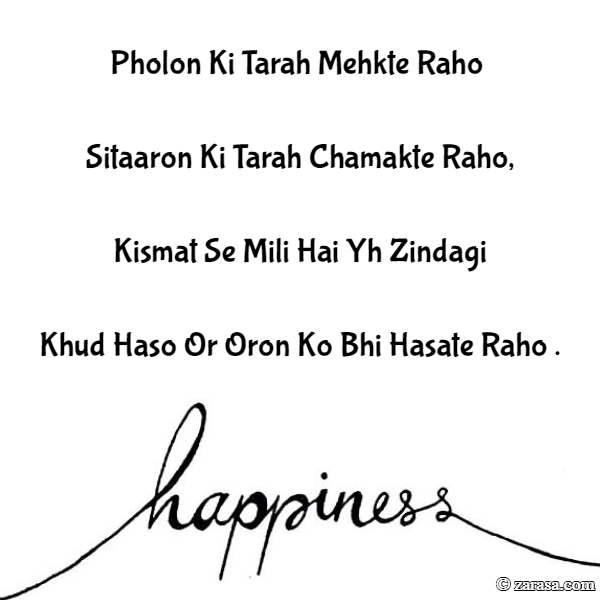 Pholon Ki Tarah Mehkte Raho
Sitaaron Ki Tarah Chamakte Raho,
Kismat Se Mili Hai Yh Zindagi
Khud Haso Or Oron Ko Bhi Hasate Raho .
फूलों की तरह महकते रहो
सितारों की तरह चमकते रहो,
किस्मत से मिली है ये ज़िन्दगी
ख़ुद हँसो और औरों को भी हंसाते रहो।
پھولوں کی طرح مہکتے رہو
ستاروں کی طرح چمکتے رہو
کسمت سے ملی ہے یہ زندگی
خود حصوں اور اروں کو بھی ہستے رہو
---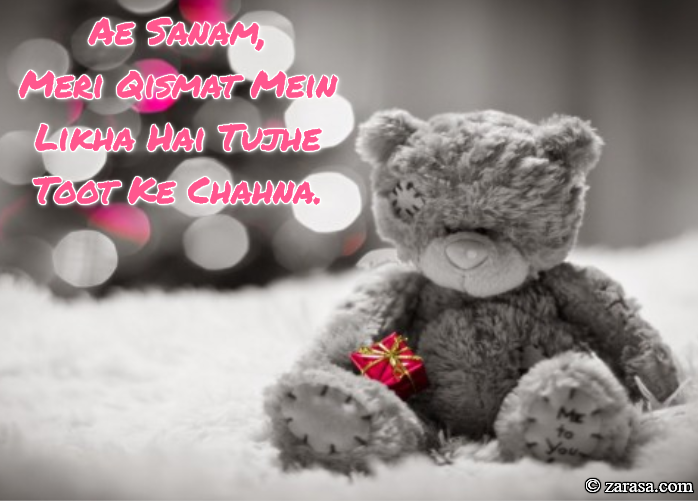 Ae Sanam,
Meri Qismat Mein Likha Hai Tujhe Toot Ke Chahna.
ऐ सनम ,
मेरी क़िस्मत में लिखा है तुझे टूट के चाहना .
اے سنم ,
میری قسمت میں لکھا ہے تجھے ٹوٹ کے چاہنا .
---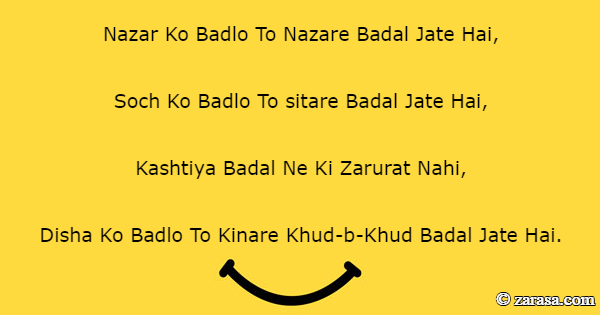 Nazar Ko Badlo To Nazare Badal Jate Hai,
Soch Ko Badlo To sitare Badal Jate Hai,
Kashtiya Badal Ne Ki Zarurat Nahi,
Disha Ko Badlo To Kinare Khud-b-Khud Badal Jate Hai.
नज़र को बदलो तो नज़ारे बदल जाते है,
सोच को बदलो तो सितारे बदल जाते है,
कश्तिया बदल ने की ज़रूरत नहीं ,
दिशा को बदलो तो किनारे खुद बा खुद बदल जाते है।
نظر کو بفلو تو نظارے بدل جاتے ہے
سوچ کو بدلو تو ستارے بدل جاتے ہے
کشتیا بدل نے کی ضرورت نہیں
دشا کو بدلو تو کنارے خود با خود بدل جاتے ہے
---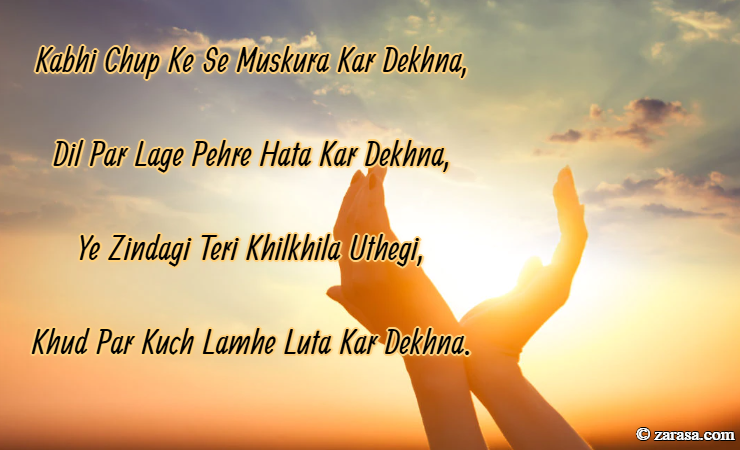 Kabhi Chup Ke Se Muskura Kar Dekhna,
Dil Par Lage Pehre Hata Kar Dekhna,
Ye Zindagi Teri Khilkhila Uthegi,
Khud Par Kuch Lamhe Luta Kar Dekhna.
क़भी चुपके से मुस्कुरा कर देखना,
दिल पर लगे पहरे हटा कर देख़ना,
ये ज़िन्दग़ी तेरी खिलखिला उठेगी,
ख़ुद पर कुछ लम्हें लुटा कर देखना|
کبھی چپکے سے مسکرا کر دیکھنا
دل پر لگے پھرے ہٹا کر دیکھنا
یہ زندگی تیری کھلکھلا اٹھےگی
خود پر کچھ لمحے لوٹا کر دیکھنا
---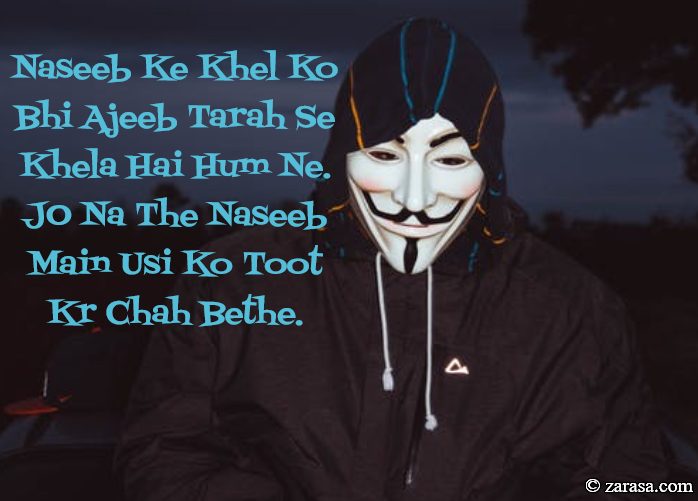 Naseeb Ke Khel Ko Bhi Ajeeb Tarah Se Khela Hai Hum Ne.
JO Na The Naseeb Main Usi Ko Toot Kr Chah Bethe.
नसीब के खेल को भी अजीब तरह से खेला है हम ने .
जो ना थे नसीब मैं उसी को टूट कर छह बैठे .
نسیب کے کھل کو بھی عجیب طرح سے کھلا ہے ہم نے .
جو نہ تھے نصیب میں اسی کو ٹوٹ کر چہ بیٹھے .
---