Shayari for India (Country) "ना पूछो जमाने को कि क्या हमारी कहानी है,"
|
Na Poocho Zamane Ko Ki Kya Hamari Kahani Hai,
Hamari Pehchan To Sirf Yeh He Ki Hum Hindustani Hai.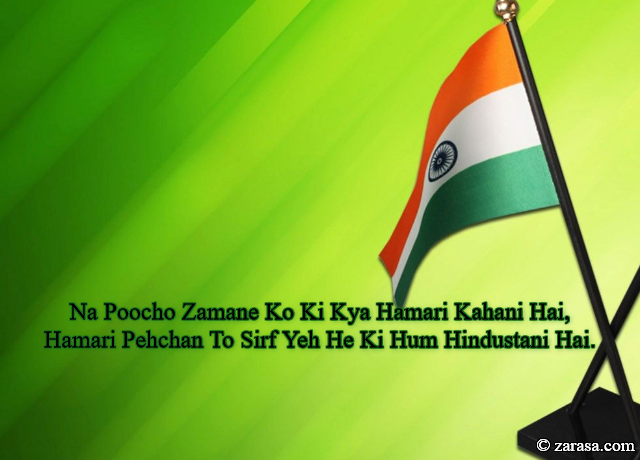 ---

ना पूछो जमाने को कि क्या हमारी कहानी है,
हमारी पहचान तो सिर्फ यह है कि हम हिंदुस्तानी हैं!


---

نہ پوچھو زمانے کو کی کیا ہماری کہانی ہے,
ہماری پہچان تو صرف یہ ہے کی ہم ہندوستانی ہے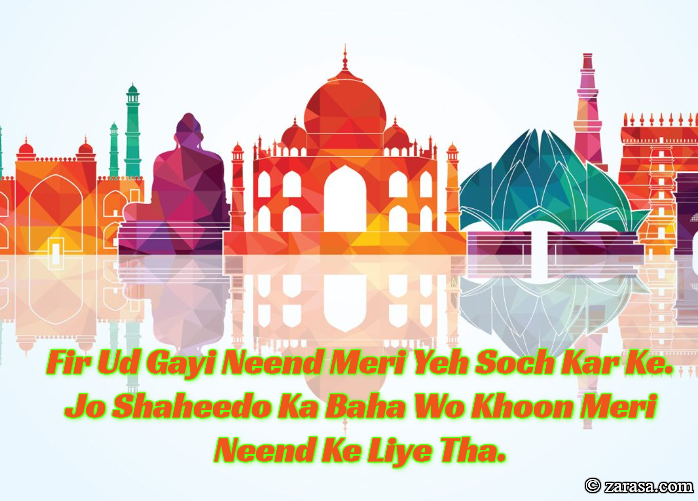 Fir Ud Gayi Neend Meri Yeh Soch Kar Ke.
Jo Shaheedo Ka Baha Wo Khoon Meri Neend Ke Liye Tha.
फिर उड़ गयी नींद मेरी यह सोच कर के .
जो शहीदों का बहा वो खून मेरी नींद के लिए था .
فر اد گی نیند میری یہ سوچ کر کے .
جو شہیدو کا بہا وو خون میری نیند کے لئے تھا .
---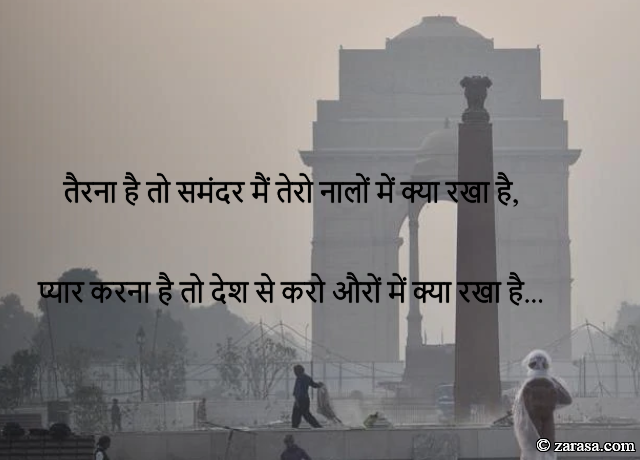 Terna Hai To Samandar Me Tero Naalon Me Kya Rakha Hai,
Pyar Karna Hai To Desh Se Karo Auron Me Kya Rakha Hai...
तैरना है तो समंदर मैं तेरो नालों मैं क्या रखा है,
प्यार करना है तो देश से करो औरों मैं क्या रखा है...
تیرنا ہے تو سمندر می تھرو نالوں میں کیا رکھا ہے'
پیار کرنا ہے تو دیش میں کرو آوروں میں کیا رکھا ہے -
---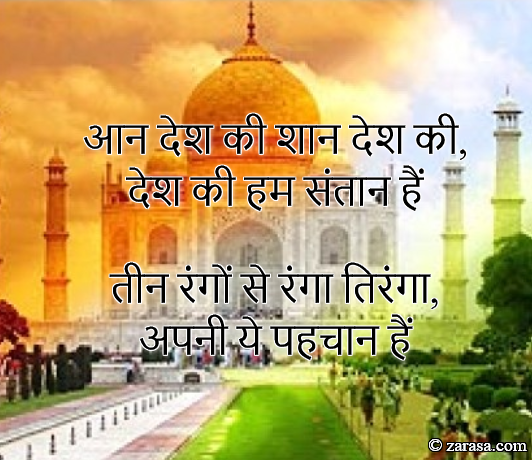 Aan Desh ki, Shaan Desh ki,
Desh ki Hum Santaan Hain

Teen Rango se Ranga Tiranga,
Apni Yeh Pehchaan Hai
आन देश की शान देश की,
देश की हम संतान हैं
तीन रंगों से रंगा तिरंगा,
अपनी ये पहचान हैं
آن دیش کی شان دیش کی ,
دیش کی ہم سنتان ہیں
تین رنگو سے رنگا ترنگا ,
اپنی یہ پہچان ہے -
---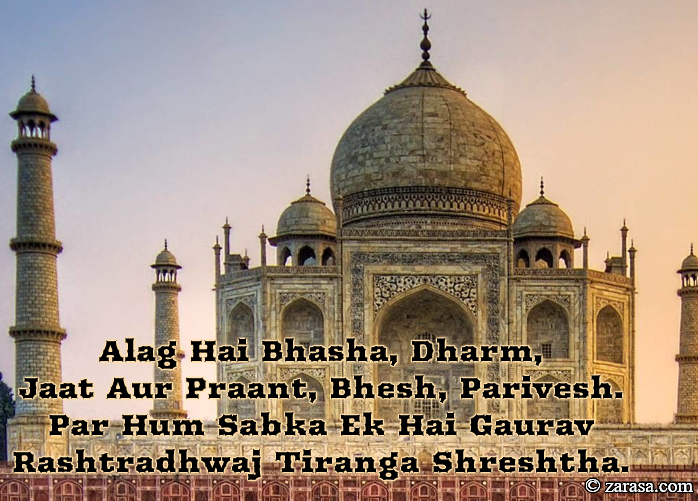 Alag Hai Bhasha, Dharm, Jaat Aur Praant, Bhesh, Parivesh.
Par Hum Sabka Ek Hai Gaurav Rashtradhwaj Tiranga Shreshtha.
अलग है भाषा , धर्म , जात और प्रांत , भेष , परिवेश .
पर हम सबका एक है गौरव राष्ट्रध्वज तिरंगा श्रेष्ठ .
الگ ہے بھاشا , دھرم , جات اور پرانت , بہش , پریویش .
پر ہم سبکا ایک ہے گورو راشٹرادھوج ترنگا شریشتھا .
---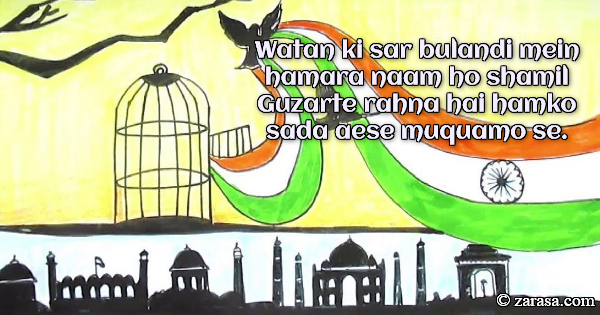 Watan Ki Sar Bulandi Mein Hamara Naam Ho Shamil
Guzarte Rahna Hai Hamko Sada Aese Muquamo Se.
वतन की सर बुलंदी में, हमारा नाम हो शामिल
गुजरते रहना है हमको, सदा ऐसे मुकामो से.
وطن کی سر بلندی میں ہمارا نام ہو شامل
گزرتے رہنا ہے ہمکو سادہ ایسے مقامو سے .
---