Shayari for India (Country) "ना पूछो जमाने को कि क्या हमारी कहानी है,"
|
Na Poocho Zamane Ko Ki Kya Hamari Kahani Hai,
Hamari Pehchan To Sirf Yeh He Ki Hum Hindustani Hai.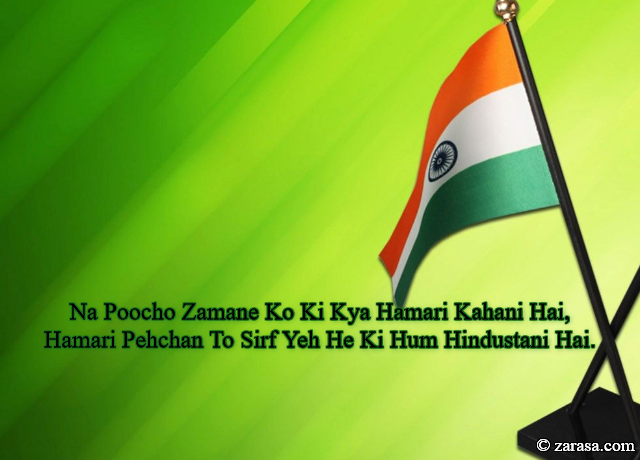 ---

ना पूछो जमाने को कि क्या हमारी कहानी है,
हमारी पहचान तो सिर्फ यह है कि हम हिंदुस्तानी हैं!


---

نہ پوچھو زمانے کو کی کیا ہماری کہانی ہے,
ہماری پہچان تو صرف یہ ہے کی ہم ہندوستانی ہے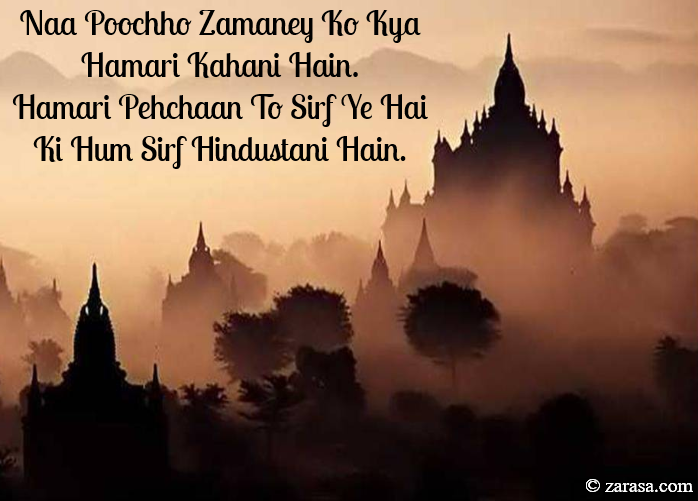 Naa Poochho Zamaney Ko Kya Hamari Kahani Hain.
Hamari Pehchaan To Sirf Ye Hai Ki Hum Sirf Hindustani Hain.
ना पूछो ज़माने को क्या हमारी कहानी हैं .
हमारी पहचान तो सिर्फ ये है की हम सिर्फ हिंदुस्तानी हैं .
نا پوچھو زمانے کو کیا ہماری کہانی ہیں .
ہماری پہچان تو صرف یہ ہے کی ہم صرف ہندوستانی ہیں .
---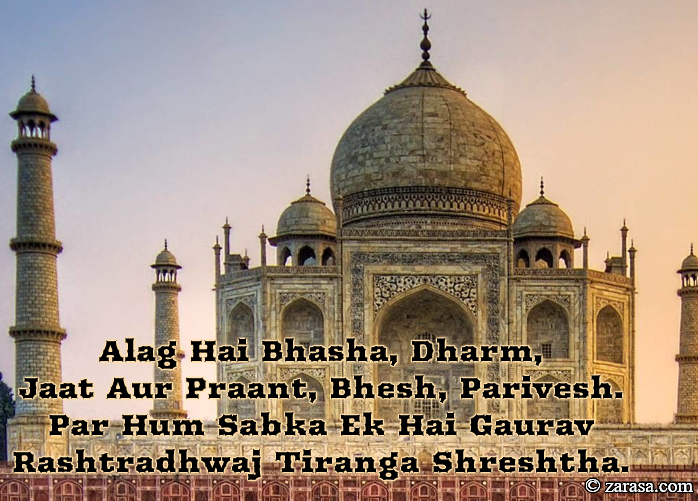 Alag Hai Bhasha, Dharm, Jaat Aur Praant, Bhesh, Parivesh.
Par Hum Sabka Ek Hai Gaurav Rashtradhwaj Tiranga Shreshtha.
अलग है भाषा , धर्म , जात और प्रांत , भेष , परिवेश .
पर हम सबका एक है गौरव राष्ट्रध्वज तिरंगा श्रेष्ठ .
الگ ہے بھاشا , دھرم , جات اور پرانت , بہش , پریویش .
پر ہم سبکا ایک ہے گورو راشٹرادھوج ترنگا شریشتھا .
---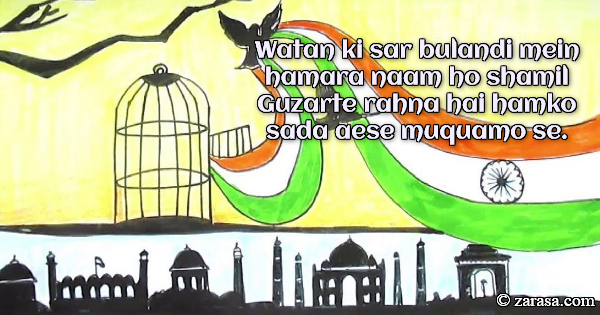 Watan Ki Sar Bulandi Mein Hamara Naam Ho Shamil
Guzarte Rahna Hai Hamko Sada Aese Muquamo Se.
वतन की सर बुलंदी में, हमारा नाम हो शामिल
गुजरते रहना है हमको, सदा ऐसे मुकामो से.
وطن کی سر بلندی میں ہمارا نام ہو شامل
گزرتے رہنا ہے ہمکو سادہ ایسے مقامو سے .
---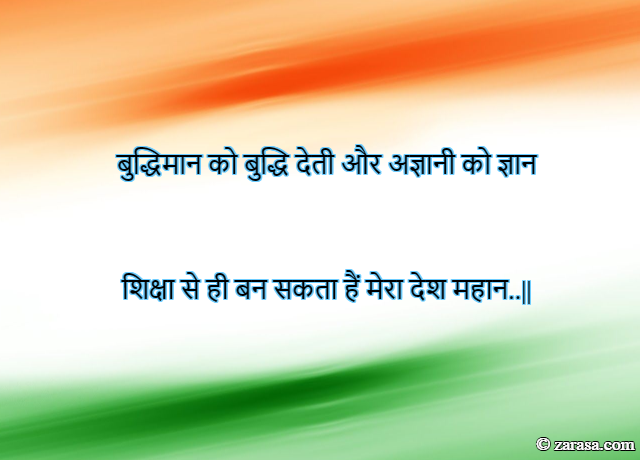 Budhimaan Ko Budhi deti Aur Gyaani Ko Gyaan
Shiksha Se Hi Ban Sakta Hai Mera Desh Mahaan.
बुद्धिमान को बुद्धि देती और अज्ञानी को ज्ञान

शिक्षा से ही बन सकता हैं मेरा देश महान..||
بوڑھیمان کو بوڑھی دیتی اور آگیانی کو گیان

شکشا سے ہی بن سکتا ہے میرا دیش مہان .
---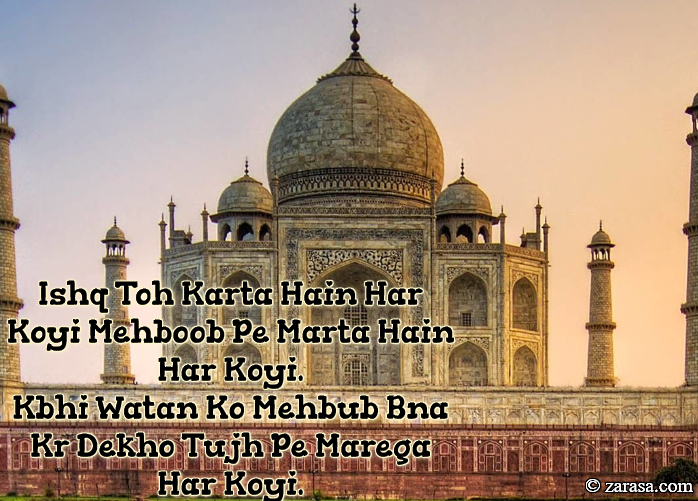 Ishq Toh Karta Hain Har Koyi Mehboob Pe Marta Hain Har Koyi.
Kbhi Watan Ko Mehbub Bna Kr Dekho Tujh Pe Marega Har Koyi.
इश्क़ तोह करता हैं हर कोई मेहबूब पे मरता हैं हर कोई .
कभी वतन को मेहबूब बना कर देखो तुझ पे मरेगा हर कोई .
عشق ٹوہ کرتا ہیں ہر کویی محبوب پی مارتا ہیں ہر کویی .
کبھی وطن کو محبوب بنا کر دیکھو تجھ پی مریگا ہر کویی .
---