Shayari for Jaam (مے کشی) – "हसीन है शाम ज़ुल्फ़ों के नाम पिलीजिए" – Aziz Miyan
|
Haseen Hai Shaam Zulfon ke Naam Peelijie
Do Chaar Jaam Hamare Haton se Peelijie
Aur Pilae Jab Koi Mashooq Apne Haaton se
Phir Nahi Rehti Haraam Peeligie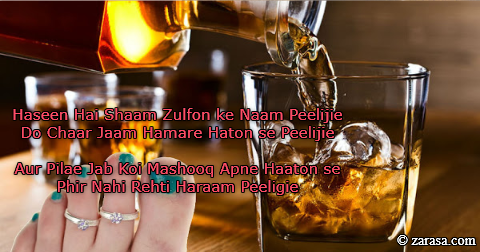 ---

हसीन है शाम ज़ुल्फ़ों के नाम पिलीजिए
दो चार जाम हमारे हातों से पिलीजिए
और पिलाए जब कोई माशूक़ अपने हातों से'
फिर नहीं रहती हराम पीलीजिए


---

حسین ہے شام زلفوں کے نام پیلیجئے
دو چار جام ہمارے ہاتوں سے پیلیجئے
اور پلاے جب کوئی ماشوق اپنے ہاتوں سے
پھر نہیں رہتی حرام پیلیجئے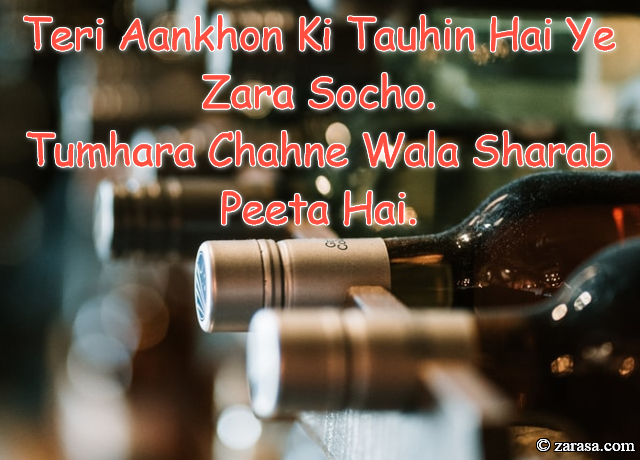 Teri Aankhon Ki Tauhin Hai Ye Zara Socho.
Tumhara Chahne Wala Sharab Peeta Hai.
तेरी आँखों की तौहीन है ये ज़रा सोचो .
तुम्हारा चाहने वाला शराब पीटा है .
تیری آنکھوں کی توہین ہے یہ ذرا سوچو .
تمہارا چاہنے والا شراب پیتا ہے .
---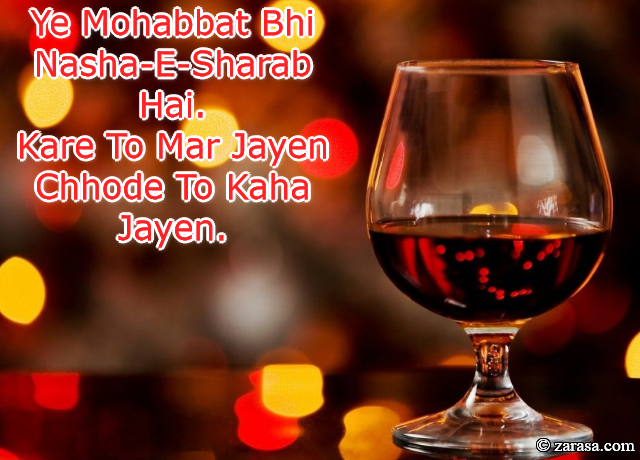 Ye Mohabbat Bhi Nasha-E-Sharab Hai.
Kare To Mar Jayen Chhode To Kaha Jayen.
ये मोहब्बत भी नशा -इ -शराब है .
करे तो मर जाएँ छोड़े तो कहा जाएँ .
یہ موحبّت بھی نشہ -ا -شراب ہے .
کرے تو مر جین چھوڈے تو کہا جین .
---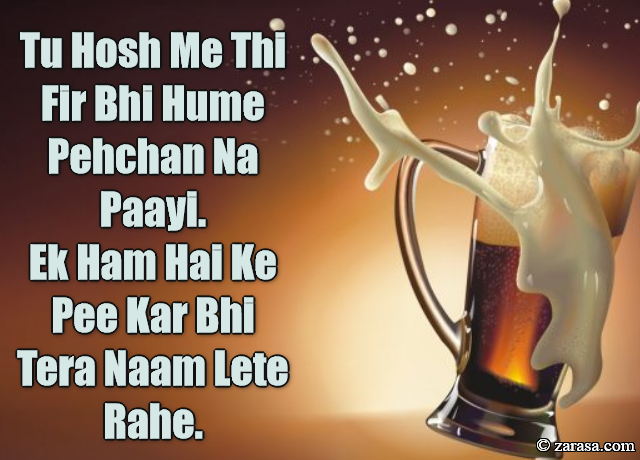 Tu Hosh Me Thi Fir Bhi Hume Pehchan Na Paayi.
Ek Ham Hai Ke Pee Kar Bhi Tera Naam Lete Rahe.
तू होश में थी फिर भी हमे पहचान न पाई .
एक हम है के पी कर भी तेरा नाम लेते रहे .
تو ہوش مے تھی فر بھی ہمے پہچان نہ پیی .
ایک ہم ہے کے پی کر بھی تیرا نام لیتے رہے .
---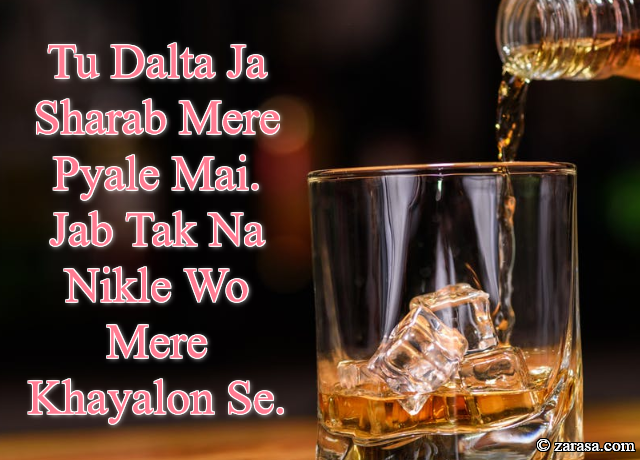 Tu Dalta Ja Sharab Mere Pyale Mai.
Jab Tak Na Nikle Wo Mere Khayalon Se.
तू डालता जा शराब मेरे प्याले में
जब तक ना निकले वो मेरे ख़यालों से
تو ڈالتا جا شراب میرے پیالے مے .
جب تک نہ نکالے وو میرے خیالوں سے .
---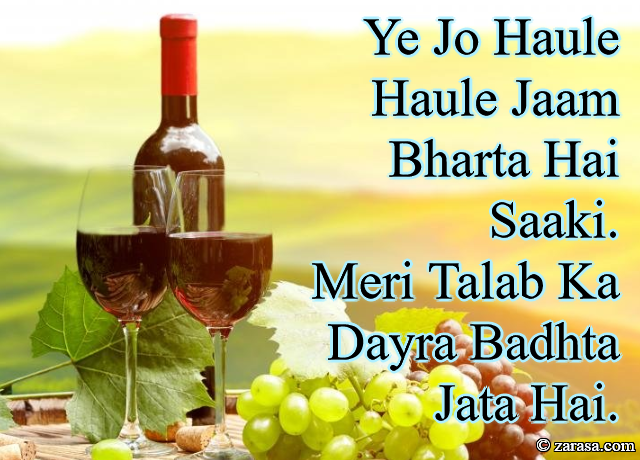 Ye Jo Haule Haule Jaam Bharta Hai Saaki.
Meri Talab Ka Dayra Badhta Jata Hai.
ये जो हौले हौले जाम भरता है साकी .
मेरी तालाब का दायरा बढ़ता जाता है .
یہ جو ہولے ہولے جام بھرتا ہے ساکی .
میری طلب کا ڈیڑہ بڑھتا جاتا ہے .
---