Shayari for Jaam"Milawat Hai Tujhme Ishq Aur Itar Ki"
|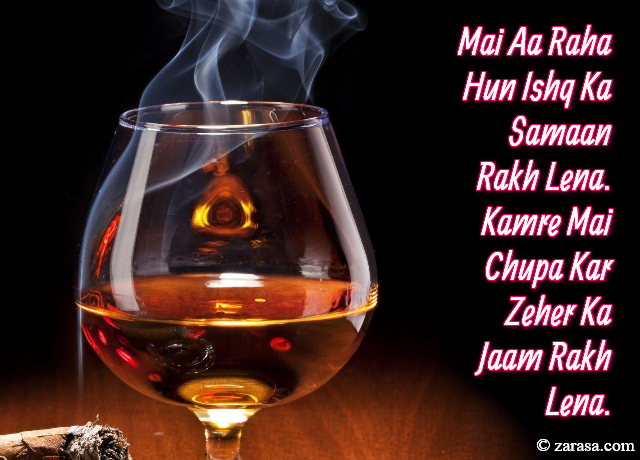 Mai Aa Raha Hun Ishq Ka Samaan Rakh Lena.
Kamre Mai Chupa Kar Zeher Ka Jaam Rakh Lena.
मै आ रहा हूँ इश्क़ का सामान रख लेना .
कमरे मै छुपा कर ज़हर का जाम रख लेना .
می آ رہا ہوں اشک کا سامان رکھ لینا .
کمرے می چھپا کر زہر کا جام رکھ لینا .
---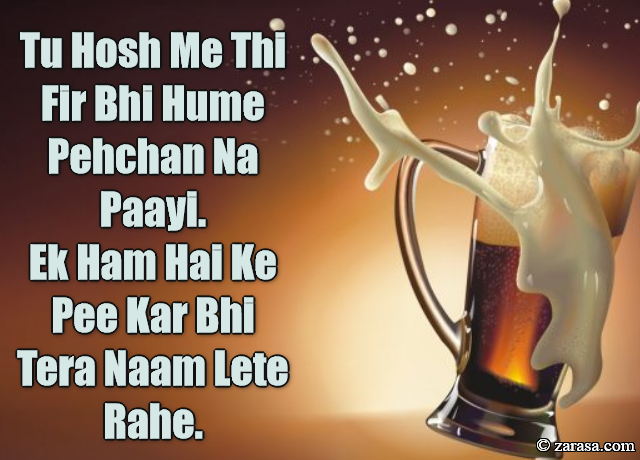 Tu Hosh Me Thi Fir Bhi Hume Pehchan Na Paayi.
Ek Ham Hai Ke Pee Kar Bhi Tera Naam Lete Rahe.
तू होश में थी फिर भी हमे पहचान न पाई .
एक हम है के पी कर भी तेरा नाम लेते रहे .
تو ہوش مے تھی فر بھی ہمے پہچان نہ پیی .
ایک ہم ہے کے پی کر بھی تیرا نام لیتے رہے .
---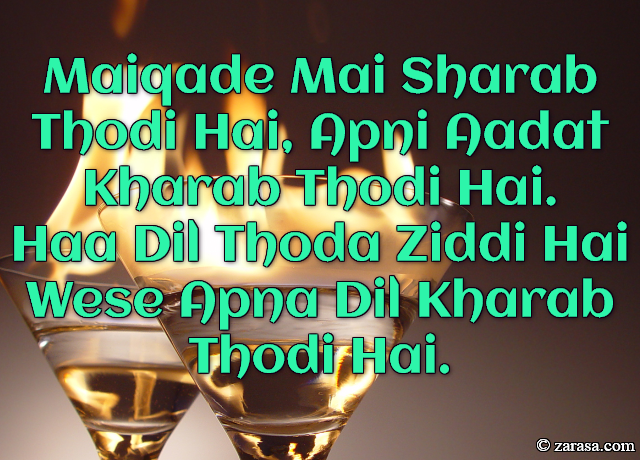 Maiqade Mai Sharab Thodi Hai, Apni Aadat Kharab Thodi Hai.
Haa Dil Thoda Ziddi Hai Wese Apna Dil Kharab Thodi Hai.
मैक़दे मै शराब थोड़ी है , अपनी आदत ख़राब थोड़ी है .
हाँ दिल थोड़ा ज़िद्दी है वैसे अपना दिल ख़राब थोड़ी है .
میقدے می شراب ٹھوڈی ہے , اپنی عادت خراب ٹھوڈی ہے .
ہا دل تھودا زادی ہے ویسے اپنا دل خراب ٹھوڈی ہے .
---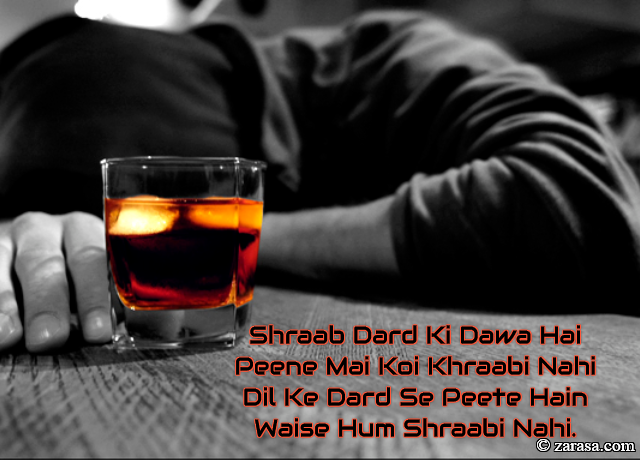 Shraab Dard Ki Dawa Hai Peene Mai Koi Khraabi Nahi Dil Ke Dard Se Peete Hain Waise Hum Shraabi Nahi.
शराब दर्द की दवा है पीने मैं कोई ख़राबी नहीं दिल के दर्द से पीते हैं वैसे हम शराबी नहीं .
شراب درد کی دوا ہے پینے می کوئی خرابی نہیں دل کے درد سے پیتے ہیں ویسے ہم شرابی نہیں .
---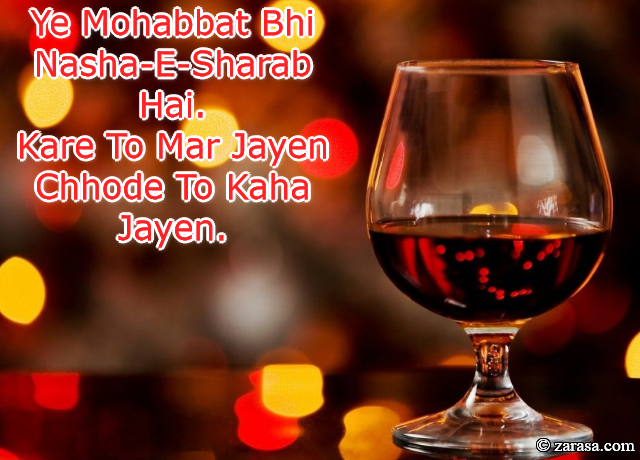 Ye Mohabbat Bhi Nasha-E-Sharab Hai.
Kare To Mar Jayen Chhode To Kaha Jayen.
ये मोहब्बत भी नशा -इ -शराब है .
करे तो मर जाएँ छोड़े तो कहा जाएँ .
یہ موحبّت بھی نشہ -ا -شراب ہے .
کرے تو مر جین چھوڈے تو کہا جین .
---