Shayari for Khuda "हवा खिलाफ थी लेकिन चिराग भी खूब जला"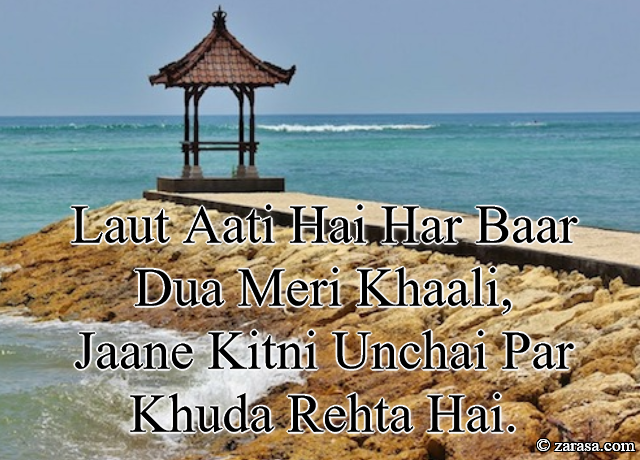 Laut Aati Hai Har Baar Dua Meri Khaali,
Jaane Kitni Unchai Par Khuda Rehta Hai.
लौट आती है हर बार दुआ मेरी खाली,
जाने कितनी ऊंचाई पर खुदा रहता है।
لوٹ آتی ہے ہر بار دوا میری خالی,
جانے کتنی اونچائی پر خدا رہتا ہے-
---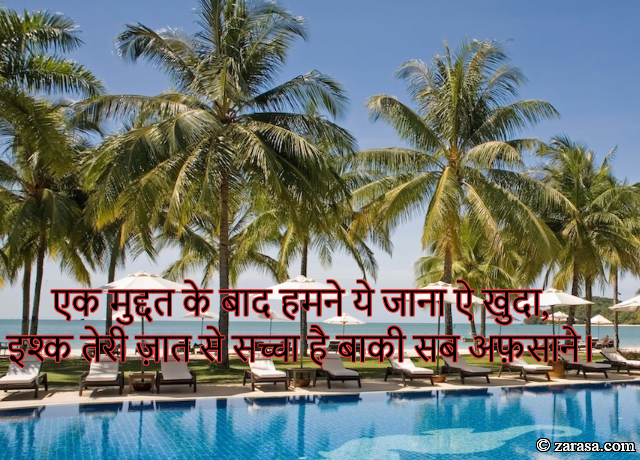 Ek Muddat Ke Baad Hum Ne Ye Jaana Ai Khuda,
Ishq Teri Zaat Se Sachha Hai Baki Sab Afsaane.
एक मुद्दत के बाद हमने ये जाना ऐ खुदा,
इश्क तेरी ज़ात से सच्चा है बाकी सब अफ़साने।
ایک مدّت کے بعد ہم نے یہ جانا ای خدا,
عشق تیری ذات سے سچھ ہے باکی سب افسانے.
---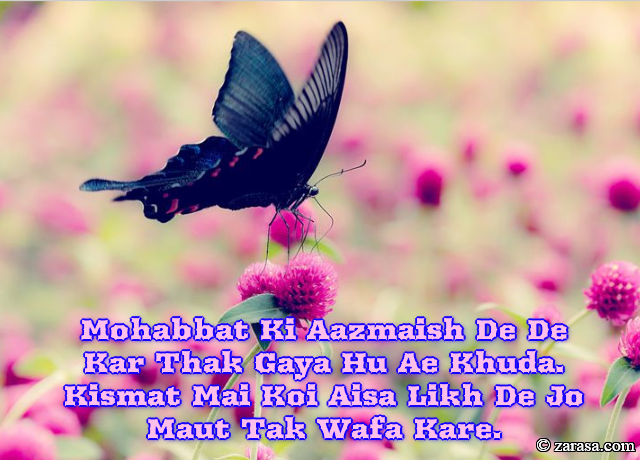 Mohabbat Ki Aazmaish De De Kar Thak Gaya Hu Ae Khuda.
Kismat Mai Koi Aisa Likh De Jo Maut Tak Wafa Kare.
मोहब्बत की आज़माइश दे दे कर थक गया हु ऐ खुदा .
क़िस्मत मै कोई ऐसा लिख दे जो मौत तक वफ़ा करे .
موحبّت کی آزمائش دے دے کر تھک گیا ہو اے خدا .
کسمت می کوئی ایسا لکھ دے جو موت تک وفا کرے .
---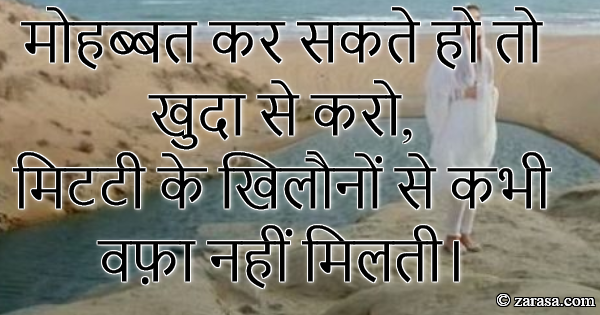 Mohabbat Kar Sakte Ho To Khuda Se Karo,
Mitti Ke Khilono Se Kabhi Wafa Nahi Milti.
मोहब्बत कर सकते हो तो खुदा से करो,
मिटटी के खिलौनों से कभी वफ़ा नहीं मिलती।
موحبّت کر سکتے ہو تو خدا سے کرو,
متی کے کھلونو سے کبھی وفا نہیں ملتی.
---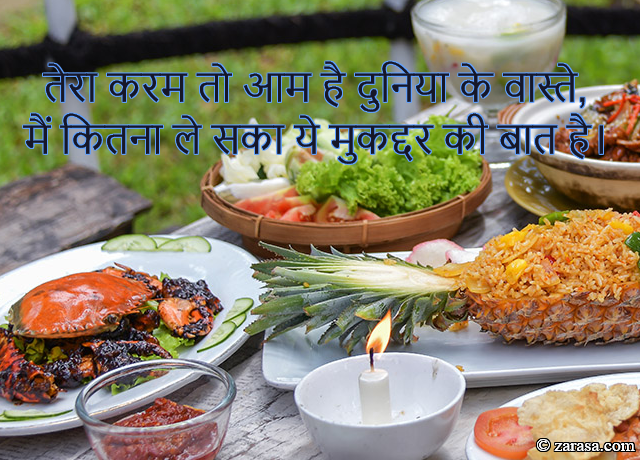 Tera Karam To Aam Hai Duniya Ke Vaste,
Main Kitna Le Saka Ye Muqaddar Ki Baat Hai.
तेरा करम तो आम है दुनिया के वास्ते,
मैं कितना ले सका ये मुकद्दर की बात है।
تیرا کرم تو ام ہے دنیا کے واسطے,
میں کتنا لے سکا یہ مقدّر کی بات ہے.
---