Shayari for Old peoples "Titaliyan Ud Gayi"
|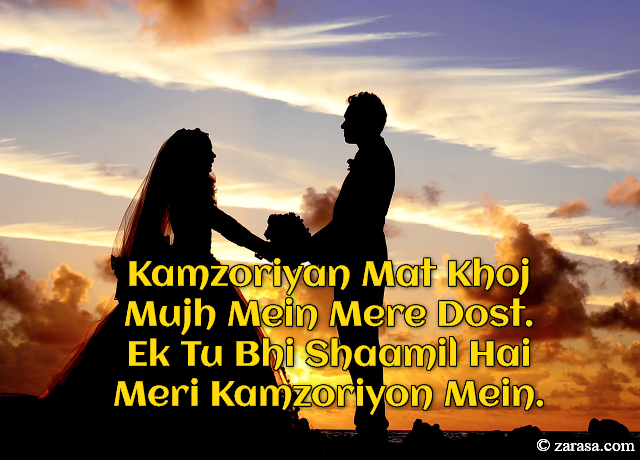 Kamzoriyan Mat Khoj Mujh Mein Mere Dost.
Ek Tu Bhi Shaamil Hai Meri Kamzoriyon Mein.
कमज़ोरियाँ मत खोज मुझ में मेरे दोस्त .
एक तू भी शामिल है मेरी कमज़ोरियों में .
کمزوریاں مت کھوج مجھ میں میرے دوست .
ایک تو بھی شامل ہے میری کمزوریوں میں .
---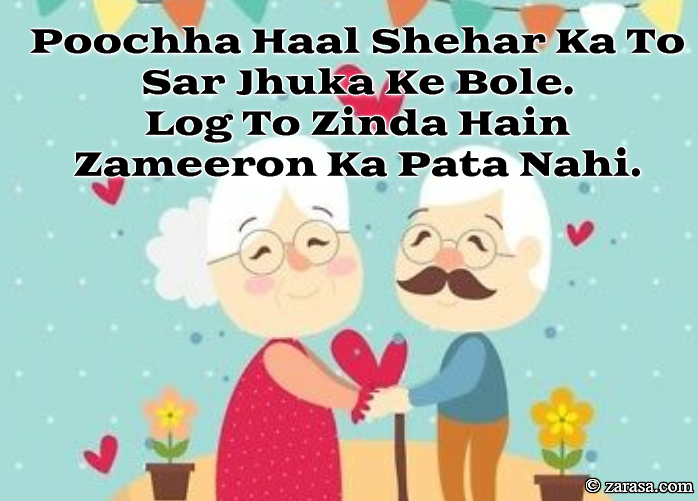 Poochha Haal Shehar Ka To Sar Jhuka Ke Bole.
Log To Zinda Hain Zameeron Ka Pata Nahi.
पूछा हाल शहर का तो सर झुका के बोले .
लोग तो ज़िंदा हैं ज़मीरों का पता नहीं .
پوچھ حال شہر کا تو سر جھکا کے بولے .
لوگ تو زندہ ہیں ضمیروں کا پتا نہیں .
---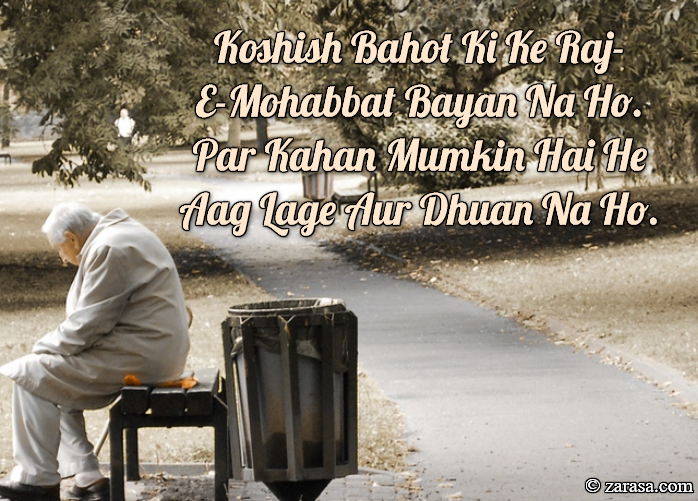 Koshish Bahot Ki Ke Raj-E-Mohabbat Bayan Na Ho.
Par Kahan Mumkin Hai He Aag Lage Aur Dhuan Na Ho.
कोशिश बहोत की के राज -इ -मोहब्बत बयां ना हो .
पर कहाँ मुमकिन है हे आग लगे और धुआं ना हो .

کوشش بھوت کی کے راج -ا -موحبّت بیان نہ ہو .
پر کہاں ممکن ہے ہے آگ لگے اور دھان نہ ہو .

---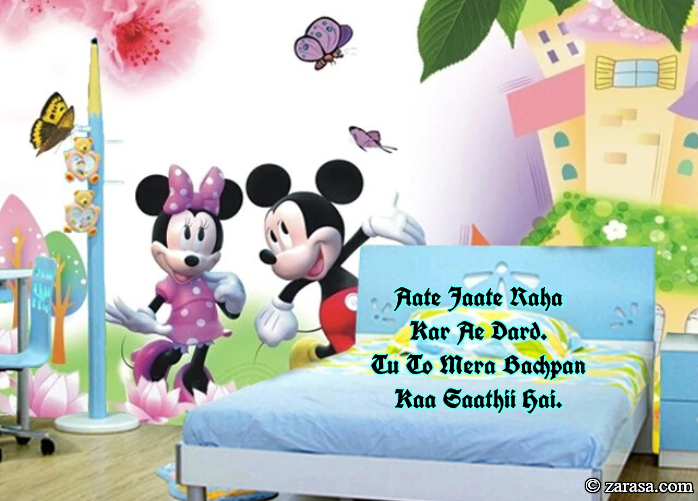 Aate Jaate Raha Kar Ae Dard.
Tu To Mera Bachpan Kaa Saathii Hai.
आते जाते रहा कर ऐ दर्द .
तू तो मेरा बचपन का साथी है .
آتے جاتے رہا کر اے درد .
تو تو میرا بچپن کا ساتھی ہے .
---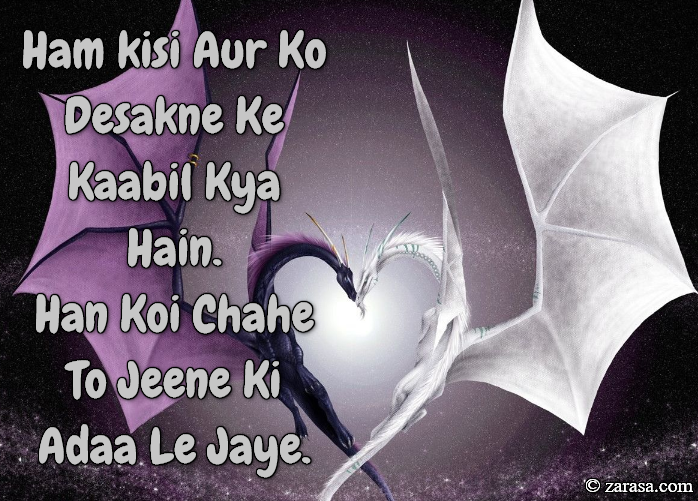 Ham kisi Aur Ko Desakne Ke Kaabil Kya Hain.
Han Koi Chahe To Jeene Ki Adaa Le Jaye.
हम किसी और को देसकने के खाबिल क्या हैं .
हाँ कोई चाहे तो जीने की अदा ले जाये .
ہم کسی اور کو دسکنے کے کابل کیا ہیں .
ہان کوئی چاہے تو جینے کی ادا لے جائے .
---