Shayari for Old peoples "Poochha Haal Shehar Ka"
|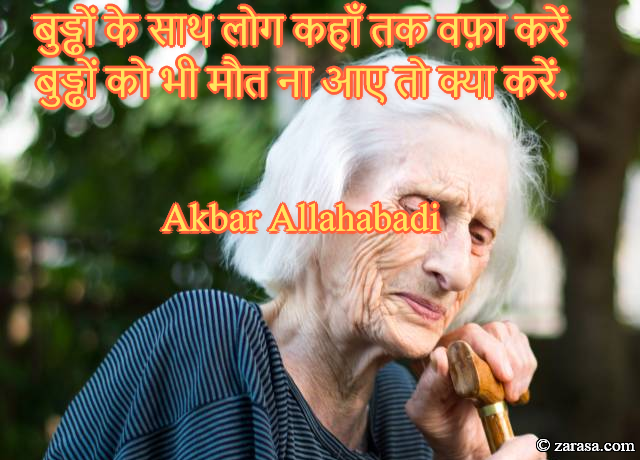 Boordhon Ke Saath Log Kahan Tak Wafa Karen
Boordhon Ko Bhi Maut Naa Aae To Kya Karen.
बुड्ढों के साथ लोग कहाँ तक वफ़ा करें
बुड्ढों को भी मौत ना आए तो क्या करें .
بوڑھوں کے ساتھ لوگ کہاں تک وفا کریں
بوڑھوں کو بھی موت نا اے تو کیا کریں .


---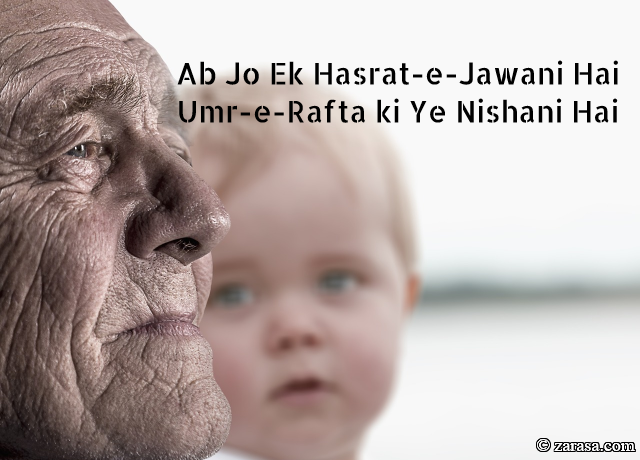 Ab Jo Ek Hasrat-e-Jawani Hai
Umr-e-Rafta ki Ye Nishani Hai
अब जो एक हसरत-ए-जवानी है
उम्र-ए-रफ्ता की ये निशानी है
اب جو ایک حسرت-ے-جوانی ہے
عمر-ے-رفتا کی یہ نشانی ہے
---
Ajeeb Saudaagar Hai ye Waqt Bhii.
Jawaani Kaa Laalach De Ke Bachpan Le Gayaa.
अजीब सौदागर है ये वक़्त भी .
जवानी का लालच दे के बचपन ले गया .
عجیب سوداگر ہے یہ وقت بھی .
جوانی کا لالچ دے کے بچپن لے گیا .
---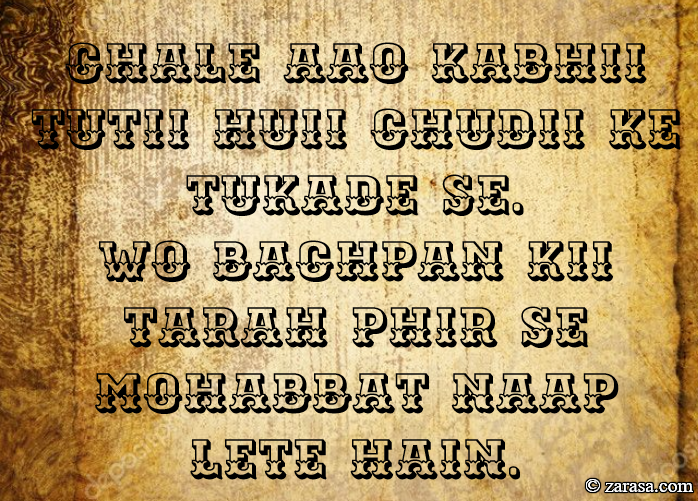 Chale Aao Kabhii Tutii Huii Chudii Ke Tukade Se.
Wo Bachpan Kii Tarah Phir Se Mohabbat Naap Lete Hain.
चले आओ कभी टूटी हुई चूड़ी के टुकड़े से .
वो बचपन की तरह फिर से मोहब्बत नाप लेते हैं .
چلے اؤ کبھی ٹوٹی ہوئی کھودی کے تکدے سے .
وو بچپن کی طرح پھر سے موحبّت ناپ لیتے ہیں .
---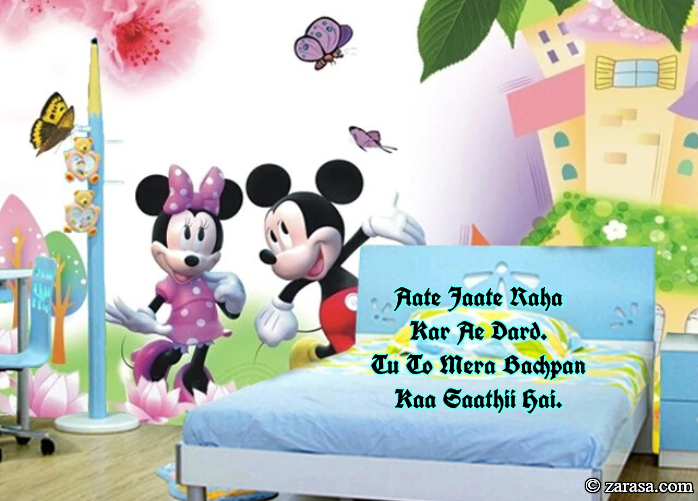 Aate Jaate Raha Kar Ae Dard.
Tu To Mera Bachpan Kaa Saathii Hai.
आते जाते रहा कर ऐ दर्द .
तू तो मेरा बचपन का साथी है .
آتے جاتے رہا کر اے درد .
تو تو میرا بچپن کا ساتھی ہے .
---