Shayari for Old peoples "Poochha Haal Shehar Ka"
|
Poochha Haal Shehar Ka To Sar Jhuka Ke Bole.
Log To Zinda Hain Zameeron Ka Pata Nahi.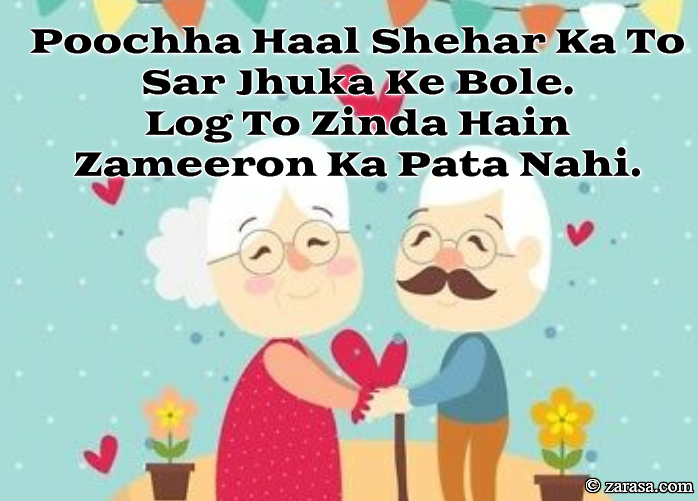 ---

पूछा हाल शहर का तो सर झुका के बोले .
लोग तो ज़िंदा हैं ज़मीरों का पता नहीं .


---

پوچھ حال شہر کا تو سر جھکا کے بولے .
لوگ تو زندہ ہیں ضمیروں کا پتا نہیں .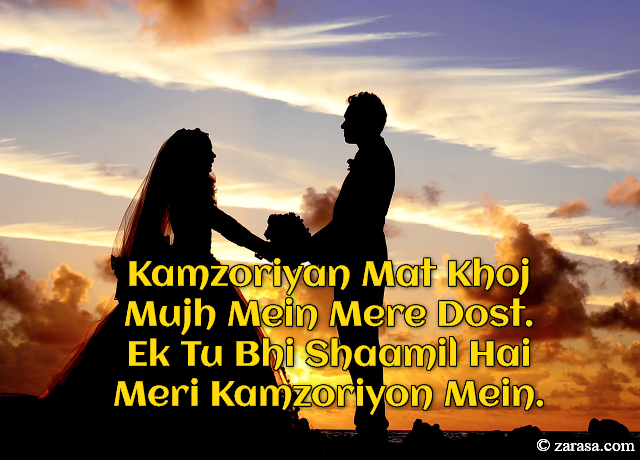 Kamzoriyan Mat Khoj Mujh Mein Mere Dost.
Ek Tu Bhi Shaamil Hai Meri Kamzoriyon Mein.

कमज़ोरियाँ मत खोज मुझ में मेरे दोस्त .
एक तू भी शामिल है मेरी कमज़ोरियों में .

کمزوریاں مت کھوج مجھ میں میرے دوست .
ایک تو بھی شامل ہے میری کمزوریوں میں .

[ssba-buttons]
---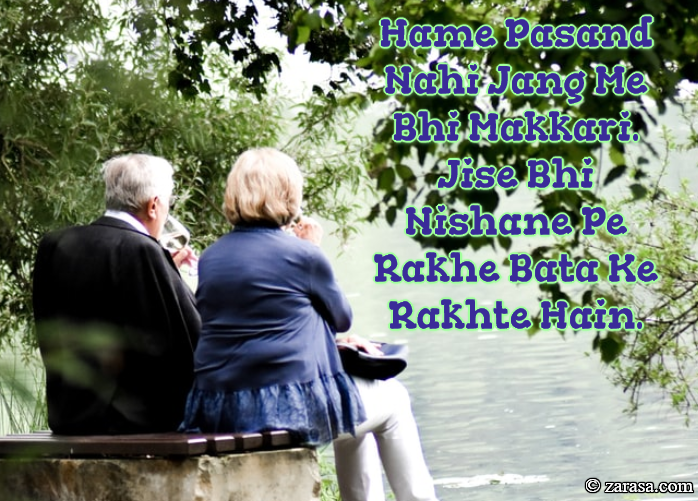 Hame Pasand Nahi Jang Me Bhi Makkari.
Jise Bhi Nishane Pe Rakhe Bata Ke Rakhte Hain.

हमें पसंद नहीं जंग में भी मक्कारी .
जिसे भी निशाने पे रखे बता के रखते हैं .


ہمی پسند نہیں جنگ مے بھی مکّاری .
جسے بھی نشانے پی رکھے بتا کے رکھتے ہیں .


[ssba-buttons]
---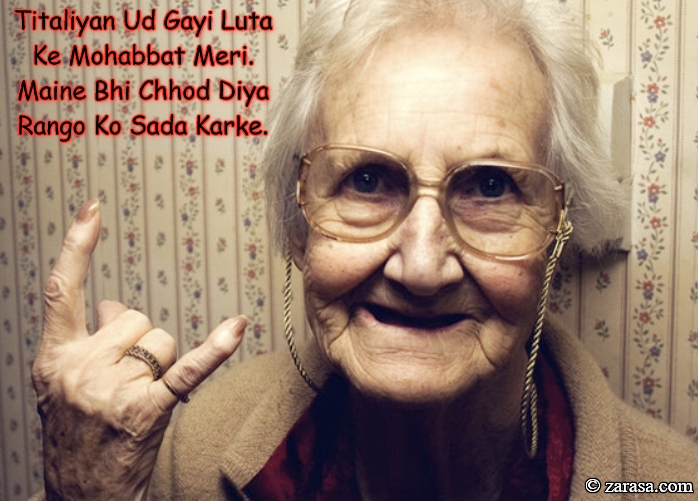 Titaliyan Ud Gayi Luta Ke Mohabbat Meri.
Maine Bhi Chhod Diya Rango Ko Sada Karke.

तितलियाँ उड़ गयी लुटा के मोहब्बत मेरी .
मैंने भी छोड़ दिया रंगो को सदा करके .

تتلیاں اد گی لوٹا کے موحبّت میری .
مہینے بھی چھوڈ دیا رنگو کو سادہ کرکے .

[ssba-buttons]
---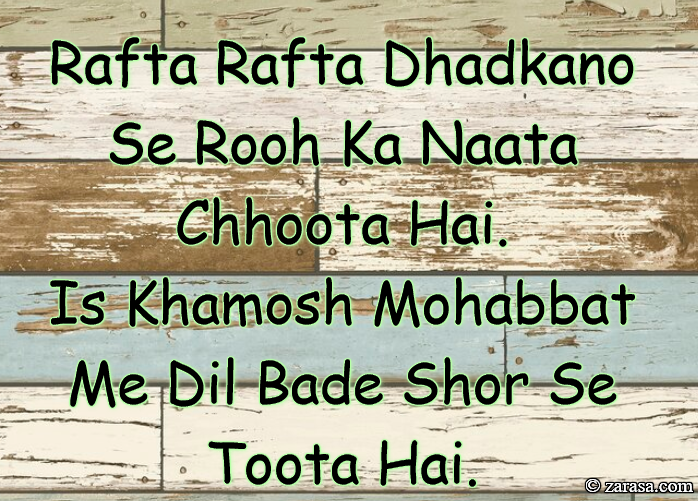 Rafta Rafta Dhadkano Se Rooh Ka Naata Chhoota Hai.
Is Khamosh Mohabbat Me Dil Bade Shor Se Toota Hai.

रफ्ता रफ्ता धड़कनो से रूह का नाता छूटा है .
इस खामोश मोहब्बत में दिल बड़े शोर से टूटा है .

رفتہ رفتہ ودھدکان سے روح کا ناتا چھوٹا ہے .
اس خاموش موحبّت مے دل بدی شور سے ٹوٹا ہے .

[ssba-buttons]
---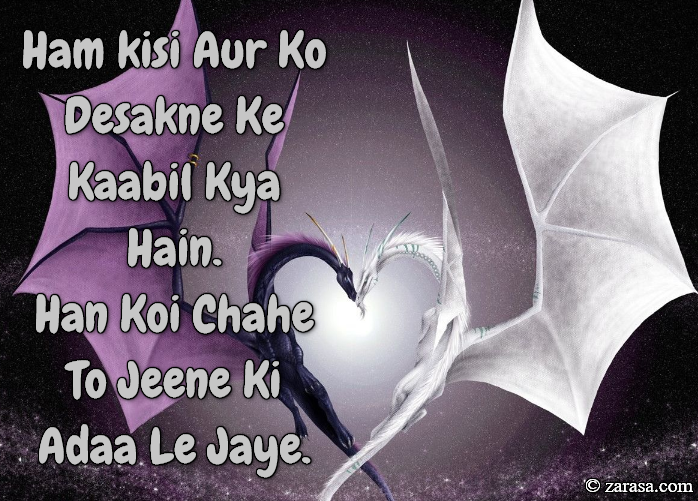 Ham kisi Aur Ko Desakne Ke Kaabil Kya Hain.
Han Koi Chahe To Jeene Ki Adaa Le Jaye.

हम किसी और को देसकने के खाबिल क्या हैं .
हाँ कोई चाहे तो जीने की अदा ले जाये .

ہم کسی اور کو دسکنے کے کابل کیا ہیں .
ہان کوئی چاہے تو جینے کی ادا لے جائے .

[ssba-buttons]
---