Shayari for Old peoples "Begunaah Koi Nahi"
|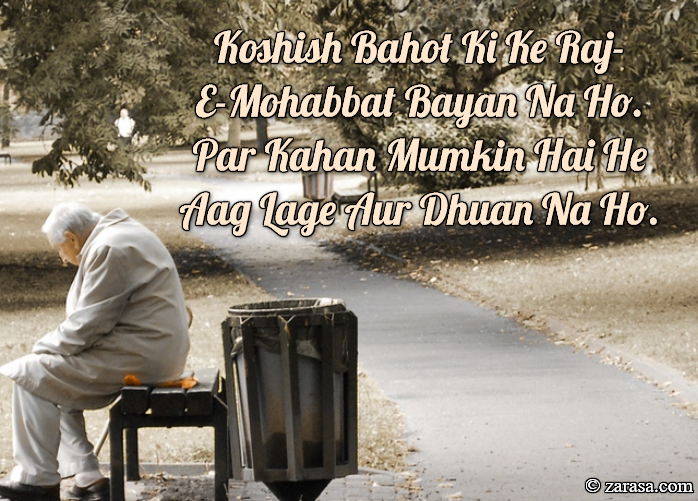 Koshish Bahot Ki Ke Raj-E-Mohabbat Bayan Na Ho.
Par Kahan Mumkin Hai He Aag Lage Aur Dhuan Na Ho.
कोशिश बहोत की के राज -इ -मोहब्बत बयां ना हो .
पर कहाँ मुमकिन है हे आग लगे और धुआं ना हो .

کوشش بھوت کی کے راج -ا -موحبّت بیان نہ ہو .
پر کہاں ممکن ہے ہے آگ لگے اور دھان نہ ہو .

---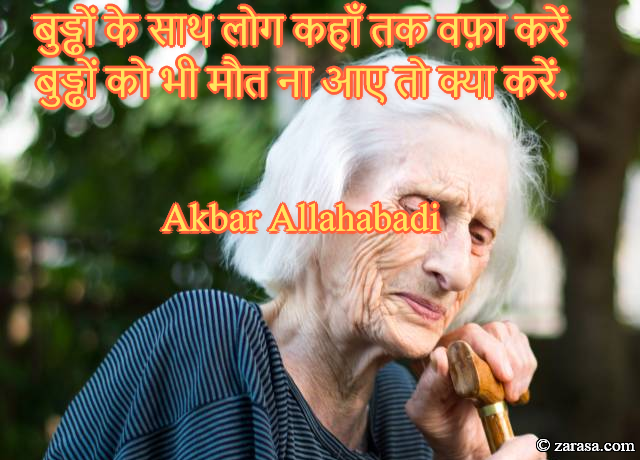 Boordhon Ke Saath Log Kahan Tak Wafa Karen
Boordhon Ko Bhi Maut Naa Aae To Kya Karen.
बुड्ढों के साथ लोग कहाँ तक वफ़ा करें
बुड्ढों को भी मौत ना आए तो क्या करें .
بوڑھوں کے ساتھ لوگ کہاں تک وفا کریں
بوڑھوں کو بھی موت نا اے تو کیا کریں .


---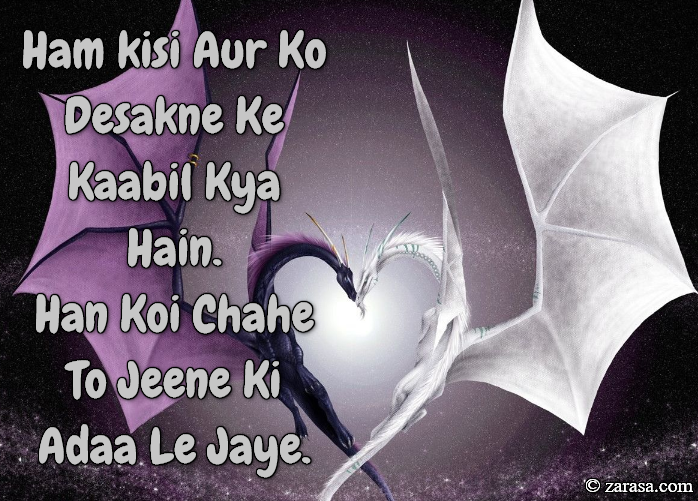 Ham kisi Aur Ko Desakne Ke Kaabil Kya Hain.
Han Koi Chahe To Jeene Ki Adaa Le Jaye.
हम किसी और को देसकने के खाबिल क्या हैं .
हाँ कोई चाहे तो जीने की अदा ले जाये .
ہم کسی اور کو دسکنے کے کابل کیا ہیں .
ہان کوئی چاہے تو جینے کی ادا لے جائے .
---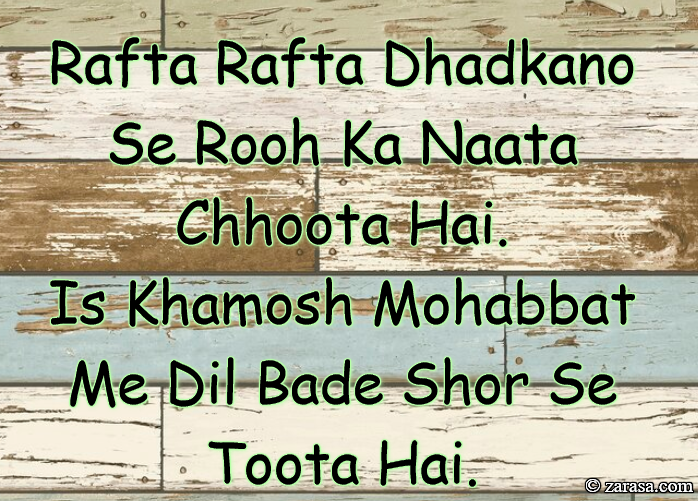 Rafta Rafta Dhadkano Se Rooh Ka Naata Chhoota Hai.
Is Khamosh Mohabbat Me Dil Bade Shor Se Toota Hai.
रफ्ता रफ्ता धड़कनो से रूह का नाता छूटा है .
इस खामोश मोहब्बत में दिल बड़े शोर से टूटा है .
رفتہ رفتہ ودھدکان سے روح کا ناتا چھوٹا ہے .
اس خاموش موحبّت مے دل بدی شور سے ٹوٹا ہے .
---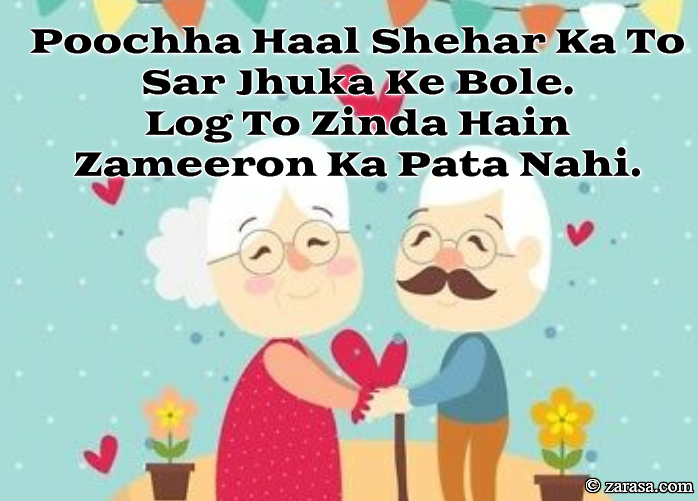 Poochha Haal Shehar Ka To Sar Jhuka Ke Bole.
Log To Zinda Hain Zameeron Ka Pata Nahi.
पूछा हाल शहर का तो सर झुका के बोले .
लोग तो ज़िंदा हैं ज़मीरों का पता नहीं .
پوچھ حال شہر کا تو سر جھکا کے بولے .
لوگ تو زندہ ہیں ضمیروں کا پتا نہیں .
---