Shayari for Old peoples "Mohabbat Naap Lete Hain"
|
Chale Aao Kabhii Tutii Huii Chudii Ke Tukade Se.
Wo Bachpan Kii Tarah Phir Se Mohabbat Naap Lete Hain.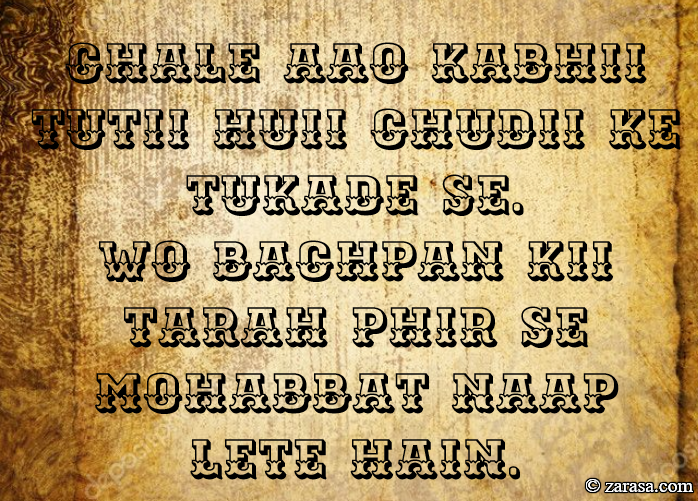 ---

चले आओ कभी टूटी हुई चूड़ी के टुकड़े से .
वो बचपन की तरह फिर से मोहब्बत नाप लेते हैं .


---

چلے اؤ کبھی ٹوٹی ہوئی کھودی کے تکدے سے .
وو بچپن کی طرح پھر سے موحبّت ناپ لیتے ہیں .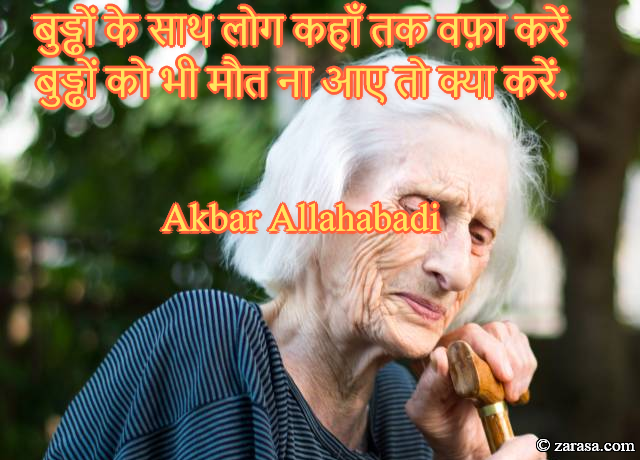 Boordhon Ke Saath Log Kahan Tak Wafa Karen
Boordhon Ko Bhi Maut Naa Aae To Kya Karen.
बुड्ढों के साथ लोग कहाँ तक वफ़ा करें
बुड्ढों को भी मौत ना आए तो क्या करें .
بوڑھوں کے ساتھ لوگ کہاں تک وفا کریں
بوڑھوں کو بھی موت نا اے تو کیا کریں .


---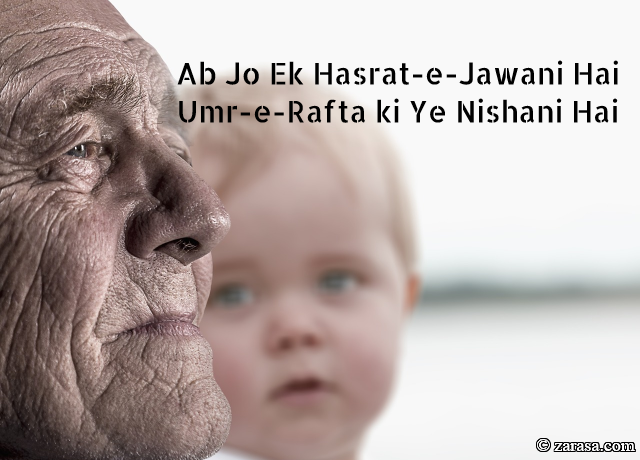 Ab Jo Ek Hasrat-e-Jawani Hai
Umr-e-Rafta ki Ye Nishani Hai
अब जो एक हसरत-ए-जवानी है
उम्र-ए-रफ्ता की ये निशानी है
اب جو ایک حسرت-ے-جوانی ہے
عمر-ے-رفتا کی یہ نشانی ہے
---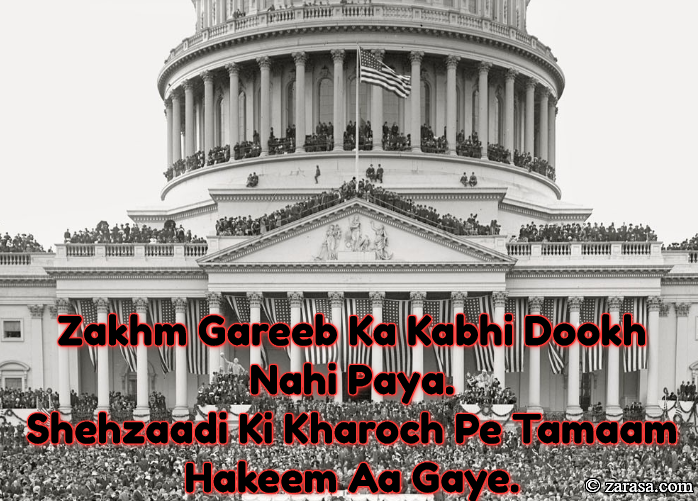 Zakhm Gareeb Ka Kabhi Dookh Nahi Paya.
Shehzaadi Ki Kharoch Pe Tamaam Hakeem Aa Gaye.
ज़ख्म गरीब का कभी दुख नहीं पाया .
शहज़ादी की खरोच पे तमाम हकीम आ गए .

زخم گریب کا کبھی دوخ نہیں پایا .
شہزادی کی خروچ پی تمام حکیم آگے .
---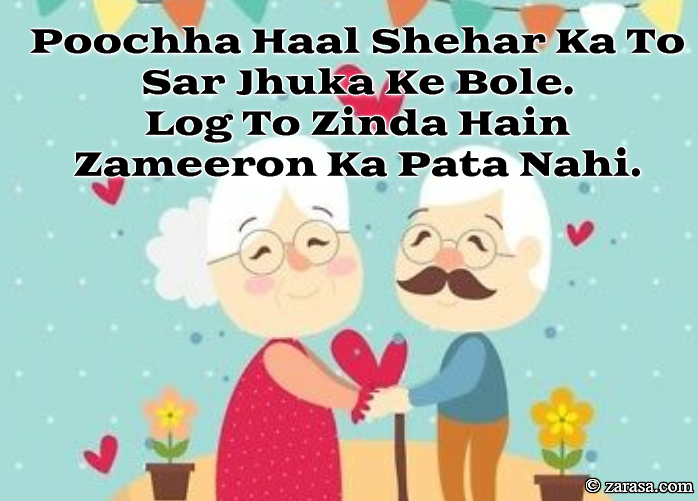 Poochha Haal Shehar Ka To Sar Jhuka Ke Bole.
Log To Zinda Hain Zameeron Ka Pata Nahi.
पूछा हाल शहर का तो सर झुका के बोले .
लोग तो ज़िंदा हैं ज़मीरों का पता नहीं .
پوچھ حال شہر کا تو سر جھکا کے بولے .
لوگ تو زندہ ہیں ضمیروں کا پتا نہیں .
---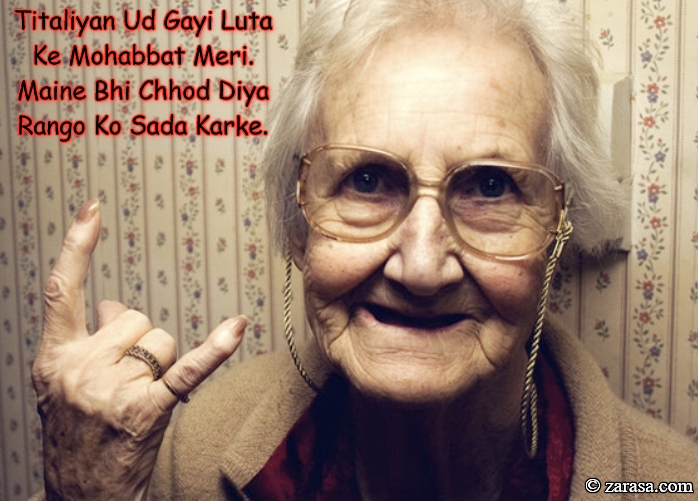 Titaliyan Ud Gayi Luta Ke Mohabbat Meri.
Maine Bhi Chhod Diya Rango Ko Sada Karke.
तितलियाँ उड़ गयी लुटा के मोहब्बत मेरी .
मैंने भी छोड़ दिया रंगो को सदा करके .
تتلیاں اد گی لوٹا کے موحبّت میری .
مہینے بھی چھوڈ دیا رنگو کو سادہ کرکے .
---