Shayari for Sharab "Gamon  ko bhula deti hai Sharab"
|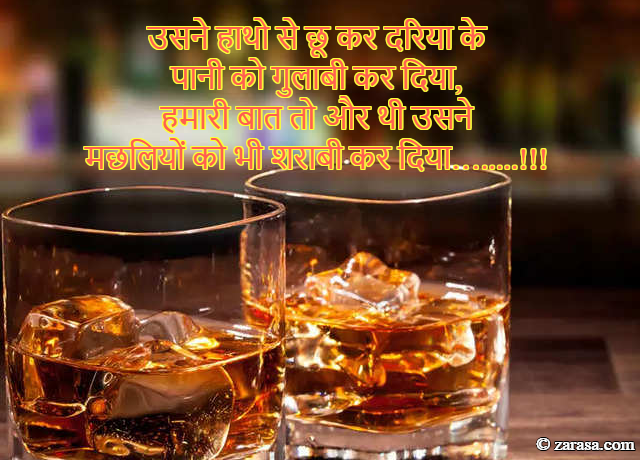 Usne hatho se chu kar Dariya ke,
Pani ko Gulabi kr Diya,
Hamari baat toh Aur thi Usne,
Machliyon ko bhi Sharabi kr diya......
उसने हाथो से छू कर दरिया के
पानी को गुलाबी कर दिया,
हमारी बात तो और थी उसने
मछलियों को भी शराबी कर दिया….....!!!
اسنے ہاتھو سے چھو کر دریا کے
پانی کو گلابی کر دیا
ہماری بات تو اور تھی اسنے
مچلیوں کو بھی شرابی کر دیا
---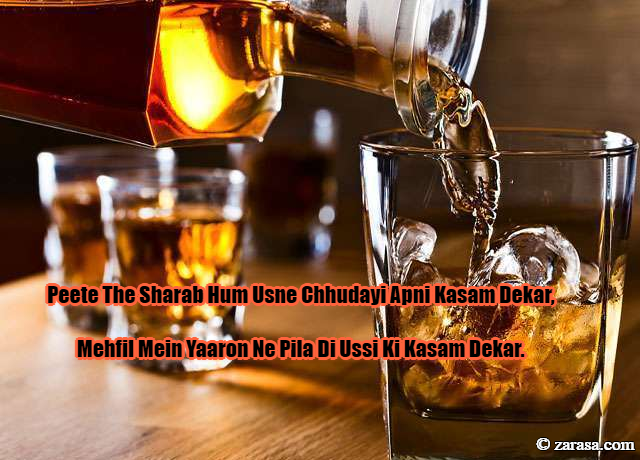 Peete The Sharab Hum Usne Chhudayi Apni Kasam Dekar,
Mehfil Mein Yaaron Ne Pila Di Ussi Ki Kasam Dekar.
पीते थे शराब हम उसने छुड़ाई अपनी कसम देकर,
महफ़िल में यारों ने पिलाई उसी की कसम देकर।
پیتے تھے شراب ہم اسنے چھڈی اپنی کسم دیکر
محفل می یارو نے پلا دی اسی کی کسم دیکر
---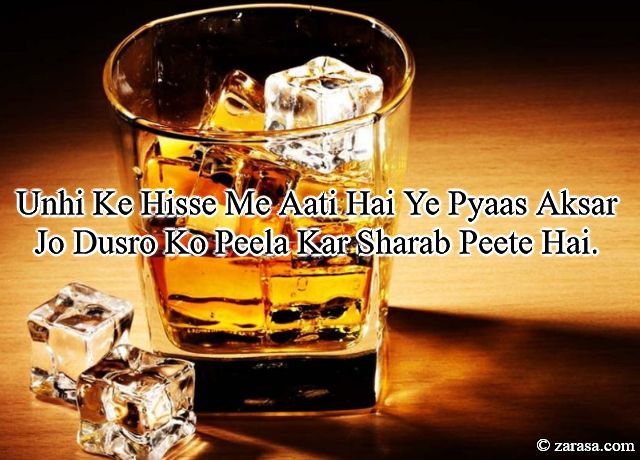 Unhi Ke Hisse Me Aati Hai Ye Pyaas Aksar
Jo Dusro Ko Peela Kar Sharab Peete Hai.
उन्ही के हिस्से में आती है ये प्यास अक्सर
जो दुसरो को पीला कर शराब पीते है.
انہی کے حصّے مے آتی ہے یہ پیاس اکثر
جو دوسرو کو پیلا کر شراب پیتے ہے -
---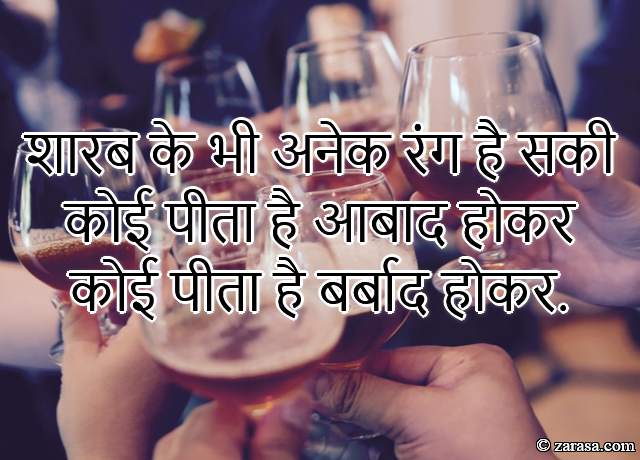 Sharab Ke Bhi Anek Rang Hai Saki
Koi Peeta Hai Aabad Hokar
To Koi Peeta Hai Barbaad Hokar.
शारब के भी अनेक रंग है सकी
कोई पीता है आबाद होकर
कोई पीता है बर्बाद होकर.
شراب کے بھی انک رنگ ہے ساکی
کوئی پیتا ہے آباد ہوکر
کوئی پیتا ہے برباد ہوکر-
---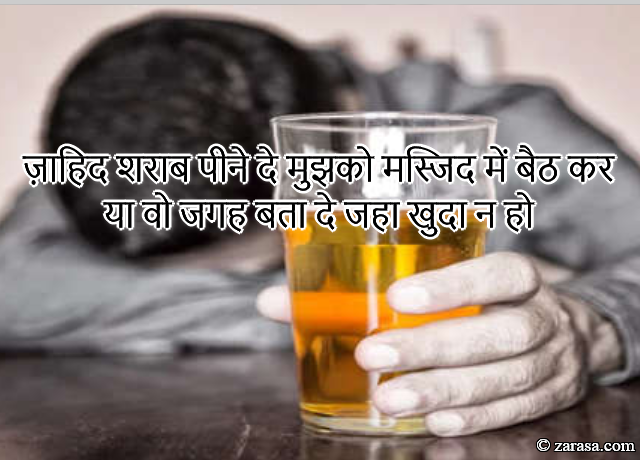 Zāhid Sharāb Peene De Masjid Mein BaiTh Kar
Yā Vo Jagah Batā De Jahāñ Par Khudā Na Ho.


ज़ाहिद शराब पीने दे मुझको मस्जिद में बैठ कर
या वो जगह बता दे जहा खुदा न हो
ظاہر شراب پینے دے مسجد مے بیٹھ کر
یا وو جگہ بتا دے جہا خدا نہ ہو-
---