Shayari for Speeches "लड़ने वालों के कदमों में जहान होता है"
|
Mushkilon se Bhaag Jaana Aasan Hota Hai,
Har Pehlo Zindagi Ka Imtihaan Hota hai ,
Darne vaalon Ko Milta Nhi Kuch Zindagi Mai,
Ladne Vaalon Ke Kadmo Mai Jhan Hota Hai.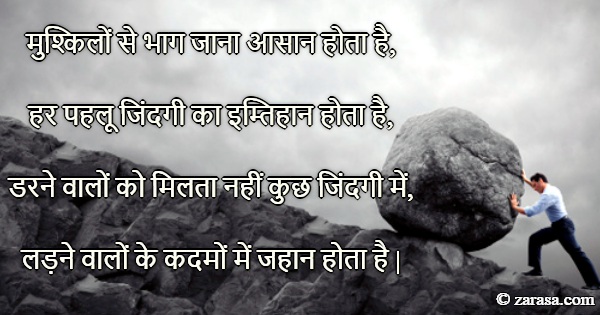 ---

मुश्किलों से भाग जाना आसान होता है,
हर पहलू जिंदगी का इम्तिहान होता है,
डरने वालों को मिलता नहीं कुछ जिंदगी में,
लड़ने वालों के कदमों में जहान होता है |


---

مشکلوں سے بھاگ جانا آسان ہوتا ہے
ہر پہلو زندگی کا امتحاں ہوتا ہے
دارنے والو کو ملتا نہی کچھ زندگی می
لڑنے والو کے کدمو می جہاں ہوتا ہے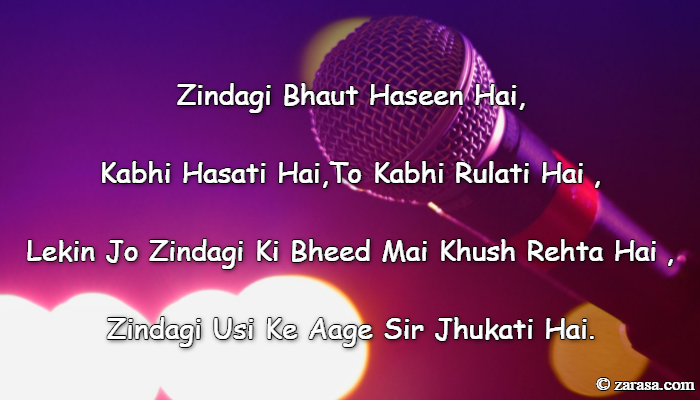 Zindagi Bhaut Haseen Hai,
Kabhi Hasati Hai,To Kabhi Rulati Hai ,
Lekin Jo Zindagi Ki Bheed Mai Khush Rehta Hai ,
Zindagi Usi Ke Aage Sir Jhukati Hai.
ज़िन्दगी बहुत हसीन है,
कभी हंसाती है, तो कभी रुलाती है,
लेकिन जो ज़िन्दगी की भीड़ में खुश रहता है,
ज़िन्दगी उसी के आगे सिर झुकाती है।
زندگی بہت حسین ہے
کبھی حسنتی ہے ،ٹوہ کبھی رلاتی ہے
لیکن جو زندگی کی بھیڈ می خوش رہتا ہے
زندگی اسی کے آگے سر جھکتی ہے
---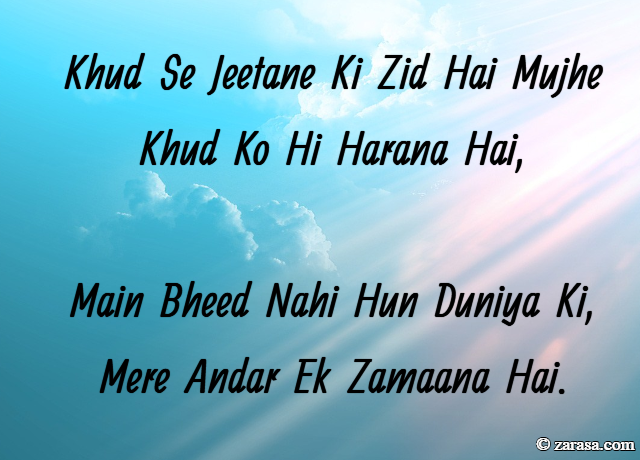 Khud Se Jeetane Ki Zid Hai Mujhe Khud Ko Hi Harana Hai,
Main Bheed Nahi Hun Duniya Ki, Mere Andar Ek Zamaana Hai.



खुद से जीतने की जिद है मुझे खुद को ही हराना है,
मै भीड़ नहीं हूँ दुनिया की ,मेरे अन्दर एक ज़माना है.
خود سے جیتنے کی زد ہے مجھے خود کو ہی ہرانا ہے
می بھیڈ نہی ہو دنیا کی میرے اندر ایک زمانہ ہے
---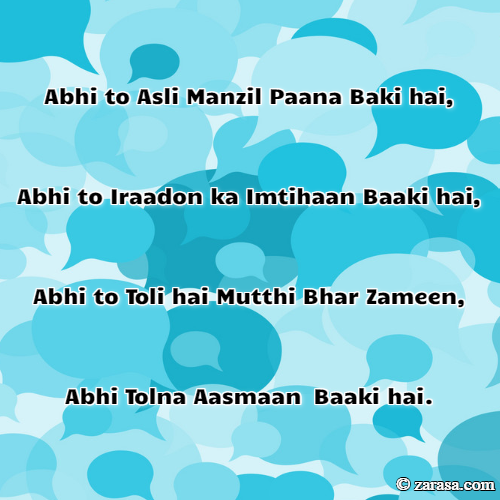 Abhi to Asli Manzil Paana Baki hai,
Abhi to Iraadon ka Imtihaan Baaki hai,
Abhi to Toli hai Mutthi Bhar Zameen,
Abhi Tolna Aasmaan  Baaki hai.
अभी तो असली मंजिल पाना बाकी है,
अभी तो इरादों का इम्तिहान बाकी है,
अभी तो तोली है मुट्ठी भर जमीन,
अभी तोलना आसमान बाकी है।
ابھی تو اصلی منزل پانا باکی ہے
ابھی تو ارادو کا امتحاں باکی ہے
ابھی تو ٹولی ہے مٹھی بھر زمین
ابھی تولنا آسمان باکی ہے
---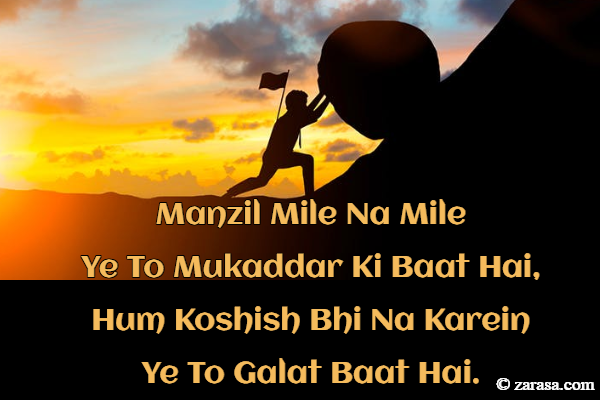 Manzil Mile Na Mile
Ye To Mukaddar Ki Baat Hai,
Hum Koshish Bhi Na Karein
Ye To Galat Baat Hai.

मंज़िल मिले न मिले
ये तो मुकद्दर की बात है,
हम कोशिश भी न करें
ये तो गलत बात है।
منزل میل نہ میل
یہ تو مقدار کی بات ہے
ہم کوشش بھی نہ کرے
یہ تو گلت بات ہے
---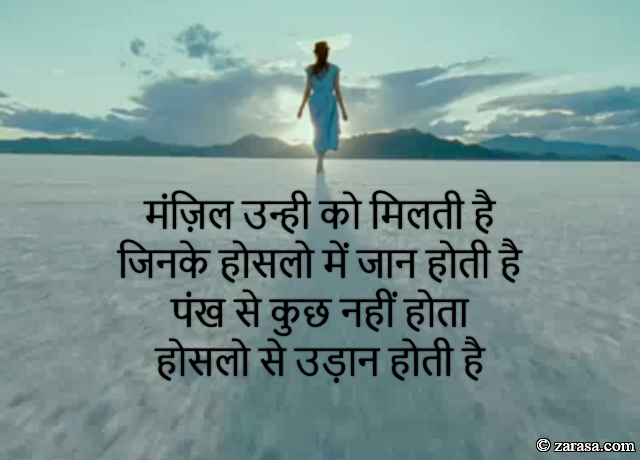 MANZIL UNHI KO MILTI HAI
JINKE SAPNO MEIN JAAN HOTI HAI
PANKH SE KUCH NAHI HOTA
HOSLO SE UDAAN HOTI HAI
मंज़िल उन्ही को मिलती है
जिनके होसलो में जान होती है
पंख से कुछ नहीं होता
होसलो से उड़ान होती है
منزل انہی کو ملتی ہے
جنکے سپنو میں جان ہوتی ہے
پنکھ سے کچھ نہیں ہوتا
ہوسلو سے ادان ہوتی ہے
---