Shayari for Speeches "Beroone Darya Kuchh Nahi"
|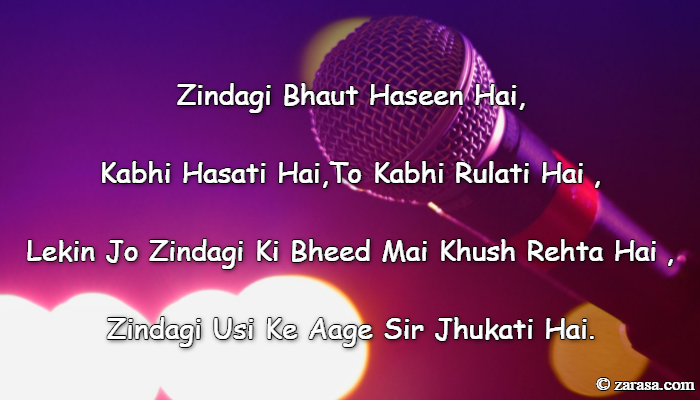 Zindagi Bhaut Haseen Hai,
Kabhi Hasati Hai,To Kabhi Rulati Hai ,
Lekin Jo Zindagi Ki Bheed Mai Khush Rehta Hai ,
Zindagi Usi Ke Aage Sir Jhukati Hai.
ज़िन्दगी बहुत हसीन है,
कभी हंसाती है, तो कभी रुलाती है,
लेकिन जो ज़िन्दगी की भीड़ में खुश रहता है,
ज़िन्दगी उसी के आगे सिर झुकाती है।
زندگی بہت حسین ہے
کبھی حسنتی ہے ،ٹوہ کبھی رلاتی ہے
لیکن جو زندگی کی بھیڈ می خوش رہتا ہے
زندگی اسی کے آگے سر جھکتی ہے
---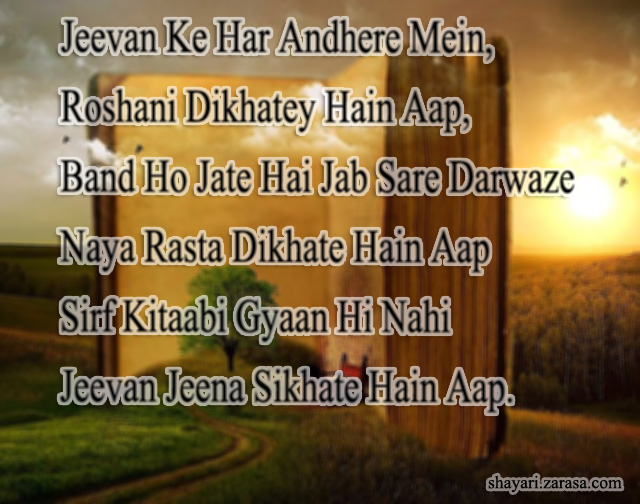 Jeevan Ke Har Andhere Mein,
Roshani Dikhatey Hain Aap,
Band Ho Jate Hai Jab Sare Darwaze
Naya Rasta Dikhate Hain Aap
Sirf Kitaabi Gyaan Hi Nahi
Jeevan Jeena Sikhate Hain Aap.


 
 

जीवन के हर अँधेरे में,
रोशनी दिखते हैं आप,
बंद हो जाते है जब सारे दरवाज़े
नया रास्ता दिखवाते हैं आप
सिर्फ किताबी ज्ञान ही नहीं
जीवन जीना सिखाते हैं आप.
زندگی کے ہر اندھیرے میں
روشنی نظر آتے ہیں آپ
بند ہو جاتے ہیں جب سارے دروازے
نیا راستہ دكھواتے ہیں آپ
صرف کتابی علم ہی نہیں
زندگی جینا سکھاتے ہیں آپ
---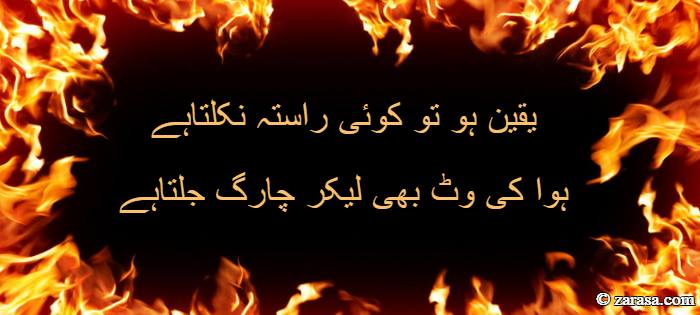 Yaqeen Ho To Koi Rasta Nikalta Hai,
Hawa Ki Ot Bhi Le Kar Charaag Jalta Hai.

यक़ीन हो तो कोई रास्ता निकलता है,
हवा की ओट भी ले कर चराग़ जलता है।
یقین ہو تو کوئی راستہ نکلتا ہے
ہوا کی وٹ بھی لیکر چارگ جلتا ہے
---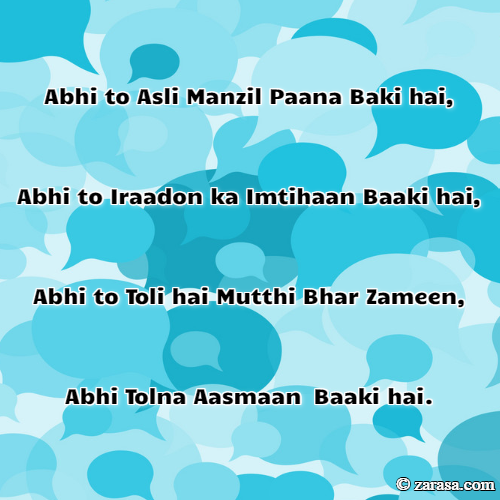 Abhi to Asli Manzil Paana Baki hai,
Abhi to Iraadon ka Imtihaan Baaki hai,
Abhi to Toli hai Mutthi Bhar Zameen,
Abhi Tolna Aasmaan  Baaki hai.
अभी तो असली मंजिल पाना बाकी है,
अभी तो इरादों का इम्तिहान बाकी है,
अभी तो तोली है मुट्ठी भर जमीन,
अभी तोलना आसमान बाकी है।
ابھی تو اصلی منزل پانا باکی ہے
ابھی تو ارادو کا امتحاں باکی ہے
ابھی تو ٹولی ہے مٹھی بھر زمین
ابھی تولنا آسمان باکی ہے
---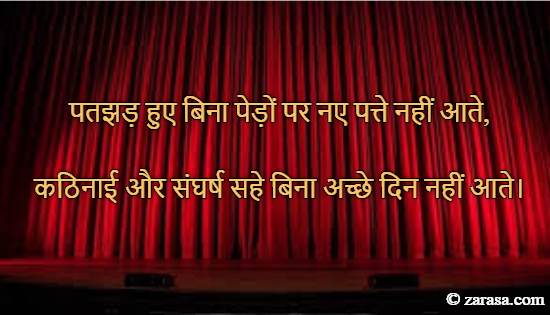 Patjhad Huye Bina Pedo Par Naye Patte Nahi Aate,
Kathinai Aur Sangharsh Sahe Bina Achhe Din Nahi Aate.

पतझड़ हुए बिना पेड़ों पर नए पत्ते नहीं आते,
कठिनाई और संघर्ष सहे बिना अच्छे दिन नहीं आते।
پتجہاڈ ہوئے بنا پیڈں پر نیے پتے نہی آتے
کٹھنائی اور سنگھرش سہی بنا اچھے دن نہیں آتے
---