Sitare Shayari "Sitare Kuch Batate Hai"
|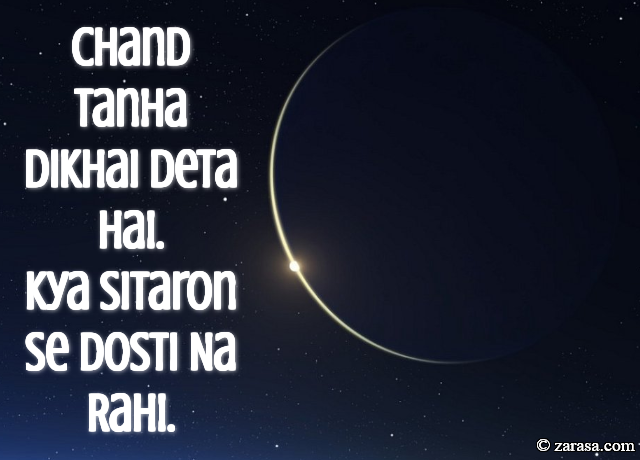 Chand Tanha Dikhai Deta Hai.
Kya Sitaron Se Dosti Na Rahi.

चाँद तनहा दिखाई देता है .
क्या सितारों से दोस्ती न रही .

چند تنہا دکھائی دیتا ہے .
کیا ستاروں سے دوستی نہ رہی .
---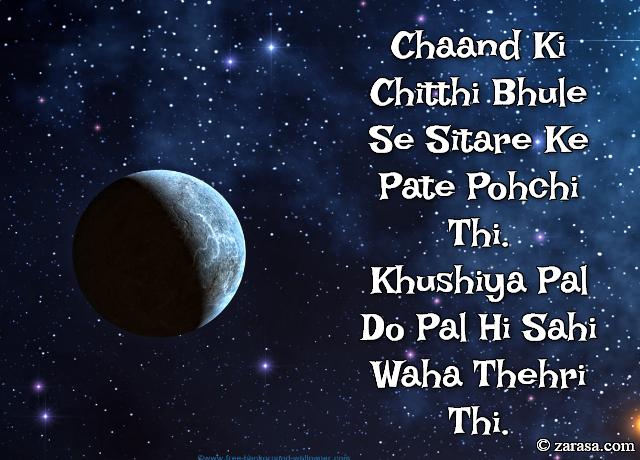 Chaand Ki Chitthi Bhule Se Sitare Ke Pate Pohchi Thi.
Khushiya Pal Do Pal Hi Sahi Waha Thehri Thi.
चाँद की चिट्ठी भूले से सितारे के पते पोह्ची थी .
खुशियाँ पल दो पल ही सही वह ठहरी थी .
چاند کی چٹھی بھلے سے ستارے کے پتے پوھچی تھی .
خوشیا پل دو پل ہی سہی وہا ٹھہری تھی .
---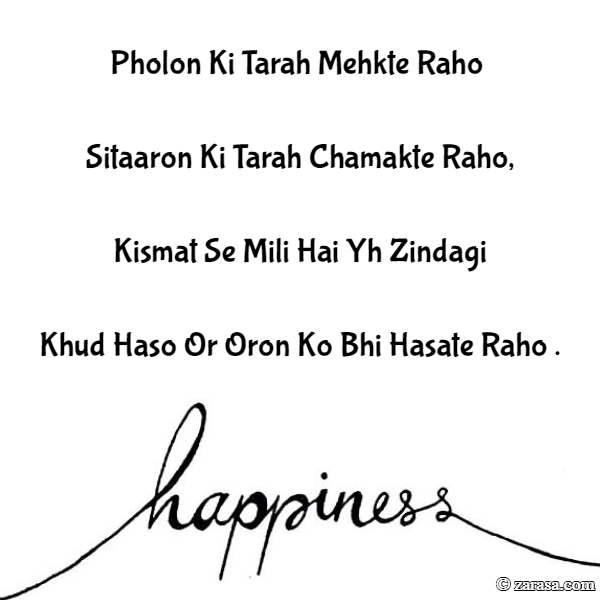 Pholon Ki Tarah Mehkte Raho
Sitaaron Ki Tarah Chamakte Raho,
Kismat Se Mili Hai Yh Zindagi
Khud Haso Or Oron Ko Bhi Hasate Raho .
फूलों की तरह महकते रहो
सितारों की तरह चमकते रहो,
किस्मत से मिली है ये ज़िन्दगी
ख़ुद हँसो और औरों को भी हंसाते रहो।
پھولوں کی طرح مہکتے رہو
ستاروں کی طرح چمکتے رہو
کسمت سے ملی ہے یہ زندگی
خود حصوں اور اروں کو بھی ہستے رہو
---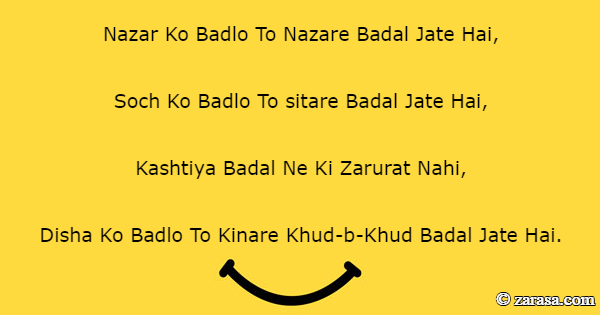 Nazar Ko Badlo To Nazare Badal Jate Hai,
Soch Ko Badlo To sitare Badal Jate Hai,
Kashtiya Badal Ne Ki Zarurat Nahi,
Disha Ko Badlo To Kinare Khud-b-Khud Badal Jate Hai.
नज़र को बदलो तो नज़ारे बदल जाते है,
सोच को बदलो तो सितारे बदल जाते है,
कश्तिया बदल ने की ज़रूरत नहीं ,
दिशा को बदलो तो किनारे खुद बा खुद बदल जाते है।
نظر کو بفلو تو نظارے بدل جاتے ہے
سوچ کو بدلو تو ستارے بدل جاتے ہے
کشتیا بدل نے کی ضرورت نہیں
دشا کو بدلو تو کنارے خود با خود بدل جاتے ہے
---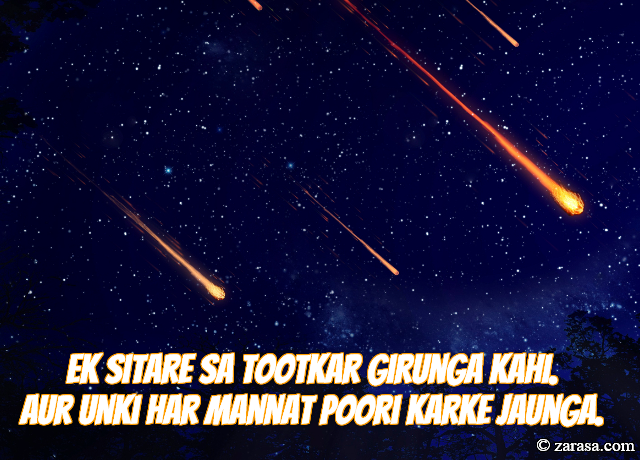 Ek Sitare Sa Tootkar Girunga Kahi.
Aur Unki Har Mannat Poori Karke Jaunga.
एक सितारे सा टूटकर गिरूंगा कही .
और उनकी हर मन्नत पूरी करके जाऊंगा .

ایک ستارے سا توتکار گرنگا کہی .
اور انکی ہر منّت پوری کرکے جاؤنگا .

---