Sitare Shayari "Sitare Badal Jaenge"
|
Soch Ko Badlo Sitare Badal Jaenge Nazar Ko Badlo Nazare Badal Jaenge.
Kashtiya Badalne Ki Zarurat Nahi Dishao Ko Badlo Kinare Badal Jaenge.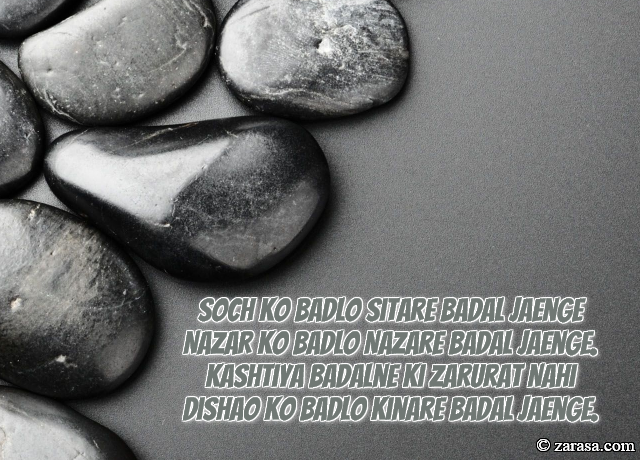 ---


सोच को बदलो सितारे बदल जाएंगे नज़र को बदलो नज़ारे बदल जाएंगे .
कश्तिया बदलने की ज़रूरत नहीं दिशाओ को बदलो किनारे बदल जाएंगे .



---


سوچ کو بدلو ستارے بدل جاینگے نظر کو بدلو نظارے بدل جاینگے .
کشتیا بدلنے کی ضرورت نہیں دشو کو بدلو کنارے بدل جاینگے .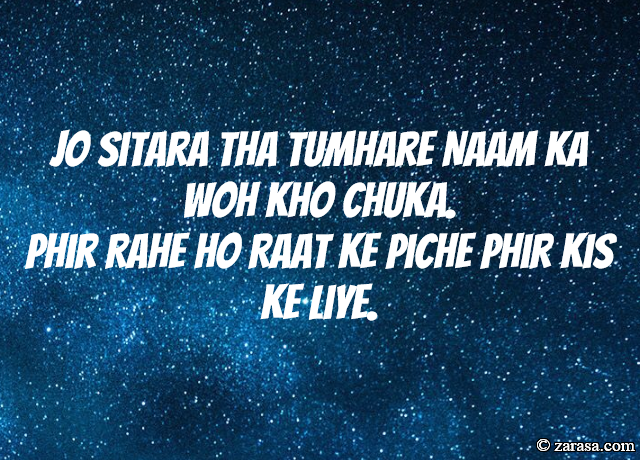 Jo Sitara Tha Tumhare Naam Ka Woh Kho Chuka.
Phir Rahe Ho Raat Ke Piche Phir Kis Ke Liye.
जो सितारा था तुम्हारे नाम का वह खो चूका .
फिर रहे हो रात के पीछे फिर किस के लिए .
جو سترہ تھا تمہارے نام کا وہ کھو چکا .
پھر رہے ہو رات کے پیچھے پھر کس کے لئے .
---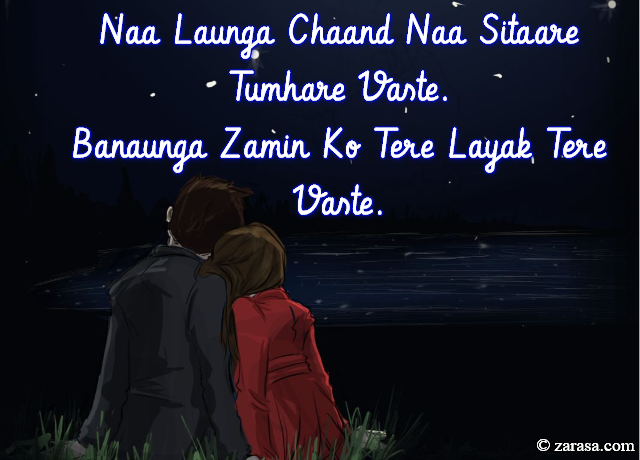 Naa Launga Chaand Naa Sitaare Tumhare Vaste.
Banaunga Zamin Ko Tere Layak Tere Vaste.
ना लाऊंगा चाँद ना सितारे तुम्हारे वास्ते .
बनाऊंगा ज़मीन को तेरे लायक तेरे वास्ते .
نا لونگا چاند نا ستارے تمہارے واسطے .
بناؤنگا زمیں کو تیرے لیک تیرے واسطے .
---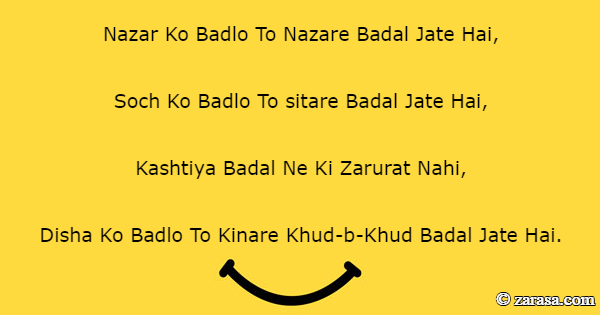 Nazar Ko Badlo To Nazare Badal Jate Hai,
Soch Ko Badlo To sitare Badal Jate Hai,
Kashtiya Badal Ne Ki Zarurat Nahi,
Disha Ko Badlo To Kinare Khud-b-Khud Badal Jate Hai.
नज़र को बदलो तो नज़ारे बदल जाते है,
सोच को बदलो तो सितारे बदल जाते है,
कश्तिया बदल ने की ज़रूरत नहीं ,
दिशा को बदलो तो किनारे खुद बा खुद बदल जाते है।
نظر کو بفلو تو نظارے بدل جاتے ہے
سوچ کو بدلو تو ستارے بدل جاتے ہے
کشتیا بدل نے کی ضرورت نہیں
دشا کو بدلو تو کنارے خود با خود بدل جاتے ہے
---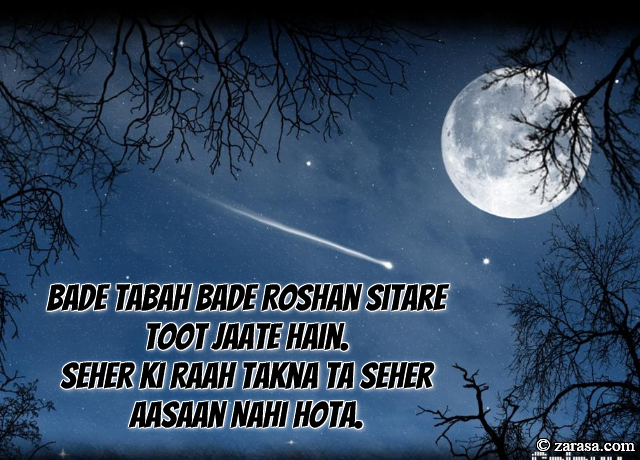 Bade Tabah Bade Roshan Sitare Toot Jaate Hain.
Seher Ki Raah Takna Ta Seher Aasaan Nahi Hota.
बड़े तबाह बड़े रोशन सितारे तूट जाते हैं .
सेहर की राह ताकना ता सेहर आसान नहीं होता .

بدی تباہ بدی روشن ستارے ٹوٹ جاتے ہیں .
سہر کی راہ تکنا تا سہر آسان نہیں ہوتا .

---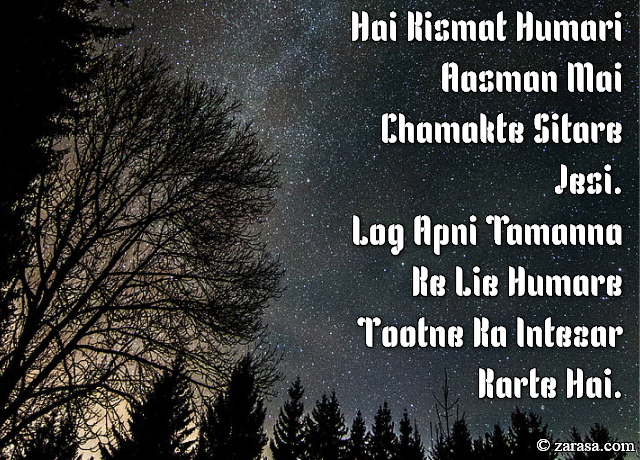 Hai Kismat Humari Aasman Mai Chamakte Sitare Jesi.
Log Apni Tamanna Ke Lie Humare Tootne Ka Intezar Karte Hai.

है किस्मत हमारी आसमान मै चमकते सितारे जैसी .
लोग अपनी तमन्ना के लिए हमारे टूटने का इंतज़ार करते है .



ہے کسمت ہماری آسمان می چمکتے ستارے جیسی .
لوگ اپنی تمنّ کےلئے ہمارے ٹوٹنے کا انتظر کرتے ہے .


---