Talaash Shayari "Teri Talash Mai"
|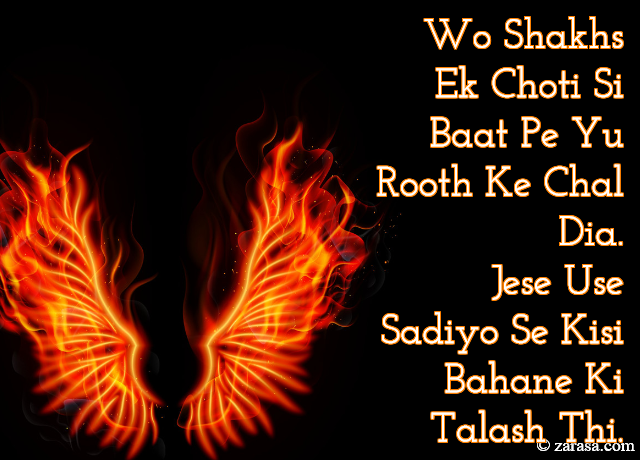 Wo Shakhs Ek Choti Si Baat Pe Yu Rooth Ke Chal Dia.
Jese Use Sadiyo Se Kisi Bahane Ki Talash Thi.
वो शख्स एक छोटी सी बात पे यु रूठ के चल दिए .
जैसे उसे सदियों से किसी बहाने की तलाश थी .

وو شخص ایک چوٹی سی بات پی یو روٹھ کے چل دیا .
جیسے اسے صدیو سے کسی بہانے کی تلاشک تھی .

---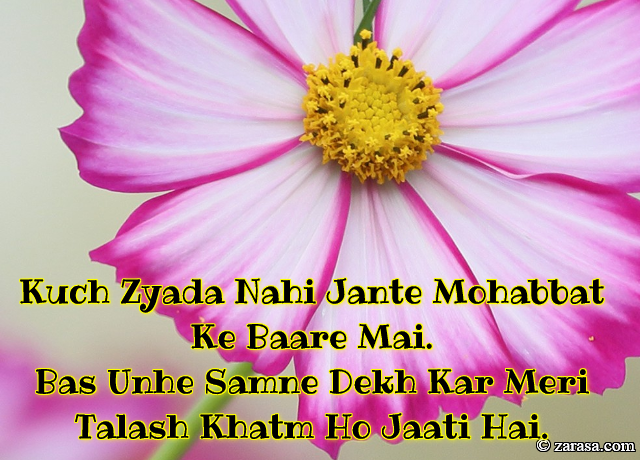 Kuch Zyada Nahi Jante Mohabbat Ke Baare Mai.
Bas Unhe Samne Dekh Kar Meri Talash Khatm Ho Jaati Hai.
कुछ ज़्यादा नहीं जानते मोहब्बत के बारे मै .
बस उन्हें सामने देख कर मेरी तलाश ख़त्म हो जाती है .
کچھ زیادہ نہیں جانتے موحبّت کے بارے می .
بس انھ سامنے دیکھ کر میری تلاش ختم ہو جاتی ہے .
---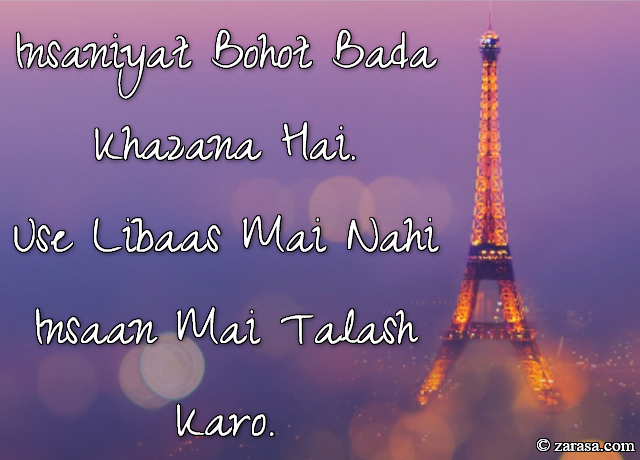 Insaniyat Bohot Bada Khazana Hai.
Use Libaas Mai Nahi Insaan Mai Talash Karo.

इंसानियत बोहोत बड़ा खज़ाना है .
उसे लिबास मै नहीं इंसान मै तलाश करो .

انسانیت بوہوت بد خزانہ ہے .
اسے لباس می نہیں انسان می تلاش کرو .
---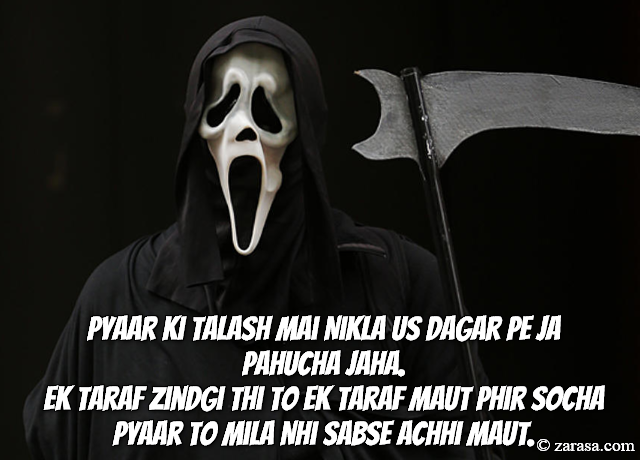 Pyaar Ki Talash Mai Nikla Us Dagar Pe Ja Pahucha Jaha.
Ek Taraf Zindgi Thi To Ek Taraf Maut Phir Socha Pyaar To Mila Nhi Sabse Achhi Maut.
प्यार की तलाश में निकला उस डगर पे जा पंहुचा जहा .
एक तरफ ज़िंदगी थी तो एक तरफ मौत फिर सोचा प्यार तो मिला नहीं सबसे अच्छी मौत .
پیار کی تلاش مے نکلا اس دگر پی جا پہچا جہا .
ایک طرف زندگی تھی تو ایک طرف موت پھر سوچا پیار تو ملا نہی سبسے اچھی موت .
---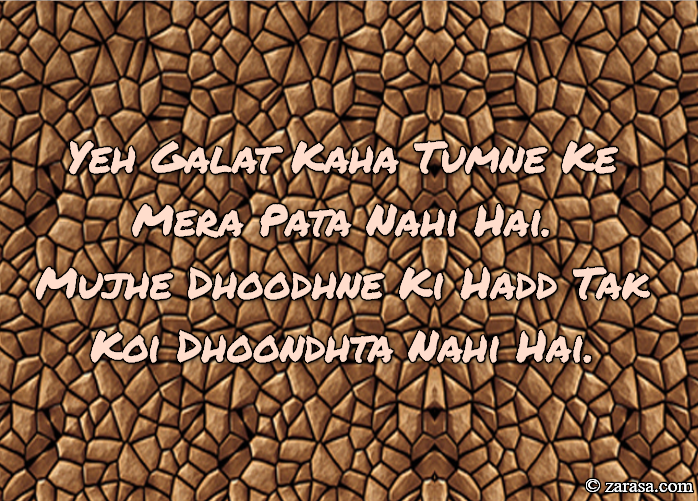 Yeh Galat Kaha Tumne Ke Mera Pata Nahi Hai.
Mujhe Dhoodhne Ki Hadd Tak Koi Dhoondhta Nahi Hai.
यह गलत कहा तुमने के मेरा पता नहीं है .
मुझे ढूढ़ने की हद्द तक कोई ढूंढता नहीं है .
یہ گلت کہا تھمنے کے میرا پتا نہیں ہے .
مجھے ڈھودھنے کی حدد تک کوئی ڈھونڈھتا نہیں ہے .
---