Tanhai Shayari "Tum Ko Bhool Na Payenge"
|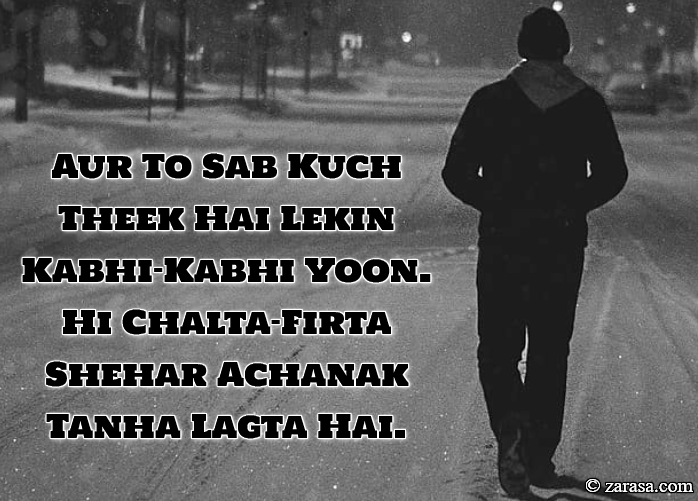 Aur To Sab Kuch Theek Hai Lekin Kabhi-Kabhi Yoon.
Hi Chalta-Firta Shehar Achanak Tanha Lagta Hai.
और तो सब कुछ ठीक है लेकिन कभी -कभी यूं .
ही चलता -फिरता शहर अचानक तनहा लगता है .
اور تو سب کچھ ٹھیک ہے لیکن کبھی - کبھی یوں .
ہی چلتا -فرتا شہر اچانک تنہا لگتا ہے .
---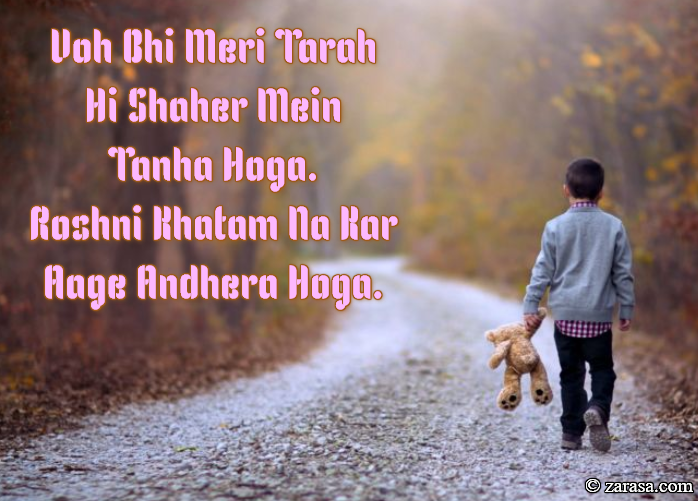 Voh Bhi Meri Tarah Hi Shaher Mein Tanha Hoga.
Roshni Khatam Na Kar Aage Andhera Hoga.
वोह भी मेरी तरह ही शहर में तनहा होगा .
रौशनी ख़तम ना कर आगे अँधेरा होगा .
وہ بھی میری طرح ہی شہر میں تنہا ہوگا .
روشنی ختم نہ کر آگے اندھیرا ہوگا .
---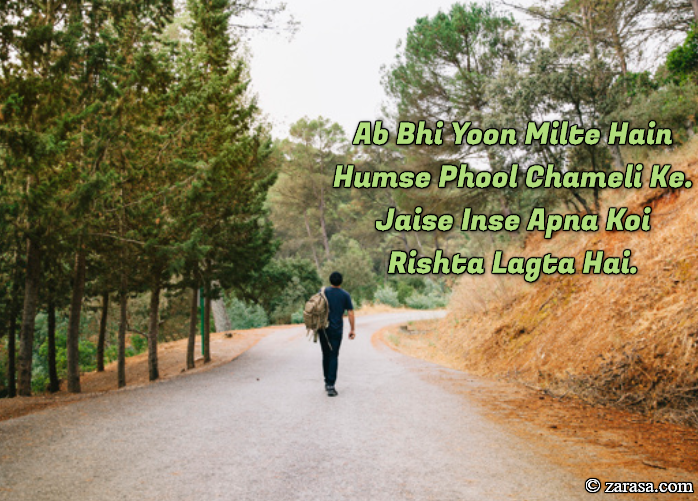 aAb Bhi Yoon Milte Hain Humse Phool Chameli Ke.
Jaise Inse Apna Koi Rishta Lagta Hai.
अब भी यूं मिलते हैं हमसे फूल चमेली के .
जैसे इनसे अपना कोई रिश्ता लगता है .
اب بھی یوں ملتے ہیں ہمسے پھول چمیلی کے .
جیسے انسے اپنا کوئی رشتہ لگتا ہے .
---
Jaa Chuke Hain Sab Aur Wahi Khamoshi Chaayi Hai.
Pass Hain Har Oar Sannata Tanhai Muskurai Hai.
जा चुके हैं सब और वही ख़ामोशी छायी है .
पास हैं हर और सन्नाटा तन्हाई मुस्कुराई है .
جا چکے ہیں سب اور وہی خاموشی چایی ہے .
پاسس ہیں ہر ور سنناتا تنہائی مسکرائی ہے .
---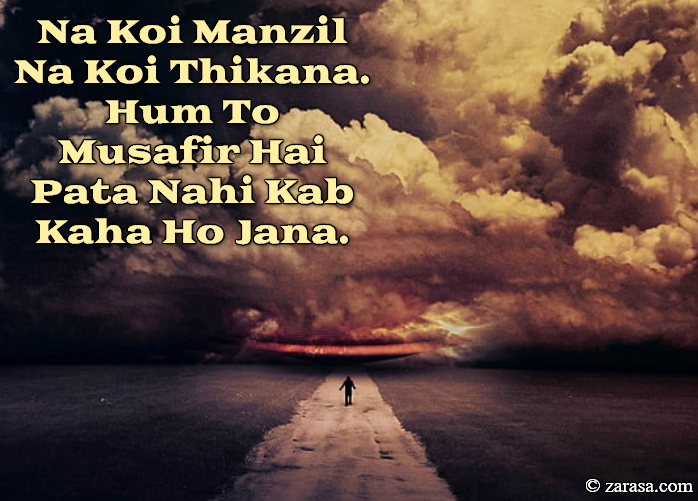 Na Koi Manzil Na Koi Thikana.
Hum To Musafir Hai Pata Nahi Kab Kaha Ho Jana.
ना कोई मंज़िल ना कोई ठिकाना .
हम तो मुसाफिर है पता नहीं कब कहा हो जाना .
نہ کوئی منزل نہ کوئی ٹھکانہ .
ہم تو مسافر ہے پتا نہیں کب کہا ہو جانا .
---