Tanhai Shayari "Tum Ko Bhool Na Payenge"
|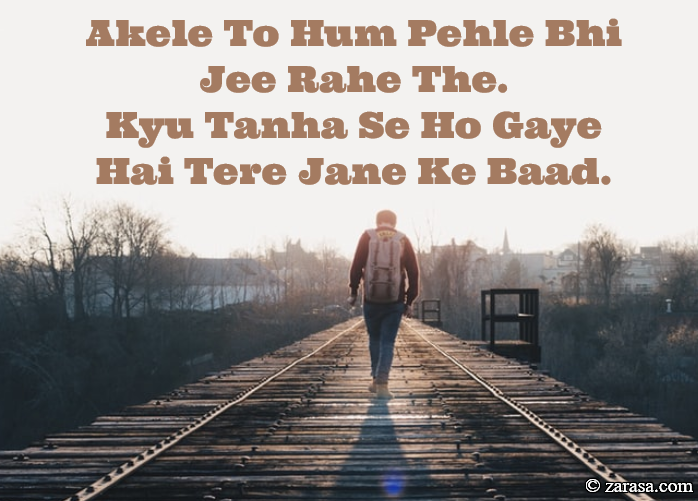 Akele To Hum Pehle Bhi Jee Rahe The.
Kyu Tanha Se Ho Gaye Hai Tere Jane Ke Baad.
अकेले तो हम पहले भी जी रहे थे .
क्यों तनहा से हो गए है तेरे जाने के बाद .
اکیلے تو ہم پہلے بھی جی رہے تھے .
کیو تنہا سے ہو گئے ہے تیرے جانے کے بعد .
---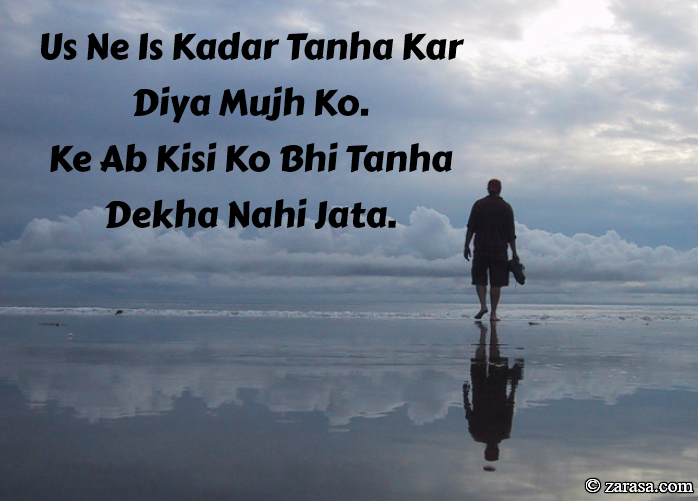 Us Ne Is Kadar Tanha Kar Diya Mujh Ko.
Ke Ab Kisi Ko Bhi Tanha Dekha Nahi Jata.
उस ने इस कदर तनहा कर दिया मुझ को .
के अब किसी को भी तनहा देखा नहीं जाता .
اس نے اس کدر تنہا کر دیا مجھ کو .
کا اب کسی کو بھی تنہا دیکھا نہیں جاتا .
---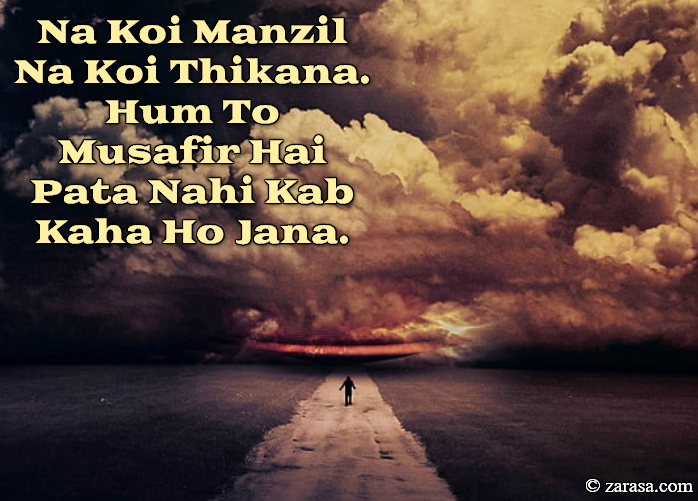 Na Koi Manzil Na Koi Thikana.
Hum To Musafir Hai Pata Nahi Kab Kaha Ho Jana.
ना कोई मंज़िल ना कोई ठिकाना .
हम तो मुसाफिर है पता नहीं कब कहा हो जाना .
نہ کوئی منزل نہ کوئی ٹھکانہ .
ہم تو مسافر ہے پتا نہیں کب کہا ہو جانا .
---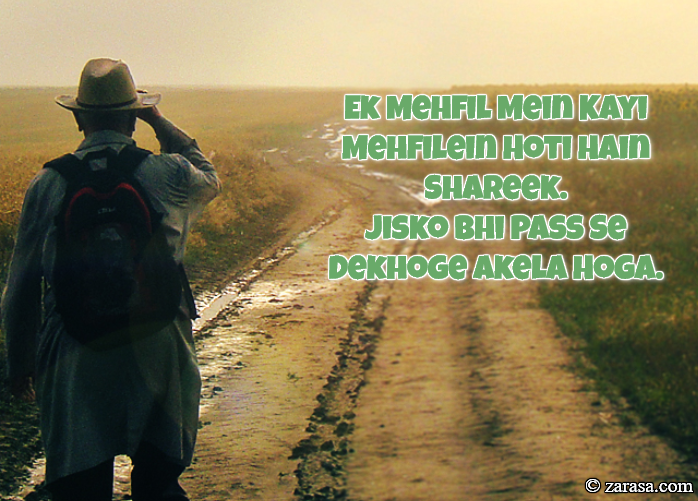 Ek Mehfil Mein Kayi Mehfilein Hoti Hain Shareek.
Jisko Bhi Pass Se Dekhoge Akela Hoga.
एक महफ़िल में कई महफ़िलें होती हैं शरीक .
जिसको भी पास से देखोगे अकेला होगा .
ایک محفل میں کی محفلیں ہوتی ہیں شریک .
جسکو بھی پاسس سے دیکھوگے اکیلا ہوگا .
---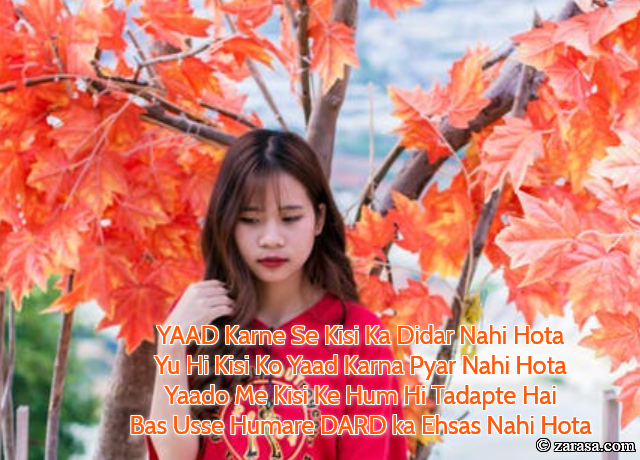 Yaad Karne Se Kisi Ka Didar Nahi Hota
Yu Hi Kisi Ko Yaad Karna Pyar Nahi Hota
Yaado Me Kisi Ke Hum Hi Tadapte Hai
Bas Usse Humare DARD ka Ehsas Nahi Hota
याद करने से किसी का दीदार नहीं होता
यु ही किसी को याद करना प्यार नहीं होता
यादो में किसी के हम ही तड़पते है
बस उससे हमारे दर्द का एहसास नहीं होता
یاد کرنے سے کسی کا دیدار ہوتا
یو ہی کسی کو یاد کرنا پیار نہیں ہوتا
یادو می کسی کے ہم ہی تداپتے ہے
بس اسے ہمارے درد کا احساس نہیں ہوتا
---