Tanziya Shayari "Faqat Ek Hi Dikha Do"
|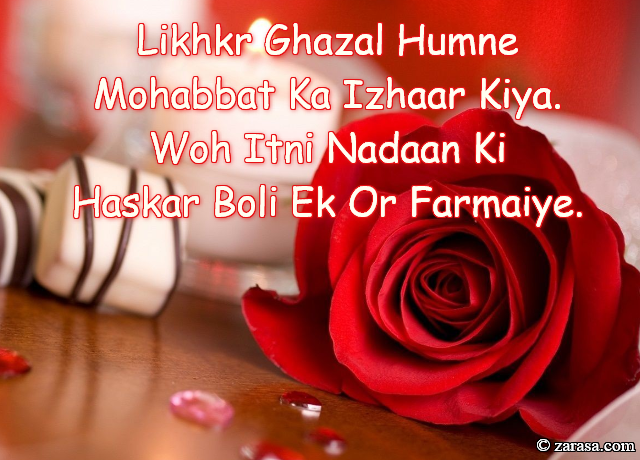 Likhkr Ghazal Humne Mohabbat Ka Izhaar Kiya.
Woh Itni Nadaan Ki Haskar Boli Ek Or Farmaiye.
लिखकर ग़ज़ल हमने मोहब्बत का इज़्हार किया .
वह इतनी नादान की हसकर बोली एक और फरमाइए .
لکھکر غزل ہمنے موحبّت کا اظہار کیا .
وہ اتنی ناداں کی حسکر بولی ایک اور فرمائے .
---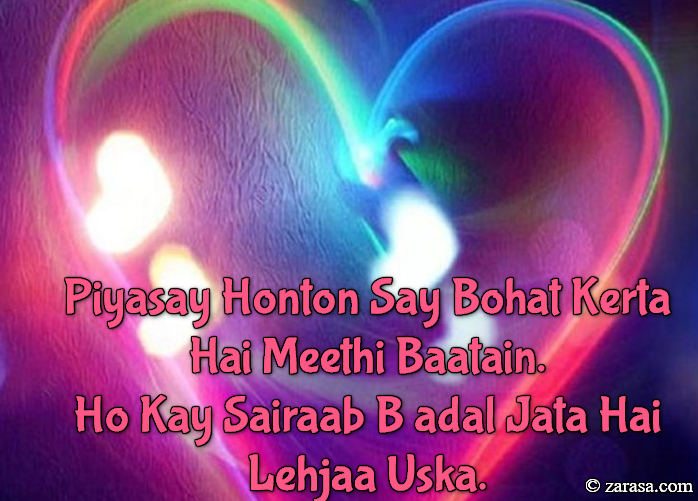 Piyasay Honton Say Bohat Kerta Hai Meethi Baatain.
Ho Kay Sairaab Badal Jata Hai Lehjaa Uska.
पियासे होंठों से बोहत करता है मीठी बातें .
हो के सैराब बदल जाता है लहजा उसका .
پیسے ہونٹوں سے بوہت کرتا ہے میٹھی باتیں .
ہو کے سیراب بدل جاتا ہے لہجہ اسکا .
---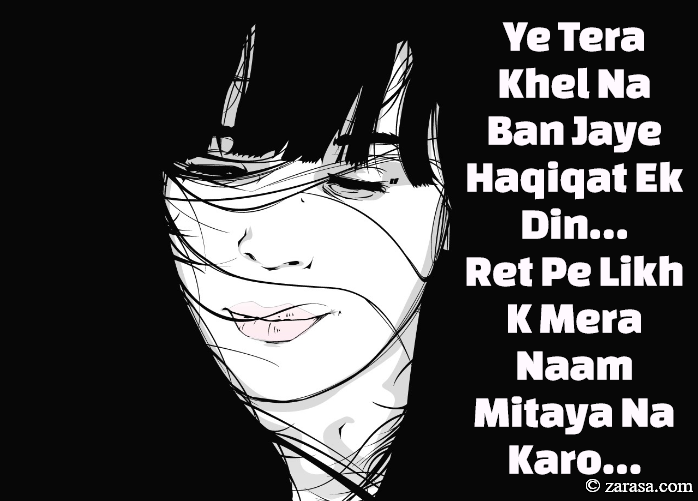 Ye Tera Khel Na Ban Jaye Haqiqat Ek Din…
Ret Pe Likh K Mera Naam Mitaya Na Karo…
ये तेरा खेल न बन जाये हक़ीक़त एक दिन …
रेट पे लिख क मेरा नाम मिटाया ना करो …
یہ تیرا کھل نہ بن جائے حقیقت ایک دن …
ریت پی لکھ کے میرا نام مٹایا نہ کرو …
---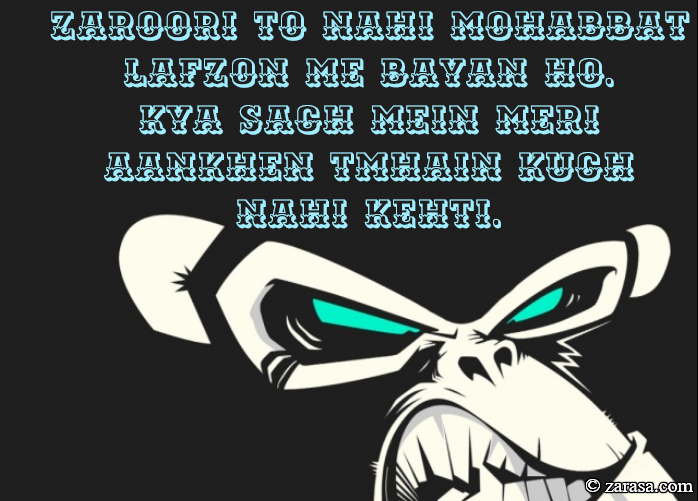 Zaroori To Nahi Mohabbat Lafzon Me Bayan Ho.
Kya Sach Mein Meri Aankhen Tmhain Kuch Nahi Kehti.
ज़रूरी तो नहीं मोहब्बत लफ़्ज़ों में बयां हो .
क्या सच में मेरी आँखें तम्हें कुछ नहीं कहती .

ضروری تو نہیں موحبّت لفظوں مے بیان ہو .
کیا سچ میں میری آنکھیں تمہیں کچھ نہیں کہتی .

---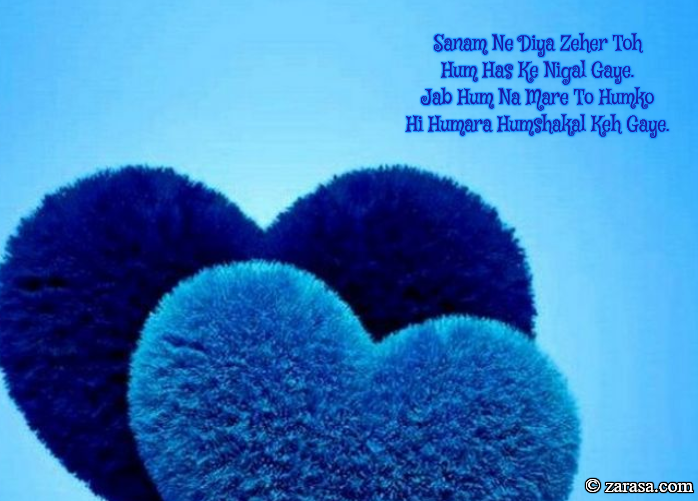 Sanam Ne Diya Zeher Toh Hum Has Ke Nigal Gaye.
Jab Hum Na Mare To Humko Hi Humara Humshakal Keh Gaye.
सनम ने दिया ज़हर तोह हम है के निगल गए .
जब हम ना मारे तो हमको ही हमारा हमशकल कह गए .
صنم نے دیا زہر ٹوہ ہم حس کے نگل گئے .
جب ہم نہ مارے تو ہمکو ہی ہمارا ہمشکل کہ گئے .
---