Tanziya Shayari (Sarcastic) "Koi Hindu Koi Muslim Koi Isai Hai"
|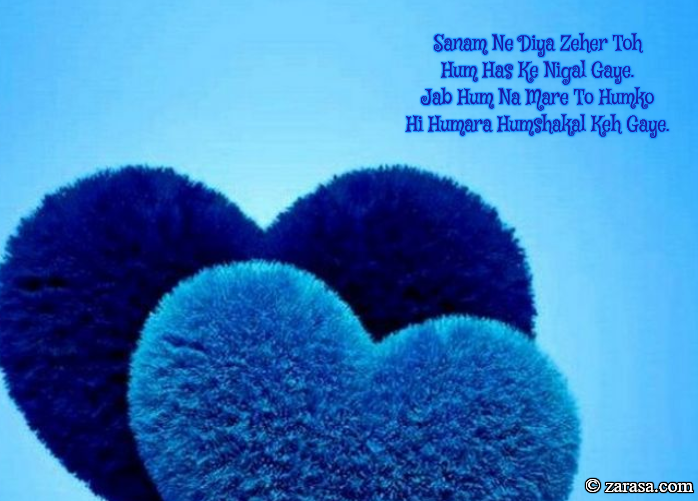 Sanam Ne Diya Zeher Toh Hum Has Ke Nigal Gaye.
Jab Hum Na Mare To Humko Hi Humara Humshakal Keh Gaye.
सनम ने दिया ज़हर तोह हम है के निगल गए .
जब हम ना मारे तो हमको ही हमारा हमशकल कह गए .
صنم نے دیا زہر ٹوہ ہم حس کے نگل گئے .
جب ہم نہ مارے تو ہمکو ہی ہمارا ہمشکل کہ گئے .
---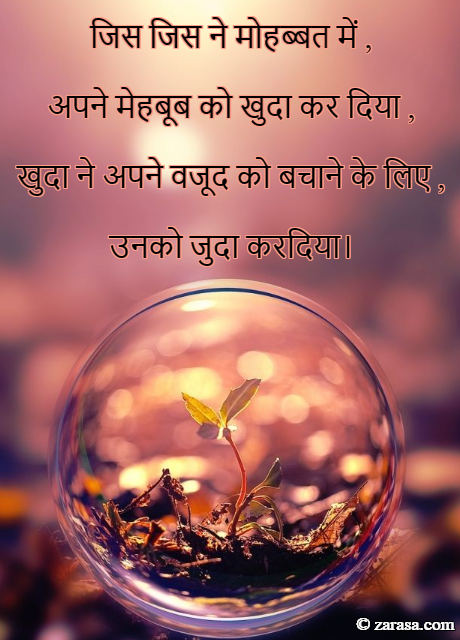 Jis Jis Ne Mohabbat Mai,
Apne Mehboob Ko Khuda Kar Diya ,
Khuda Ne Apne Wajud Ko Bachane Ke Liye ,
Unko Juda Kr Diya.
जिस जिस ने मोहब्बत में ,
अपने मेहबूब को खुदा कर दिया ,
खुदा ने अपने वजूद को बचाने के लिए ,
उनको जुदा करदिया।
جس جس نے موحبّت می
اپنے محبوب کو خدا کر دیا
خدا نے اپنے وجود کو بچانے کے لئے
انکو جودا کر دیا
---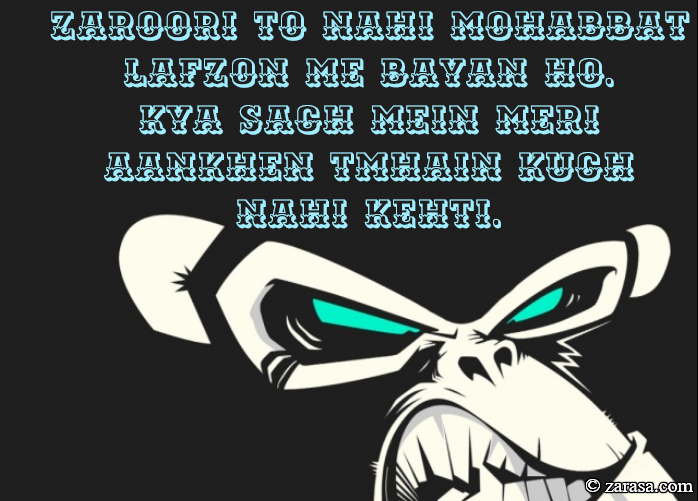 Zaroori To Nahi Mohabbat Lafzon Me Bayan Ho.
Kya Sach Mein Meri Aankhen Tmhain Kuch Nahi Kehti.
ज़रूरी तो नहीं मोहब्बत लफ़्ज़ों में बयां हो .
क्या सच में मेरी आँखें तम्हें कुछ नहीं कहती .

ضروری تو نہیں موحبّت لفظوں مے بیان ہو .
کیا سچ میں میری آنکھیں تمہیں کچھ نہیں کہتی .

---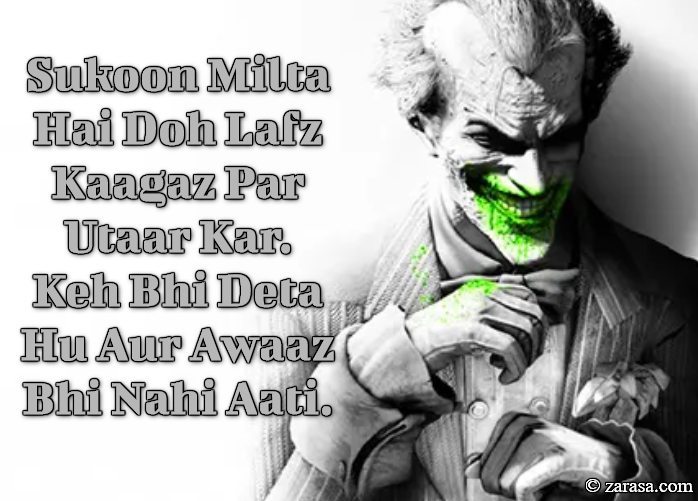 Sukoon Milta Hai Doh Lafz Kaagaz Par Utaar Kar.
Keh Bhi Deta Hu Aur Awaaz Bhi Nahi Aati.
सुकून मिलता है दो लफ्ज़ कागज़ पर उतार कर .
कह भी देता हु और आवाज़ भी नहीं आती .
سکون ملتا ہے دوہ لفظ کاگز پر اتار کر .
کہ بھی دیتا ہو اور آواز بھی نہیں آتی .
---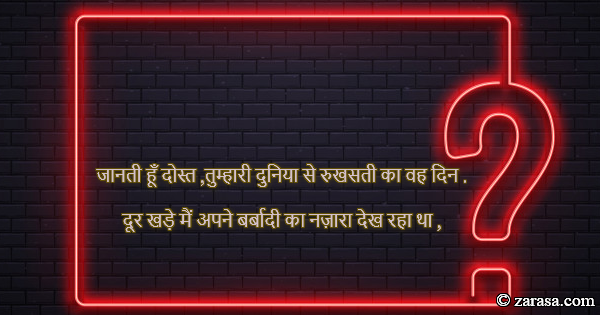 Janti Hoon Dost,Tumhari Duniya Se Rukshati Ka Woh Din,
Door Khade Main Apne Barbadi Ka Nazara Dekh Raha Tha.
जानती हूँ दोस्त ,तुम्हारी दुनिया से रुखसती का वह दिन .
दूर खड़े मैं अपने बर्बादी का नज़ारा देख रहा था ,
جانتی ہوں دوست ,تمہاری دنیا سے رکستی کا وہ دن .
دور کھڈے میں اپنے بربادی کا نظارہ دیکھ رہا تھا ,
---