Zidd Shayari "Ek Hi Din Me Saari Zindagi Jeene Ki Zid Na Kar"
|



Ek Hi Din Me Saari Zindagi Jeene Ki Zid Na Kar,
Samndar Me Lahara Kuchh Din, Pee Jaane Ki Zid Na Kar.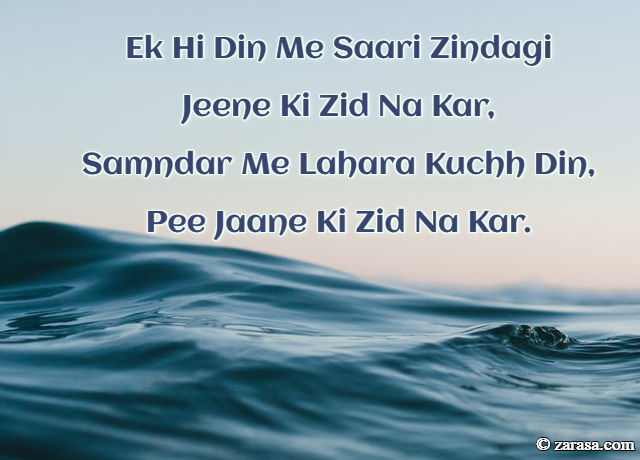 ---

एक ही दिन में सारी ज़िन्दगी जीने की ज़िद न कर,
समन्दर में लहरा कुछ दिन, पी जाने की ज़िद न कर.


---

ایک ہی دن می ساری زندگی جینے کی زد نہ کر
سمندر می لہرا کچھ دن ،پی جانے کی زد نہ کر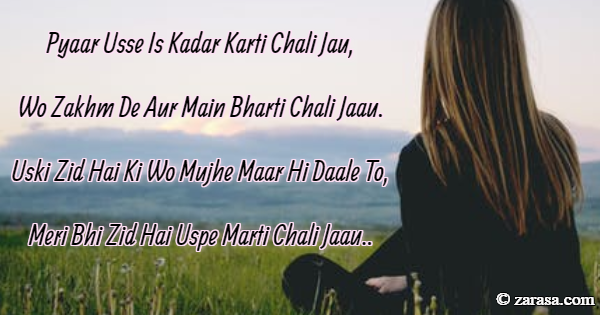 Pyaar Usse Is Kadar Karti Chali Jau,
Wo Zakhm De Aur Main Bharti Chali Jaau.
Uski Zid Hai Ki Wo Mujhe Maar Hi Daale To,
Meri Bhi Zid Hai Uspe Marti Chali Jaau..
प्यार उससे इस कदर करती चली जाऊँ,
वो जख़्म दे और मैं भरती चली जाऊँ.
उसकी ज़िद हैं कि वो मुझे मार ही डाले तो,
मेरी भी ज़िद हैं उसपे मरती चली जाऊँ..
پیار اسے اس کدر کرتی چلی جاو
وہ زخم دے اور می بھرتی چلی جاو
اسکی زد ہے کی وہ مجھے مار ہی دالے تو
میری بھی زد ہے اسپے مرتی چلی جاو
---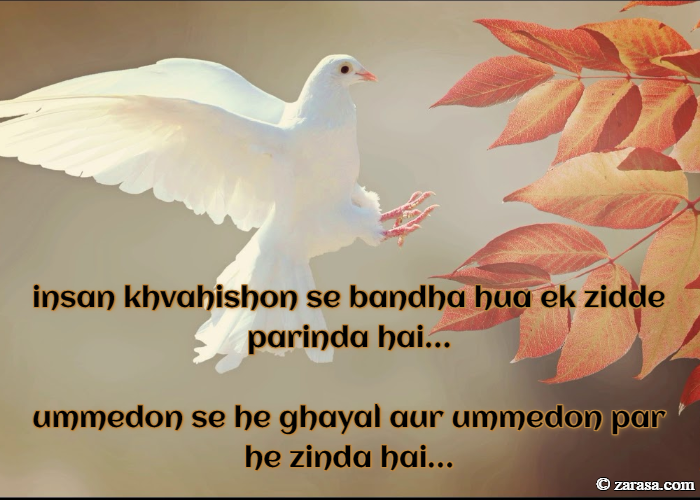 insan khvahishon se bandha hua ek zidde parinda hai…
ummedon se he ghayal aur ummedon par he zinda hai…
इंसान खुअहिशों से बंधा हुआ एक ज़िद्दी परिंदा है। ..
उम्मीदों से हे घायल और उम्मीदों पर ही ज़िंदा है। .....
انسان خواہشوں سے بندھ ہوا ایک زادی پرندہ ہے
امیدوں سے ہے غیل اور امیدوں پر ہے زندہ ہے
---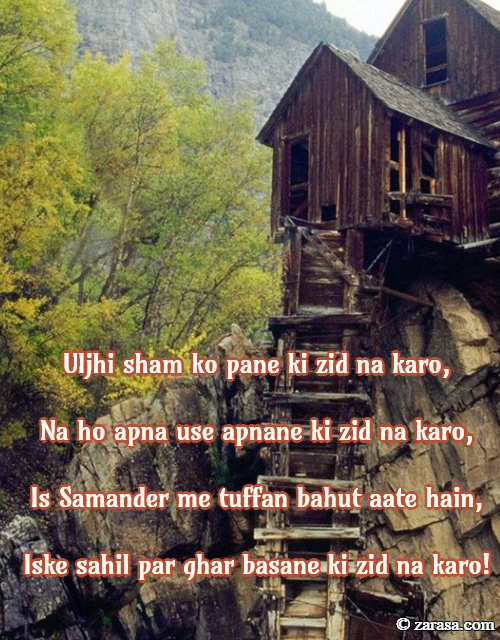 Uljhi sham ko pane ki zid na karo,
Na ho apna use apnane ki zid na karo,
Is Samander me tuffan bahut aate hain,
Iske sahil par ghar basane ki zid na karo!
उलझी शाम को पाने की ज़िद न करो,
जो ना हो अपना उसे अपनाने की ज़िद न करो,
इस समंदर में तूफ़ान बहुत आते है,
इसके साहिल पर घर बनाने की ज़िद न करो।
الجھی شام کو پانے کی زد نہ کرو
نہ ہو اپنا اسے اپنانے کی زد نہ کرو
اس سمندر مے تففان بہت آتے ہیں
اسکے ساحل پر گھر بسنے کی زد نہ کرو
---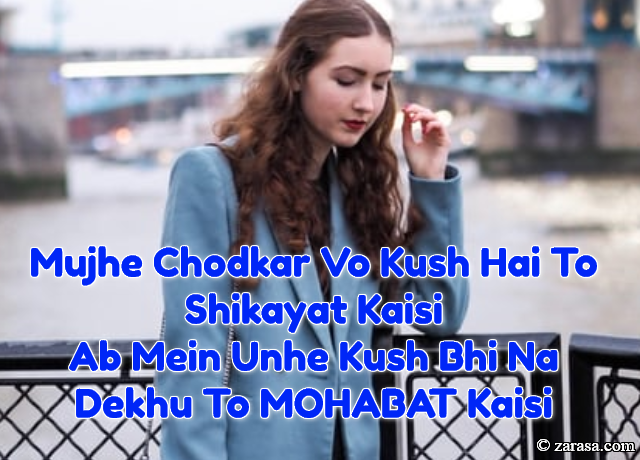 Mujhe Chodkar Vo Kush Hai To Shikayat Kaisi
Ab Mein Unhe Khush Bhi Na Dekhu To Mohabbat Kaisi
मुझे छोड़कर वो कुश है तो शिकायत कैसी
अब में उन्हें कुश भी न देखु तो मोहबत कैसी
مجھے چھوڑکر وہ خوش ہے تو شکایات کیسی
اب میں انھ خوش بھی نہ دیکھو تو موہبت کیسی
---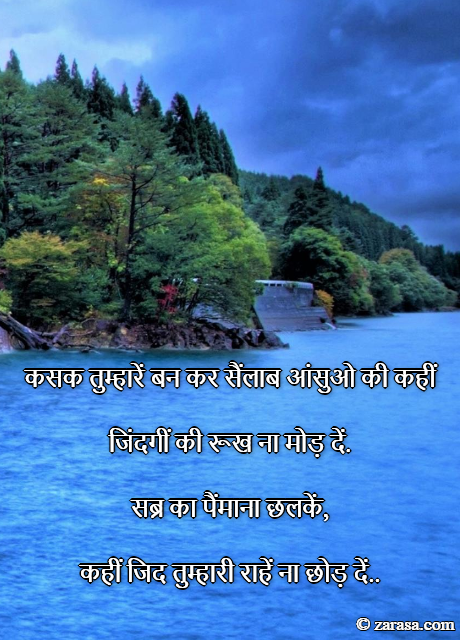 Kasak Tumhaare Ban Kar Sailaab Ansuon Ki Kahi
Zindagi Ki Rukh Naa Mod De,
Sabr Ka Paimaana Chhalake,
Kahi Zid Tumhaari Raahe Naa Chhod De..
कसक तुम्हारें बन कर सैंलाब आंसुओ की कहीं
जिंदगीं की रूख ना मोड़ दें.
सब्र का पैंमाना छलकें,
कहीं जिद तुम्हारी राहें ना छोड़ दें..
کسک تمہارے بن کر سیلاب آسوں کی کہی
زندگی کی رخ نہ موڈ دے
صبر کا پیمانہ چھلکے
کہی زد تمھاری رہے نا چھوڈ دے
---