Zulm Shayari "ज़ुल्म करने वाला ज़ुल्म करके मिट जायेगा "
|
Zulm Karne Vala Zulm Karke Mit Jaega
Zulm Sehne Vala Zulm Sah Ke
Puri Duniya Ke Dilo Mai Cha Jayega.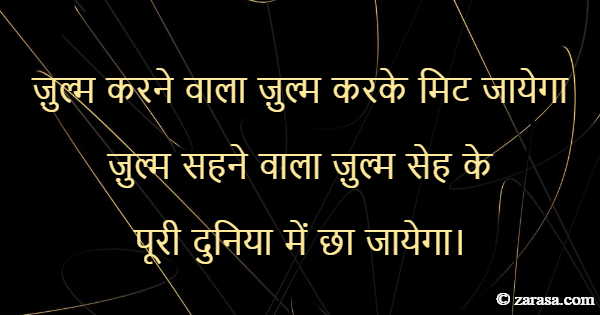 ---

ज़ुल्म करने वाला ज़ुल्म करके मिट जायेगा
ज़ुल्म सहने वाला ज़ुल्म सेह के
पूरी दुनिया में छा जायेगा।


---

ظلم کرنے والا ظلم کرکے مٹ جاےگا
ظلم سہنے والا ظلم سہ کے
پوری دنیا کے دلو می چا جاےگا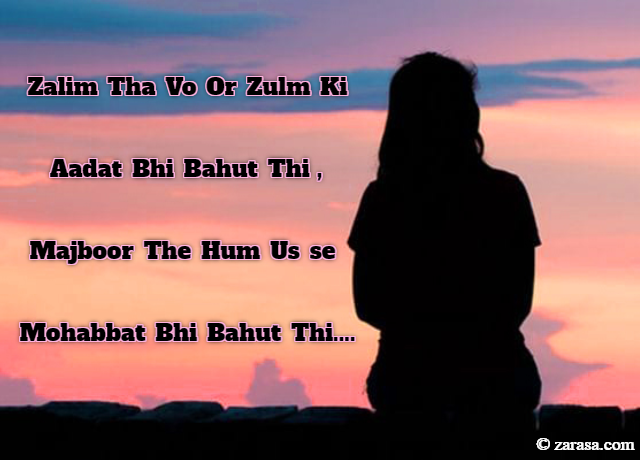 Zalim Tha Vo Or Zulm Ki
Aadat Bhi Bahut Thi ,
Majboor The Hum Us se
Mohabbat Bhi Bahut Thi....
ज़ालिम था वो और ज़ुल्म की
आदत भी बहुत थी ,
मजबूर थे हम उस से
मोहब्बत भी बहुत थी।
ظالم تھا وہ اور ظلم کی
عادت بھی بہت تھی
مجبور تھے ہم اس سے
موحبّت بھی بہت تھی
---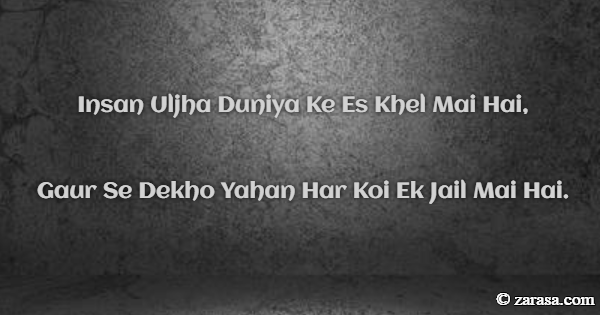 Insan Uljha Duniya Ke Es Khel Mai Hai,
Gaur Se Dekho Yahan Har Koi Ek Jail Mai Hai.
इंसान उलझा दुनिया के इस खेल में है,
गौर से देखों यहाँ हर कोई इक जेल में है |
انسان الجھا دنیا کے یس کھل می ہے
گور سے دیکھو یہاں ہر کوئی ایک جیل می ہے
---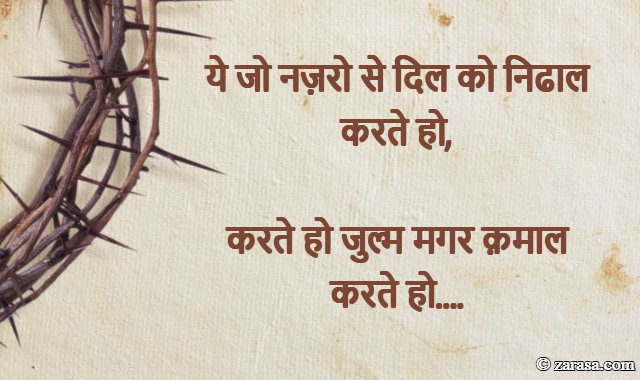 Yeh Jo Nazron Se Dil Ko Nidhal karte Ho ,
Karte Ho zulm Magar kamaal Karte Ho..........
ये जो नज़रो से दिल को निढाल करते हो,
करते हो जुल्म मगर क़माल करते हो….
یہ جو نظرو سے دل کو نڈھال کرتے ہو
کرتے ہو ظلم مگر کمال کرتے ہو
---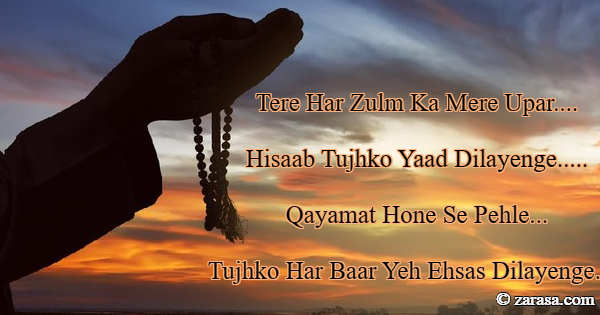 Tere Har Zulm Ka Mere Upar....
Hisaab Tujhko Yaad Dilayenge.....
Qayamat Hone Se Pehle...
Tujhko Har Baar Yeh Ehsas Dilayenge.....
तेरे हर ज़ुल्म का मेरे ऊपर
हिसाब तुझको याद दिलाएंगे ,
क़यामत होने से पहले
तुझको हर बार यह एहसास दिलाएंगे।
تیرے ہر ظلم کا میرے اوپر
حساب تجھکو یاد دلاینگے
قیامت ہونے سے پہلے
تجھکو ہر بار یہ احساس دلاینگے
---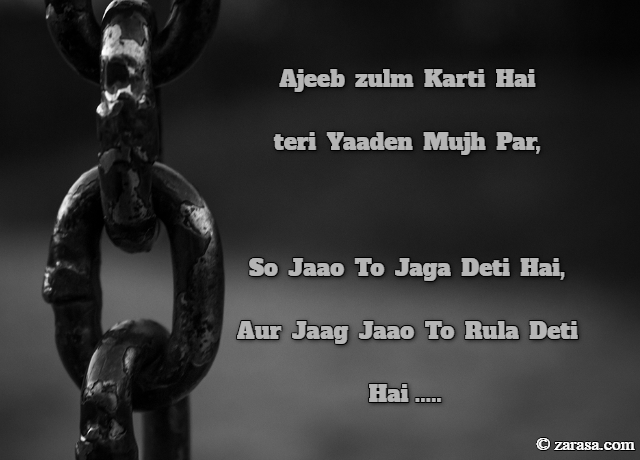 Ajeeb zulm Karti Hai teri Yaaden Mujh Par,
So Jaao To Jaga Deti Hai,Aur Jaag Jaao To Rula Deti Hai .....
अजीब जुल्म करती है तेरी यादें मुझ पर,
सो जाऊ तो जगा देती है, और जाग जाऊ तो रुला देती है…
عجیب ظلم کرتی ہے تیری یادیں مجھ پر
سو جاؤ تو جگا دیتی ہے ، اور جاگ جاؤ تو رولا دیتی ہے
---