Zulm Shayari "ज़ुल्म करने वाला ज़ुल्म करके मिट जायेगा "
|
Zulm Karne Vala Zulm Karke Mit Jaega
Zulm Sehne Vala Zulm Sah Ke
Puri Duniya Ke Dilo Mai Cha Jayega.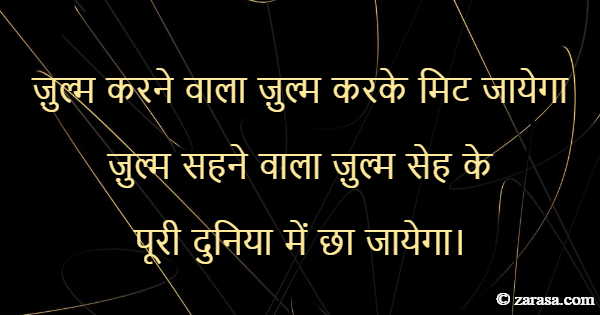 ---

ज़ुल्म करने वाला ज़ुल्म करके मिट जायेगा
ज़ुल्म सहने वाला ज़ुल्म सेह के
पूरी दुनिया में छा जायेगा।


---

ظلم کرنے والا ظلم کرکے مٹ جاےگا
ظلم سہنے والا ظلم سہ کے
پوری دنیا کے دلو می چا جاےگا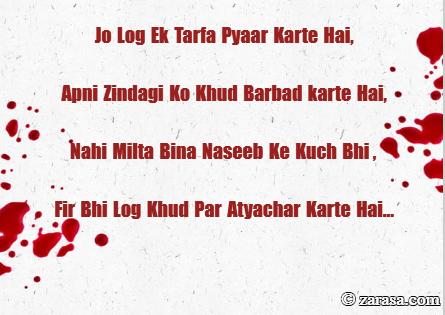 Jo Log Ek Tarfa Pyaar Karte Hai,
Apni Zindagi Ko Khud Barbad karte Hai,
Nahi Milta Bina Naseeb Ke Kuch Bhi ,
Fir Bhi Log Khud Par Atyachar Karte Hai...
जो लोग एक तरफा प्यार करते है,
अपनी ज़िन्दगी को खुद बर्बाद करते है,
नहीं मिलता बिना नसीब के कुछ भी,
फिर भी लोग खुद पर अत्याचार करते है..
جو لوگ ایک طرفہ پیار کرتے ہے
اپنی زندگی کو خود برباد کرتے ہے
نہیں ملتا بنا نصیب کے کچھ بھی
فر بھی لوگ خود پر اتیاچار کرتے ہے
---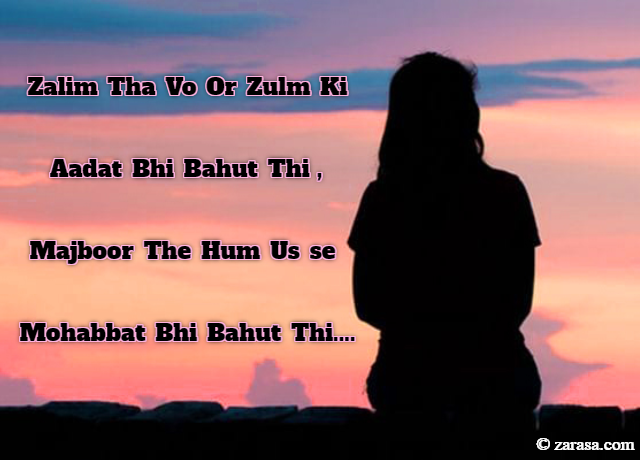 Zalim Tha Vo Or Zulm Ki
Aadat Bhi Bahut Thi ,
Majboor The Hum Us se
Mohabbat Bhi Bahut Thi....
ज़ालिम था वो और ज़ुल्म की
आदत भी बहुत थी ,
मजबूर थे हम उस से
मोहब्बत भी बहुत थी।
ظالم تھا وہ اور ظلم کی
عادت بھی بہت تھی
مجبور تھے ہم اس سے
موحبّت بھی بہت تھی
---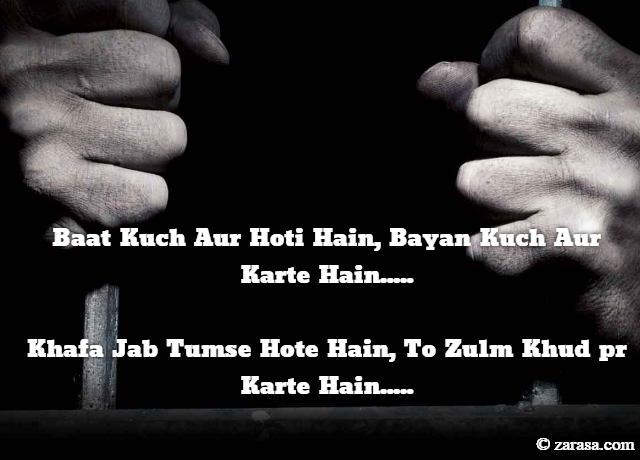 Baat Kuch Aur Hoti Hain, Bayan Kuch Aur Karte Hain.....
Khafa Jab Tumse Hote Hain, To Zulm Khud pr Karte Hain.....
बात कुछ और होती है,बयाँ कुछ और करते हैं….
ख़फा जब तुमसे होते हैं,तो जुल्म खुद पर करते है….
بات کچھ اور ہوتی ہے ،بیان کچھ اور کرتے ہے
خفا جب تمسے ہوتے ہے ،تو ظلم خود پر کرتے ہے
---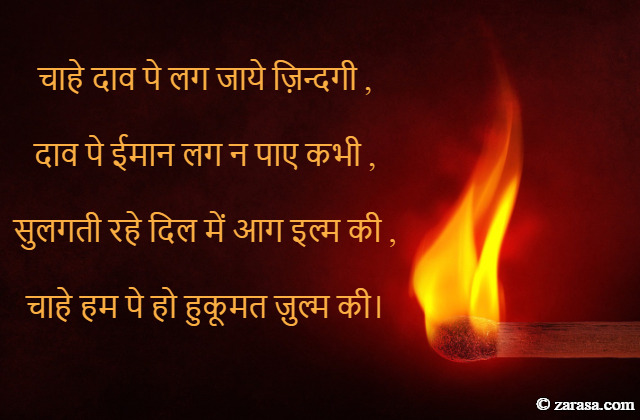 Chahe Dav pe Lag Jaye Zindagi,
Dav pe Imaan  Lag Na pae Kabhi,
Sulagti Rhe Dil Mai Aag Ilm Ki ,
Chahe Hum pe Ho Hukumat zulm Ki.

चाहे दाव पे लग जाये ज़िन्दगी ,
दाव पे ईमान लग न पाए कभी ,
सुलगती रहे दिल में आग इल्म की ,
चाहे हम पे हो हुकूमत ज़ुल्म की।
چاہے داو پی لگ جائے زندگی
داو پی امان لگ نہ پی کبھی
سلگتی رہی دل می آگ علم کی
چاہے ہم پی ہو حکومت ظلم کی
---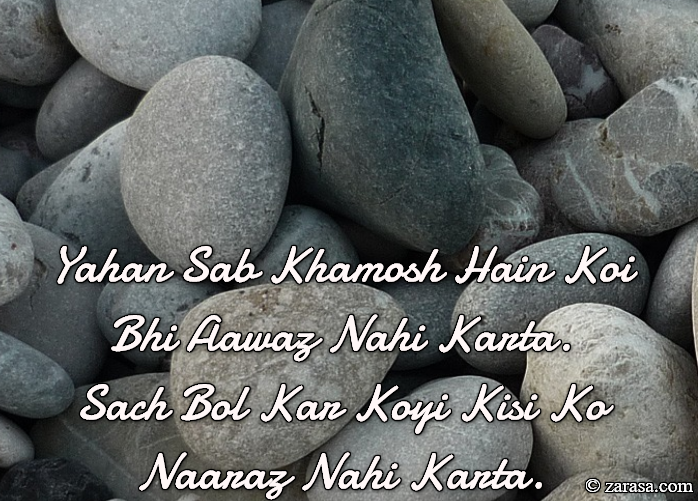 Yahan Sab Khamosh Hain Koi Bhi Aawaz Nahi Karta.
Sach Bol Kar Koyi Kisi Ko Naaraz Nahi Karta.
यहाँ सब खामोश हैं कोई भी आवाज़ नहीं करता .
सच बोल कर कोई किसी को नाराज़ नहीं करता .
یہاں سب خاموش ہیں کوئی بھی آواز نہیں کرتا .
سچ بول کر کویی کسی کو ناراض نہیں کرتا .
---