Bollywood Shayari "किसकी तलवार पर सर रखूं यह बता दो मुझे,"
|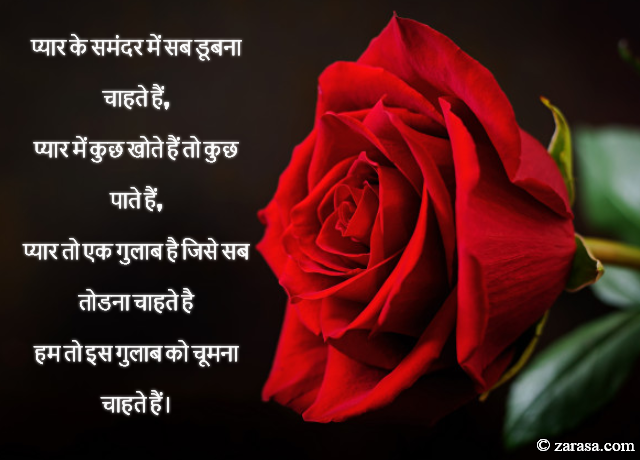 Pyaar ke Samandar Me Sab Doobna Chahte Hain,
Pyaar me Kuch Khote Hain, Toh Kuch Paate Hain,
Pyaar Toh Ek Gulaab hai Jise Sab Todna Chahte Hai,
Hum To Es Gulab Ko Chumna Chahte Hain.
प्यार के समंदर में सब डूबना चाहते हैं,
प्यार में कुछ खोते हैं तो कुछ पाते हैं,
प्यार तो एक गुलाब है जिसे सब तोडना चाहते है
हम तो इस गुलाब को चूमना चाहते हैं।
پیار کے سمندر مے سب دبنا چاہتے ہیں
پیار مے کچھ کھوتے ہیں ٹوہ کچھ پاتے ہیں
پیار ٹوہ ایک گلاب ہے جسے سب توڑنا چاہتے ہے
ہم تو یس گلاب کو چومنا چاہتے ہیں
---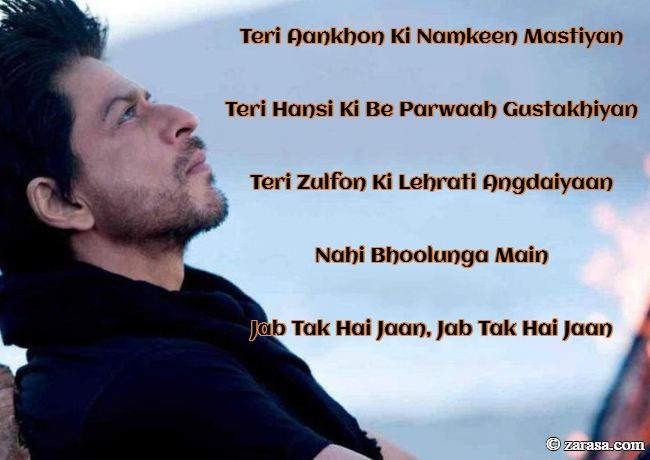 Teri Aankhon Ki Namkeen Mastiyan
Teri Hansi Ki Be Parwaah Gustakhiyan
Teri Zulfon Ki Lehrati Angdaiyaan
Nahi Bhoolunga Main
Jab Tak Hai Jaan, Jab Tak Hai Jaan
तेरी आँखों की नमकीन मस्तियाँ
तेरी हंसी की बे परवाह गुस्ताखियां
तेरी ज़ुल्फ़ों की लहराती अंगड़ाइयाँ
नहीं भूलूंगा मैं
जब तक है जान ,जब तक है जान |
تیری آنکھوں کی نمکین مستیاں
تیری ہنسی کی بے پرواہ گاتخیاں
تیری زلفوں کی لہراتی انگدہین
نہیں بھلنگا می
جب تک ہے جان ،جب تک ہے جان
---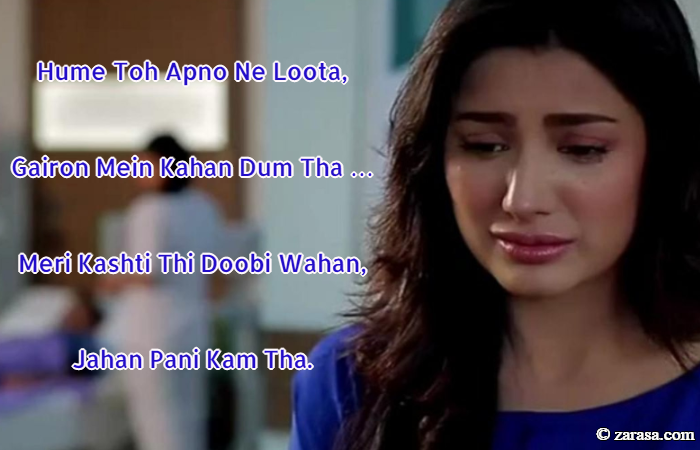 Hume Toh Apno Ne Loota,
Gairon Mein Kahan Dum Tha …
Meri Kashti Thi Doobi Wahan,
Jahan Pani Kam Tha.
हमे तोह अपनों ने लूटा ,
गैरों में कहाँ दम था।
मेरी कश्ती थी डूबी वहाँ ,
जहाँ पानी कम था।
ہمے ٹوہ اپنو نے لوٹا
گیروں می کہا دم تھا
میری کشتی تھی دوبی وہاں
جہاں پانی کم تھا
---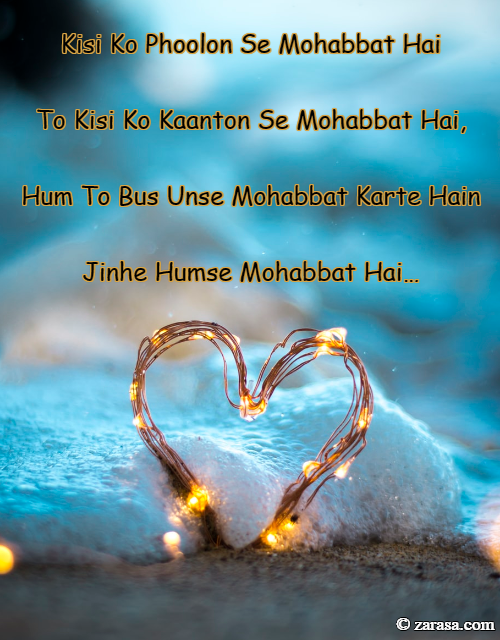 Kisi Ko Phoolon Se Mohabbat Hai
To Kisi Ko Kaanton Se Mohabbat Hai,
Hum To Bus Unse Mohabbat Karte Hain
Jinhe Humse Mohabbat Hai…
किसी को फूलों से मोहब्बत है
तो किसी को काँटों से मोहब्बत है,
हम तो बस उनसे मोहब्बत करते हैं
जिन्हे हमसे मोहब्बत है।
کسی کو پھولوں سے موحبّت ہے
تو کسی کو کانٹو سے موحبّت ہے
ہم تو بس انسے موحبّت کرتے ہے
جنھ ہمسے موحبّت ہے
---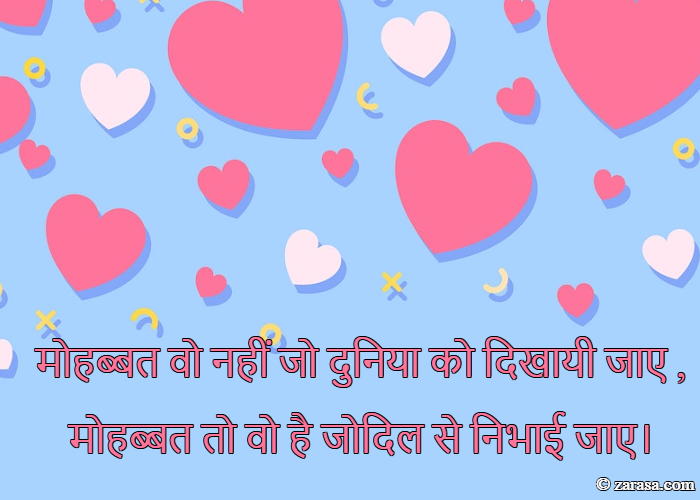 Mohabbat Wo Nahi Jo
Duniya Ko Dikhayi Jaye,
 Mohabbat To Wo Hai Jo
Dil Se Nibhayi Jaaye.
मोहब्बत वो नहीं जो
दुनिया को दिखायी जाए ,
मोहब्बत तो वो है जो
दिल से निभाई जाए।
موحبّت وہ نہیں جو
دنیا کو دکھایی جائے
موحبّت تو وہ ہے جو
دل سے نبھیی جائے
---