Fariyaad Shayari "कहते है ना के हर तमन्ना पूरी नहीं होती"
|
Dil se Dil ki Doori Nahi Hoti
Kash Koi Majburi nahi Hoti
Apse Abi Milne ki Tamanna Hai
Lekin Kehte Hain Na ke Har Tamanna Puri Nahi Hoti.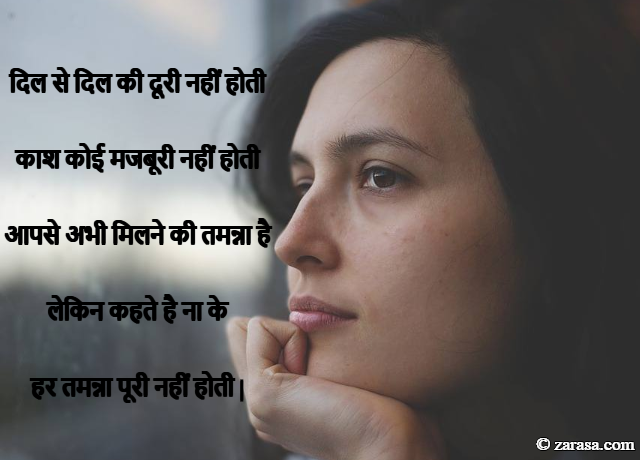 ---

दिल से दिल की दूरी नहीं होती
काश कोई मजबूरी नहीं होती
आपसे अभी मिलने की तमन्ना है
लेकिन कहते है ना के हर तमन्ना पूरी नहीं होती |


---

دل سے دل کی دوری نہی ہوتی
کش کوئی مجبوری نہی ہوتی
آپسے ابھی ملنے کی تمنّا ہے
لیکن کہتے ہے نہ کے ہر تمننا پوری نہی ہوتی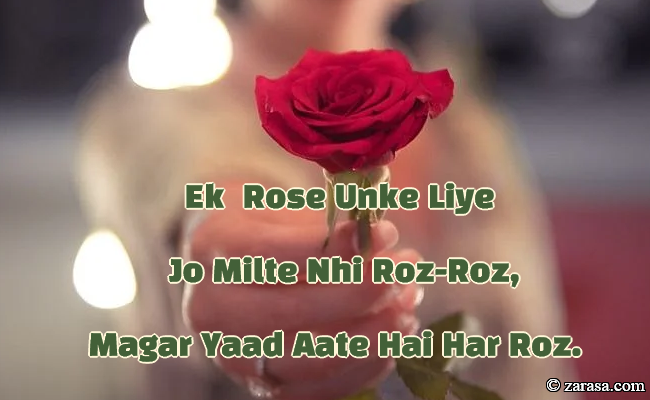 Ek  Rose Unke Liye
Jo Milte Nhi Roz-Roz,
Magar Yaad Aate Hai Har Roz.
एक रोस उनके लिए
जो मिलते नही रोज़-रोज़,
मगर याद आते है हर रोज़ |
ایک روسے انکے لئے
جو ملتے نہی روز -روز
مگر یاد آتے ہے ہر روز
---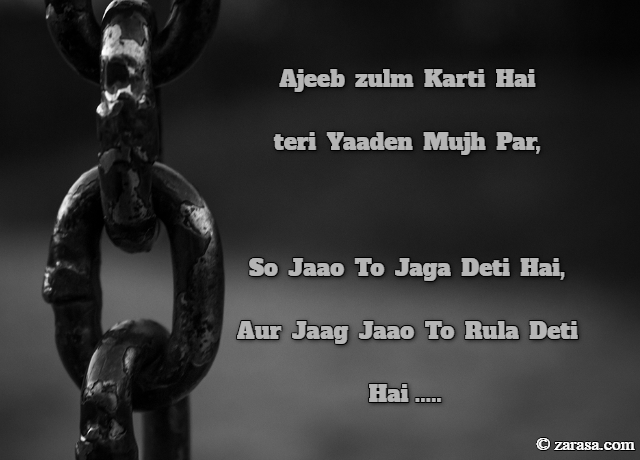 Ajeeb zulm Karti Hai teri Yaaden Mujh Par,
So Jaao To Jaga Deti Hai,Aur Jaag Jaao To Rula Deti Hai .....
अजीब जुल्म करती है तेरी यादें मुझ पर,
सो जाऊ तो जगा देती है, और जाग जाऊ तो रुला देती है…
عجیب ظلم کرتی ہے تیری یادیں مجھ پر
سو جاؤ تو جگا دیتی ہے ، اور جاگ جاؤ تو رولا دیتی ہے
---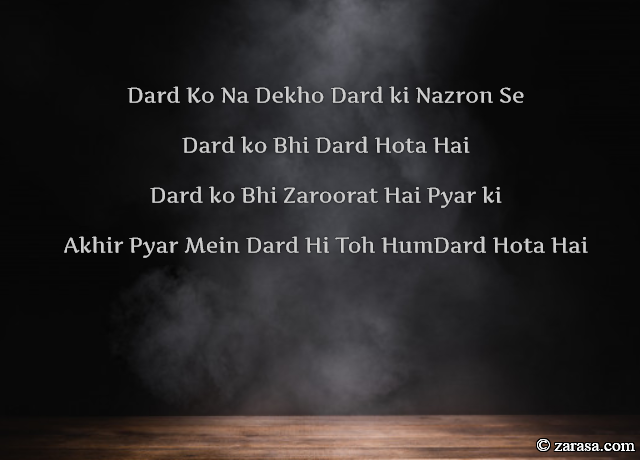 Dard Ko Na Dekho Dard ki Nazron Se
Dard ko Bhi Dard Hota Hai
Dard ko Bhi Zaroorat Hai Pyar ki
Akhir Pyar Mein Dard Hi Toh HumDard Hota Hai
दर्द को न देखो दर्द की नज़रों से
दर्द को भी दर्द होता है
दर्द को भी जरूरत है प्यार की
आखिर प्यार में दर्द ही तोह हमदर्द होता है
درد کو نہ دیکھو درد کی نظروں سے
درد کو بھی درد ہوتا ہے
درد کو بھی ضرورت ہے پیار کی
اخر پیار می درد ہی تو ہمدرد ہوتا ہے
---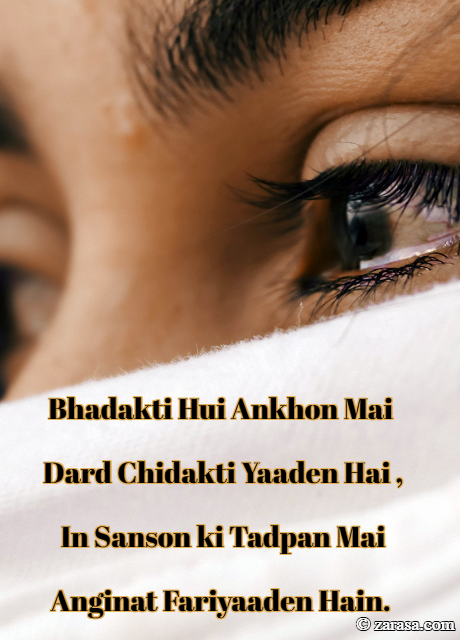 Bhadakti Hui Ankhon Mai
Dard Chidakti Yaaden Hai ,
In Sanson ki Tadpan Mai
Anginat Fariyaaden Hain.
भड़कती हुई आंखों में
दर्द छिड़कती यादें है ,
इन सांसों की तड़पन में
अनगिनत फरियादें हैं।
بھڈاکتی ہی آنکھوں می
درد چڈاکتی یادیں ہے
ان سانسوں کی تڑپن می
انگنت فریادیں ہیں
---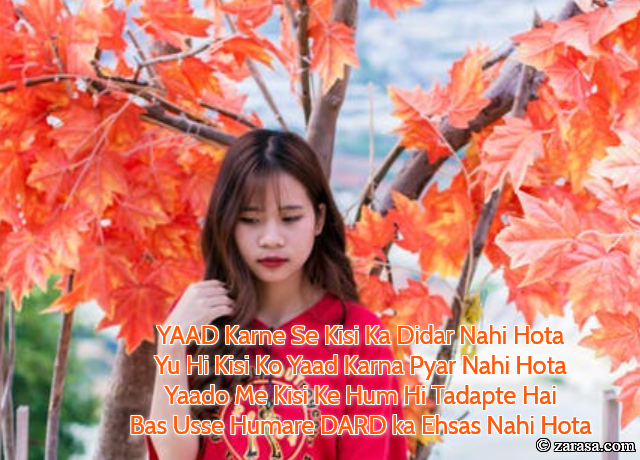 Yaad Karne Se Kisi Ka Didar Nahi Hota
Yu Hi Kisi Ko Yaad Karna Pyar Nahi Hota
Yaado Me Kisi Ke Hum Hi Tadapte Hai
Bas Usse Humare DARD ka Ehsas Nahi Hota
याद करने से किसी का दीदार नहीं होता
यु ही किसी को याद करना प्यार नहीं होता
यादो में किसी के हम ही तड़पते है
बस उससे हमारे दर्द का एहसास नहीं होता
یاد کرنے سے کسی کا دیدار ہوتا
یو ہی کسی کو یاد کرنا پیار نہیں ہوتا
یادو می کسی کے ہم ہی تداپتے ہے
بس اسے ہمارے درد کا احساس نہیں ہوتا
---