Funny Shayari l"कमजोर दिल वाले ईसे ना पढें…. खतरनाक शायरी ? ?"
|
Khidakee Se Dekha To Raste Pe Koee Nahee Tha
khidakee Se Dekha To Raste Pe koee Nahee Tha
Vaah Vaah
Phir Raste Pe Jaake Dekha To khidakee Mai koee Nahee Tha ?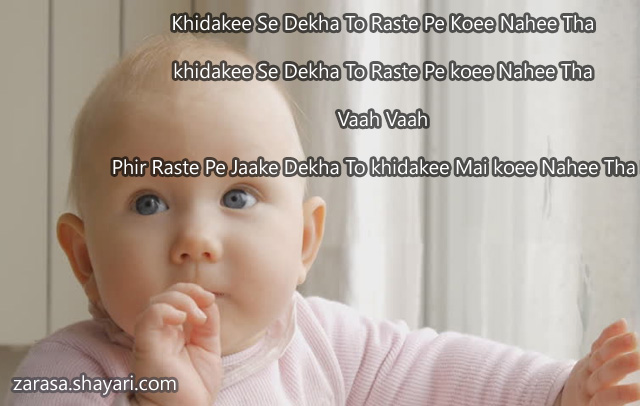 ---

खिडकी से देखा तो रस्ते पे कोई नही था
खिडकी से देखा तो रस्ते पे कोई नही था
वाह वाह
फिर रस्ते पे जाके देखा तो खिडकी मै कोई नही था ?


---

کھڑکی سے دیکھا تو رستے پہ کوئی نہیں تھا
کھڑکی سے دیکھا تو رستے پہ کوئی نہیں تھا
واہ واہ
پھر رستے پہ جاکے دیکھا تو کھڑکی مے کوئی نہیں تھا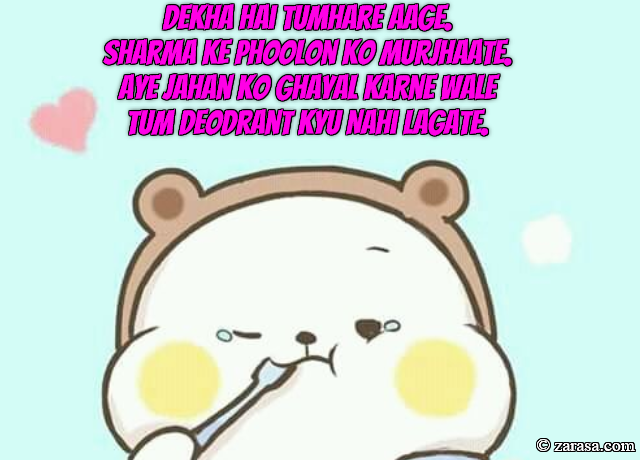 Dekha Hai Tumhare Aage.
Sharma Ke Phoolon Ko Murjhaate.
Aye Jahan Ko Ghayal Karne Wale
Tum Deodrant Kyu Nahi Lagate.
देखा है तुम्हारे आगे,
शर्मा के फूलों को मुरझाते,
ए जहाँ को घायल करने वाले
तुम डिओडोरेंट क्यों नहीं लगाते।
دیکھا ہے تمہارے آگے .
شرما کے پھولوں کو مرجھاتے .
ہے جہاں کو غیل کرنے والے .
تم دیودرانٹ کیو نہیں لگاتے .
---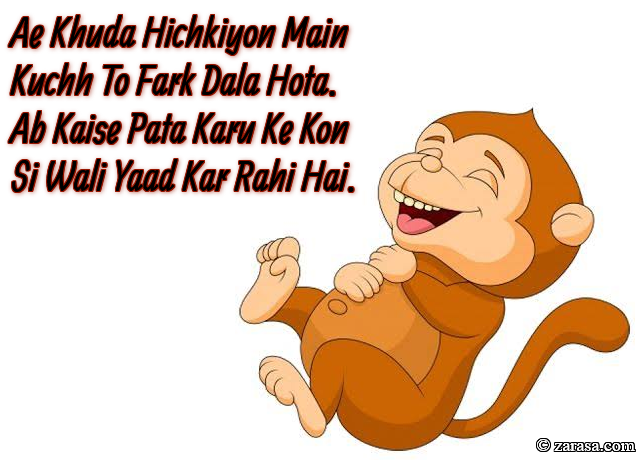 Ae Khuda Hichkiyon Main Kuchh To Fark Dala Hota.
Ab Kaise Pata Karu Ke Kon Si Wali Yaad Kar Rahi Hai.
ऐ खुदा हिचकियों में कुछ तो फर्क डाला होता,
अब कैसे पता करूँ के कौन सी वाली याद कर रही है।




اے خدا ہچکیوں میں کچھ تو پھڑک ڈالا ہوتا .
اب کیسے پتا کرو کے کون سی والی یاد کر رہی ہے .

---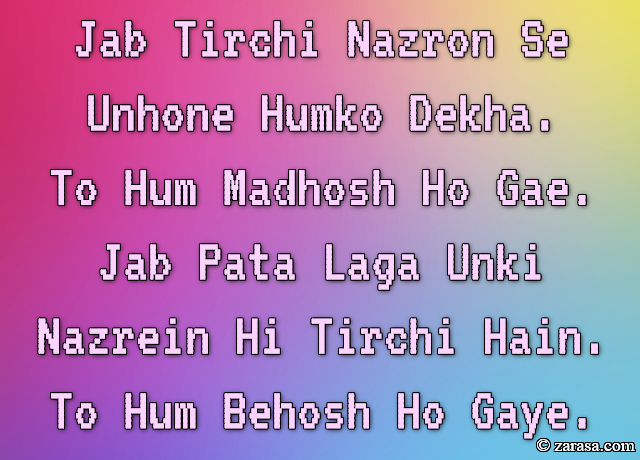 Jab Tirchi Nazron Se Unhone Humko Dekha.
To Hum Madhosh Ho Gae.
Jab Pata Laga Unki Nazrein Hi Tirchi Hain.
To Hum Behosh Ho Gaye.
जब तिरछी नज़रों से उन्होंने हमको देखा .
तो हम मदहोश हो गए .
जब पता लगा उनकी नज़रें ही तिरछी हैं .
तो हम बेहोश हो गए .

جب ترچھی نظروں سے انہونے ہمکو دیکھا .
تو ہم مدہوش ہو گے .
جب پتا لگا انکی نظریں ہی ترچھی ہیں .
تو ہم بیہوش ہو گئے .

---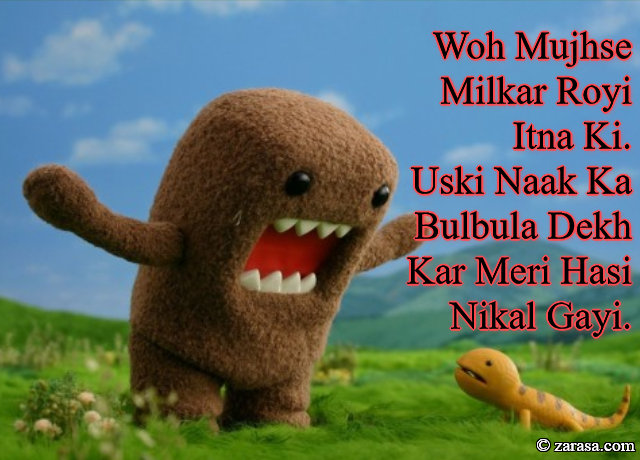 Woh Mujhse Milkar Royi Itna Ki.
Uski Naak Ka Bulbula Dekh Kar Meri Hasi Nikal Gayi.
वह मुझसे मिलकर रोई इतना की .
उसकी नाक का बुलबुला देख कर मेरी हसी निकल गयी .
وہ مجھسے ملکر رویی اتنا کی
اسکی ناک کا بلبلا دیکھ کر میری حسی نکل گی .
---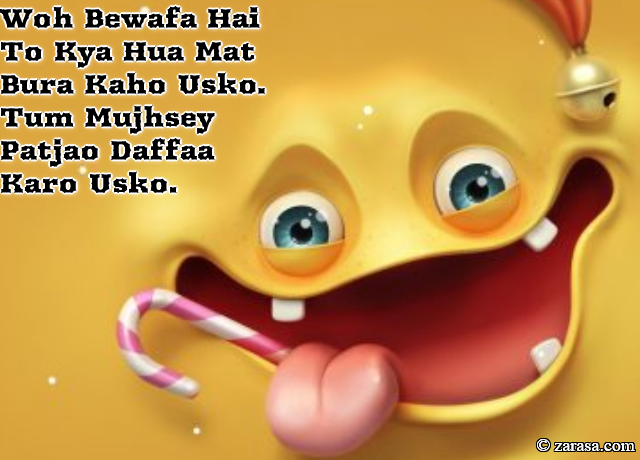 Woh Bewafa Hai To Kya Hua Mat Bura Kaho Usko.
Tum Mujhsey Patjao Daffaa Karo Usko.
वह बेवफा है तो क्या हुआ मत बुरा कहो उसको .
तुम मुझसे पटजाओ दफा करो उसको .
وہ بیوفا ہے تو کیا ہوا مت برا کہو اسکو .
تم مجھسے پتجاؤ دففا کرو اسکو .
---