Funny Shayari l"कमजोर दिल वाले ईसे ना पढें…. खतरनाक शायरी ? ?"
|
Khidakee Se Dekha To Raste Pe Koee Nahee Tha
khidakee Se Dekha To Raste Pe koee Nahee Tha
Vaah Vaah
Phir Raste Pe Jaake Dekha To khidakee Mai koee Nahee Tha ?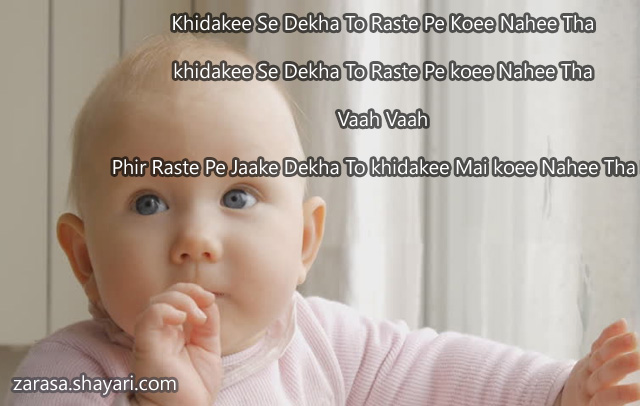 ---

खिडकी से देखा तो रस्ते पे कोई नही था
खिडकी से देखा तो रस्ते पे कोई नही था
वाह वाह
फिर रस्ते पे जाके देखा तो खिडकी मै कोई नही था ?


---

کھڑکی سے دیکھا تو رستے پہ کوئی نہیں تھا
کھڑکی سے دیکھا تو رستے پہ کوئی نہیں تھا
واہ واہ
پھر رستے پہ جاکے دیکھا تو کھڑکی مے کوئی نہیں تھا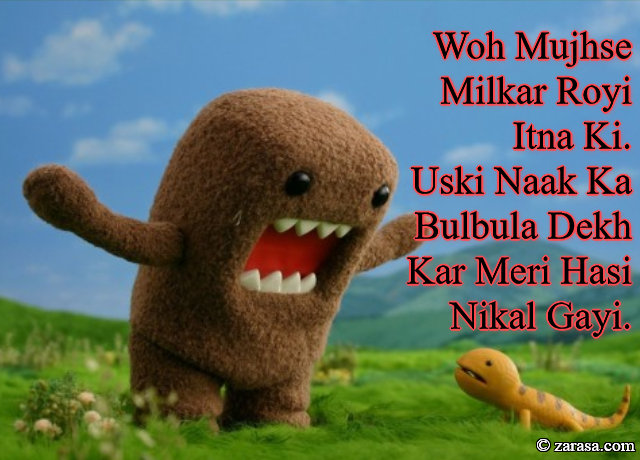 Woh Mujhse Milkar Royi Itna Ki.
Uski Naak Ka Bulbula Dekh Kar Meri Hasi Nikal Gayi.
वह मुझसे मिलकर रोई इतना की .
उसकी नाक का बुलबुला देख कर मेरी हसी निकल गयी .
وہ مجھسے ملکر رویی اتنا کی
اسکی ناک کا بلبلا دیکھ کر میری حسی نکل گی .
---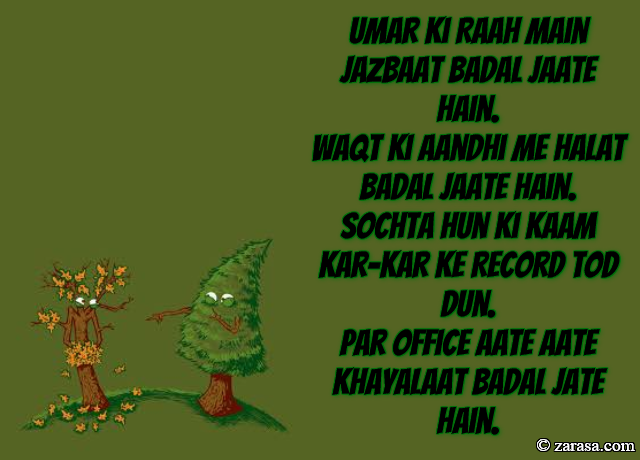 Umar Ki Raah Main Jazbaat Badal Jaate Hain.
Waqt Ki Aandhi Me Halat Badal Jaate Hain.
Sochta Hun Ki Kaam Kar-Kar Ke Record Tod Dun.
Par Office Aate Aate Khayalaat Badal Jate Hain.
उम्र की राह में जज्बात बदल जाते है,
वक़्त की आंधी में हालात बदल जाते है,
सोचता हूँ कि काम कर-कर के रिकॉर्ड तोड़ दूँ,
पर ऑफिस आते आते ख़यालात बदल जाते है।


امر کی راہ میں جذبات بدل جاتے ہیں .
وقت کی آندھی مے حالت بدل جاتے ہیں .
سوچتا ہوں کی کام کر -کر کے ریکارڈ ٹاڈ دن .
پر آفس آتے آتے خیالات بدل جاتے ہیں .
---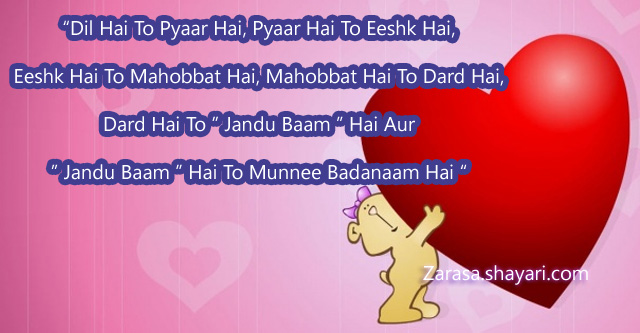 "Dil Hai To Pyaar Hai, Pyaar Hai To Eeshk Hai,
Eeshk Hai To Mahobbat Hai, Mahobbat Hai To Dard Hai,
Dard Hai To " Jandu Baam " Hai Aur
" Jandu Baam " Hai To Munnee Badanaam Hai "

 

 

"दिल है तो प्यार है, प्यार है तो ईश्क है,
ईश्क है तो महोब्बत है, महोब्बत है तो दर्द है,
दर्द है तो " जंडु बाम " है और
" जंडु बाम " है तो मुन्नी बदनाम है "
دل ہے تو محبت ہے، محبت ہے تو يشك ہے
يشك ہے تو مهوببت ہے، مهوببت ہے تو درد ہے
درد ہے تو "جڈ بام" ہے اور
"جڈ بام" ہے تو منی بدنام ہے "
---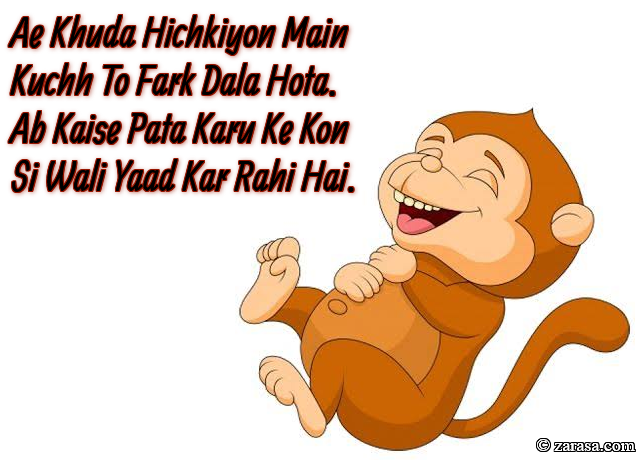 Ae Khuda Hichkiyon Main Kuchh To Fark Dala Hota.
Ab Kaise Pata Karu Ke Kon Si Wali Yaad Kar Rahi Hai.
ऐ खुदा हिचकियों में कुछ तो फर्क डाला होता,
अब कैसे पता करूँ के कौन सी वाली याद कर रही है।




اے خدا ہچکیوں میں کچھ تو پھڑک ڈالا ہوتا .
اب کیسے پتا کرو کے کون سی والی یاد کر رہی ہے .

---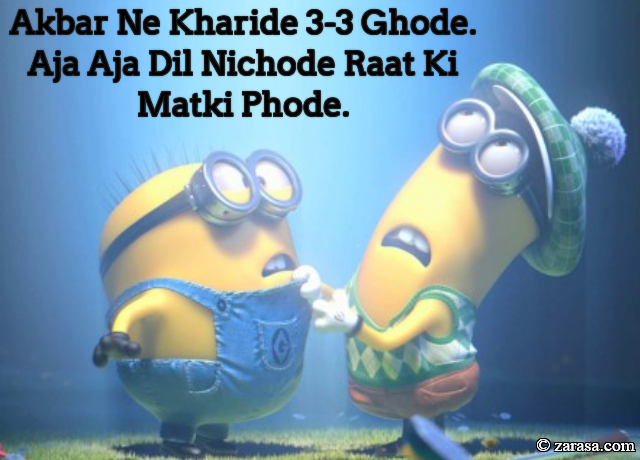 Akbar Ne Kharide 3-3 Ghode.
Aja Aja Dil Nichode Raat Ki Matki Phode.
अख़बार ने ख़रीदे ३ -३ घोड़े .
अजा अजा दिल निचोड़े रात की मटकी फोड़े .
اکبر نے خریدے ٣ -٣ غودے .
آجا آجا دل نچودے رات کی متکی فوڈے .
---