Phool SHAYARI "Phool Toh Khubsurat Hote Hai"
|
Mitti Ki Anokhi Murat Ho Tum Zindagi Ki Ek Zarurat Ho Tum.
Phool Toh Khubsurat Hote Hai Phoolon Se Bhi Khubsurat Ho Tum.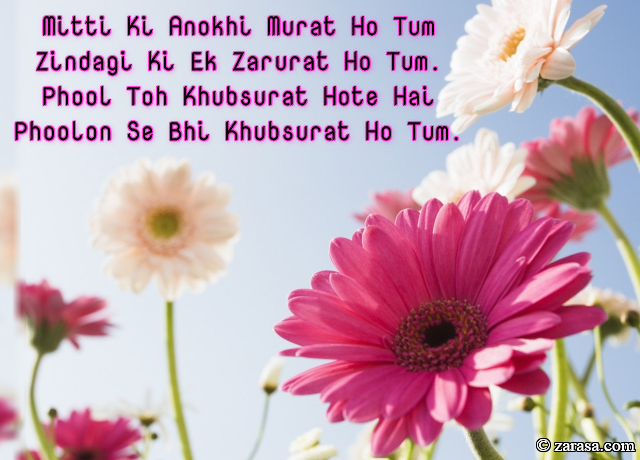 ---

मिटटी की अनोखी मूरत हो तुम ज़िन्दगी की एक ज़रूरत हो तुम .
फूल तो ख़ूबसूरत होते है फूलों से भी ख़ूबसूरत हो तुम .


---

مٹی کی انوکھی مورت ہو تم زندگی کی ایک ضرورت ہو تم .
پھول تو خوبصورت ہوتے ہے پھولوں سے بھی خوبصورت ہو تم .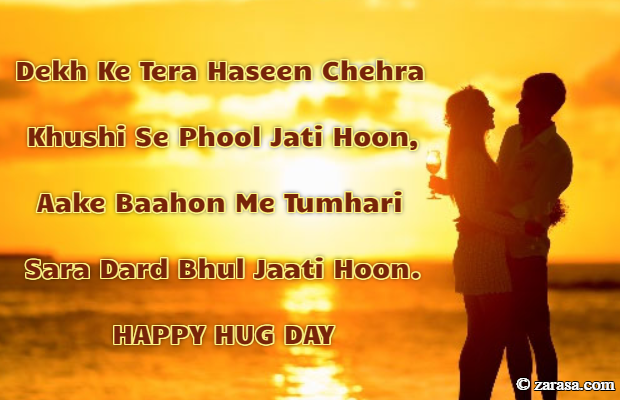 Dekh Ke Tera Haseen Chehra
Khushi Se Phool Jati Hoon,
Aake Baahon Me Tumhari
Sara Dard Bhul Jaati Hoon.
HAPPY HUG DAY
देख के तेरा हसीं चेहरा
ख़ुशी से फूल जाती हूँ,
आके बाहों में तुम्हारी
सारा दर्द भूल जाती हूँ।

हैप्पी हग डे।
دیکھ کے تیرا حسین چہرا
خوشی سے پھول جاتی ہوں
آکے باہوں مے تمہاری
سارا درد بھول جاتی ہوں
---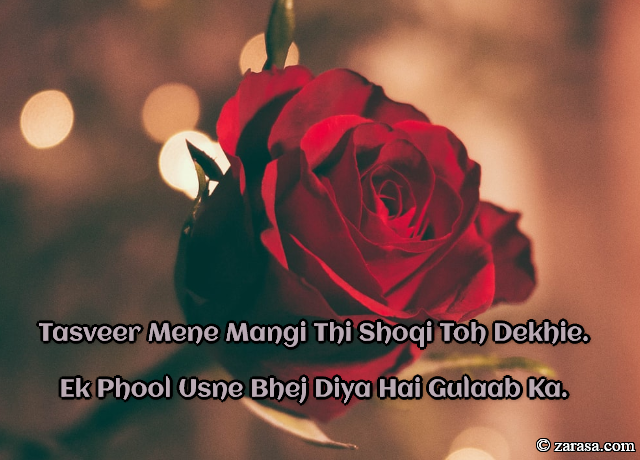 Tasveer Mene Mangi Thi Shoqi Toh Dekhie.
Ek Phool Usne Bhej Diya Hai Gulaab Ka.
तस्वीर मेने मांगी थी शोक़ी तो देखिए .
एक फूल उसने भेज दिया है गुलाब का .

تصویر منے مانگی تھی شوقی ٹوہ دیکھئے .
ایک پھول اسنے بھیج دیا ہے گلاب کا .

---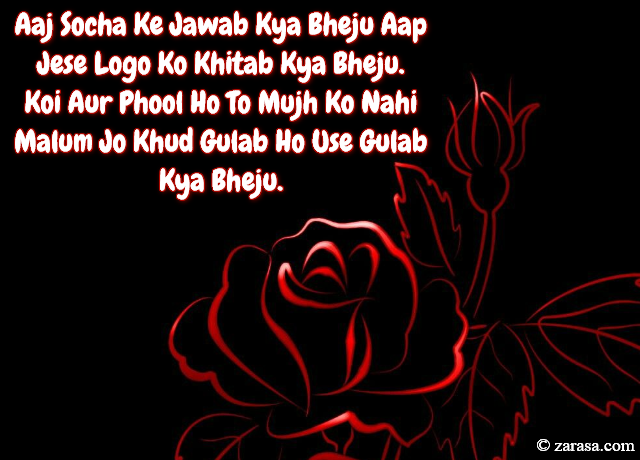 Aaj Socha Ke Jawab Kya Bheju Aap Jese Logo Ko Khitab Kya Bheju.
Koi Aur Phool Ho To Mujh Ko Nahi Malum Jo Khud Gulab Ho Use Gulab Kya Bheju.
आज सोचा के जवाब क्या भेजू आप जैसे लोगो को ख़िताब क्या भेजू .
कोई और फूल हो तो मुझ को नहीं मालूम जो ख़ुद गुलाब हो उसे गुलाब क्या भेजु .
آج سوچا کے جواب کیا بھیجو آپ جیسے لوگو کو کتاب کیا بھیجو .
کوئی اور پھول ہو تو مجھ کو نہیں معلم جو خود گلاب ہو اسے گلاب کیا بھیجو .
---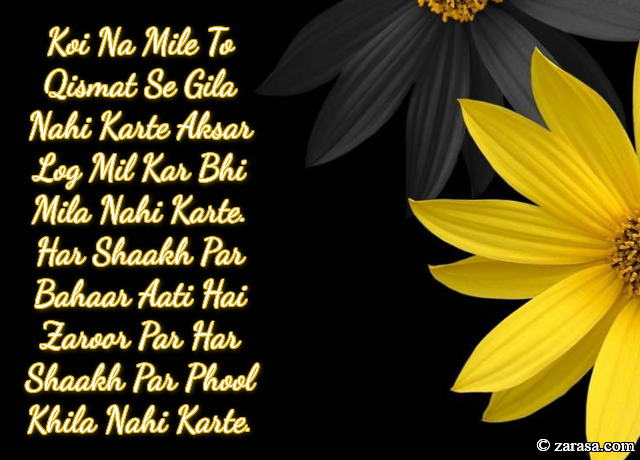 Koi Na Mile To Qismat Se Gila Nahi Karte Aksar Log Mil Kar Bhi Mila Nahi Karte.
Har Shaakh Par Bahaar Aati Hai Zaroor Par Har Shaakh Par Phool Khila Nahi Karte.

कोई न मिले तो क़िस्मत से गिला नहीं करते अक्सर लोग मिल कर भी मिला नहीं करते .
हर शाख पर बहार आती है ज़रूर पर हर शाख पर फूल खिला नहीं करते .


کوئی نہ میل تو قسمت سے گلا نہیں کرتے اکثر لوگ مل کر بھی ملا نہیں کرتے .
ہر شاخ پر بہار آتی ہے ضرور پر ہر شاخ پر پھول کھلا نہیں کرتے .

---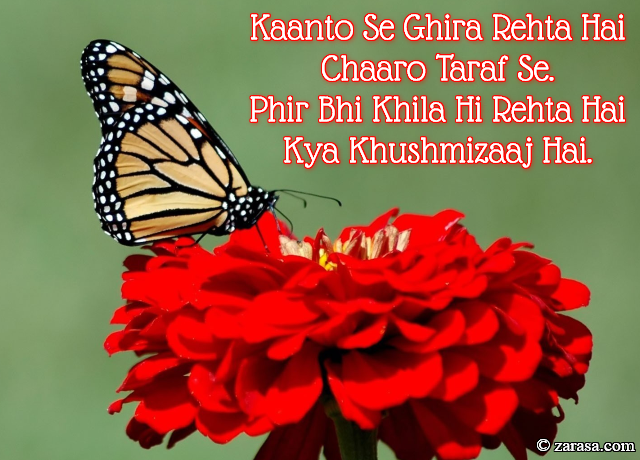 Kaanto Se Ghira Rehta Hai Chaaro Taraf Se.
Phir Bhi Khila Hi Rehta Hai Kya Khushmizaaj Hai.
कांटो से घिरा रहता है चारो तरफ़ से .
फिर भी खिला ही रहता है क्या खुशमिजाज़ है .


کانٹو سے گھرا رہتا ہے چارو طرف سے .
پھر بھی کھلا ہی رہتا ہے کیا خشمزاج ہے .

---