Shayari for Dard |"सुना है आज उनको हमारे ज़िकर से भी नफ़रत है"
|
Kabhi Usne Bhi Hume Chahat Ka Paigham Likha Tha,
Sab Kuch Nsne Apna Humare Naam Likha Tha,
Suna Hai Aaj Unko Humare Zikar Se Bhi Nafrat Hai,
Jisne Kbhi Apne Dil Par Humara Naam Likha Tha.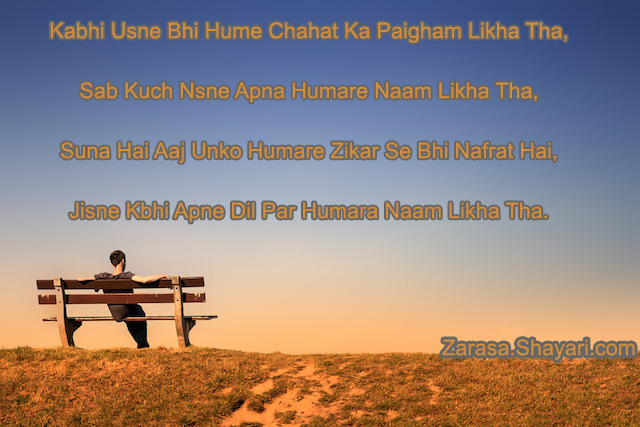 ---

कभी उसने भी हमें चाहत का पैग़ाम लिखा था,
सब कुछ उसने अपना हमारे नाम लिखा था,
सुना है आज उनको हमारे ज़िकर से भी नफ़रत है,
जिसने कभी अपने दिल पर हमारा नाम लिखा था।


---

کبھی  اسنے  بھی  ہمے  چاہت  کا  پےغام  لکھا  تھا
سب  کچھ  اسنے  اپنا  ہمارے  نام  لکھا  تھا
سنا  ہے  آج  انکو  ہمارے  ذکر سے  بھی  نفرت  ہے
جسنے  کبھی  اپنے  دل  پر  ہمارا  نام  لکھا  تھا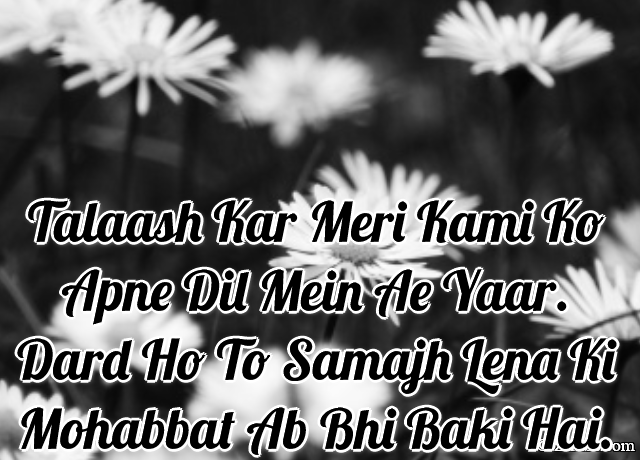 Talaash Kar Meri Kami Ko Apne Dil Mein Ae Yaar.
Dard Ho To Samajh Lena Ki Mohabbat Ab Bhi Baki Hai.
तलाश कर मेरी कमी को अपने दिल में ऐ यार .
दर्द हो तो समझ लेना की मोहब्बत अब भी बाकि है .
تلاش کر میری کمی کو اپنے دل میں اے یار .
درد ہو تو سمجھ لینا کی موحبّت اب بھی باکی ہے .
---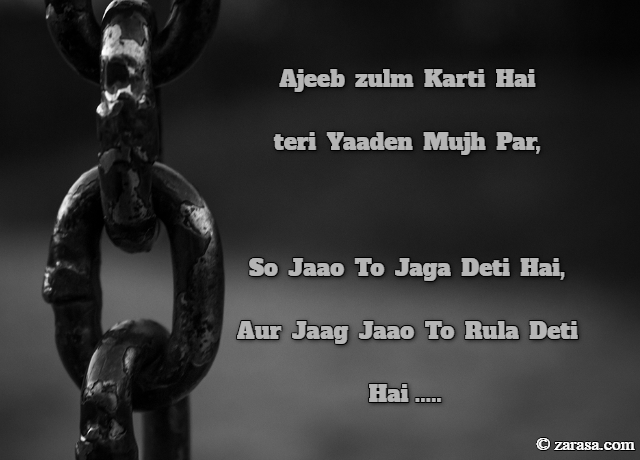 Ajeeb zulm Karti Hai teri Yaaden Mujh Par,
So Jaao To Jaga Deti Hai,Aur Jaag Jaao To Rula Deti Hai .....
अजीब जुल्म करती है तेरी यादें मुझ पर,
सो जाऊ तो जगा देती है, और जाग जाऊ तो रुला देती है…
عجیب ظلم کرتی ہے تیری یادیں مجھ پر
سو جاؤ تو جگا دیتی ہے ، اور جاگ جاؤ تو رولا دیتی ہے
---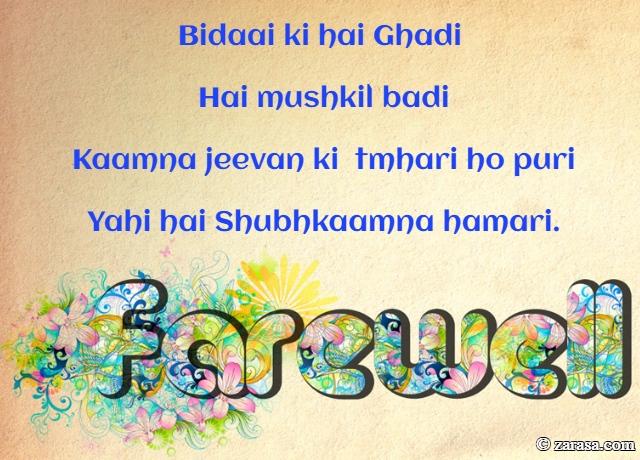 Bidaai ki hai Ghadi
Hai mushkil badi
Kaamna jeevan ki  tmhari ho puri
Yahi hai Shubhkaamna hamari.
विदाई की है घड़ी
है मुश्किल बड़ी
कामना जीवन की तम्हारी हो पूरी
यही है शुभकामना हमारी।
بدای کی ہے گھاڈی
ہے موشکل باڈی
کامنہ جیون کی تمہاری ھو پوری
یہی ہے شبھکامنہ ہماری
---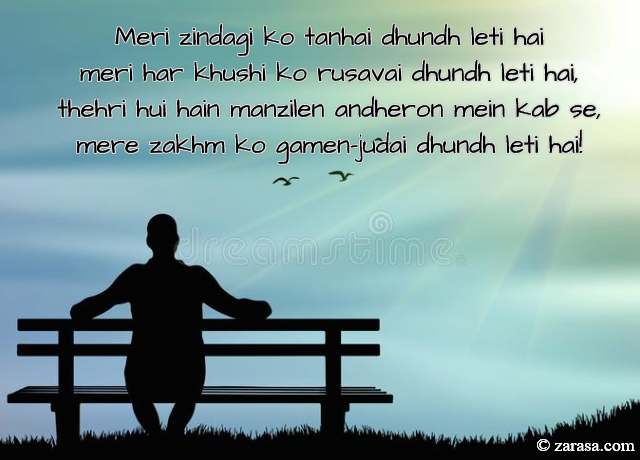 Meri zindagi ko tanhai dhundh leti hai
meri har khushi ko rusavai dhundh leti hai,
thehri hui hain manzilen andheron mein kab se,
mere zakhm ko gamen-judai dhundh leti hai!

मेरी ज़िन्दगी को तन्हाई ढूँढ लेती है,
मेरी हर खुशी को रुसवाई ढूँढ लेती है,
ठहरी हुई हैं मंजिलें अंधेरों में कबसे,
मेरे ज़ख्म को गमे-जुदाई ढूँढ लेती है!
میری زندگی کو تنہائی ڈھونڈ لیتی ہے
میری ہر خوشی کو رسوائی ڈھونڈ لیتی ہے
ٹھہری ہی ہیں منزلیں اندھیروں میں کب سے
میرے زخم کو گیم -جدائی ڈھونڈ لیتی ہے
---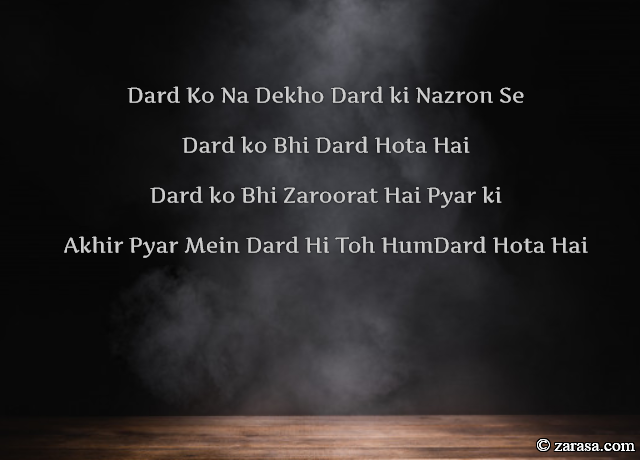 Dard Ko Na Dekho Dard ki Nazron Se
Dard ko Bhi Dard Hota Hai
Dard ko Bhi Zaroorat Hai Pyar ki
Akhir Pyar Mein Dard Hi Toh HumDard Hota Hai
दर्द को न देखो दर्द की नज़रों से
दर्द को भी दर्द होता है
दर्द को भी जरूरत है प्यार की
आखिर प्यार में दर्द ही तोह हमदर्द होता है
درد کو نہ دیکھو درد کی نظروں سے
درد کو بھی درد ہوتا ہے
درد کو بھی ضرورت ہے پیار کی
اخر پیار می درد ہی تو ہمدرد ہوتا ہے
---