Shayari for Jaam"Pee Ke Aaye Ho Ya Khud Sharab Ho"
|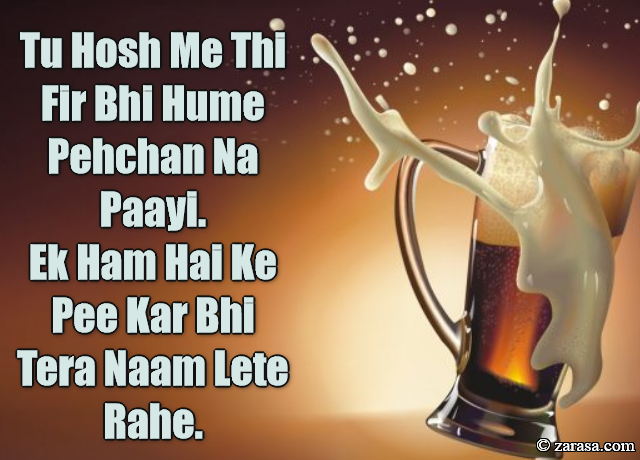 Tu Hosh Me Thi Fir Bhi Hume Pehchan Na Paayi.
Ek Ham Hai Ke Pee Kar Bhi Tera Naam Lete Rahe.
तू होश में थी फिर भी हमे पहचान न पाई .
एक हम है के पी कर भी तेरा नाम लेते रहे .
تو ہوش مے تھی فر بھی ہمے پہچان نہ پیی .
ایک ہم ہے کے پی کر بھی تیرا نام لیتے رہے .
---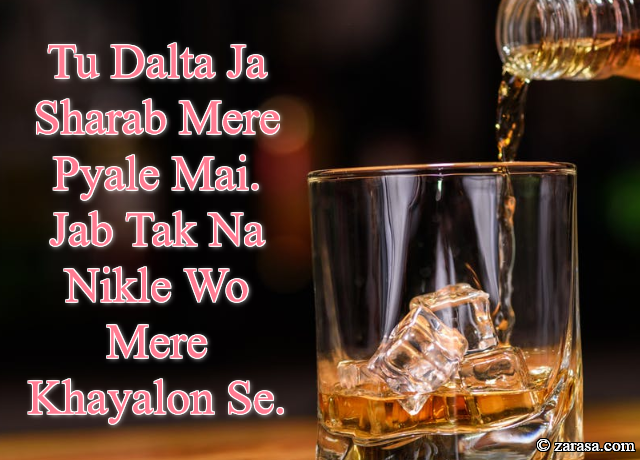 Tu Dalta Ja Sharab Mere Pyale Mai.
Jab Tak Na Nikle Wo Mere Khayalon Se.
तू डालता जा शराब मेरे प्याले में
जब तक ना निकले वो मेरे ख़यालों से
تو ڈالتا جا شراب میرے پیالے مے .
جب تک نہ نکالے وو میرے خیالوں سے .
---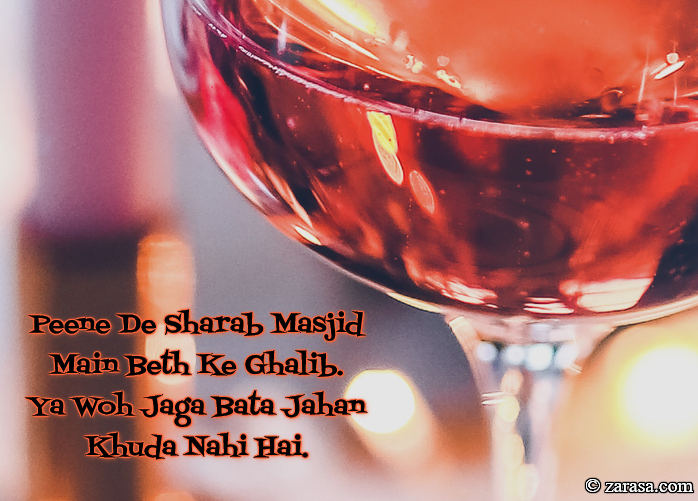 Peene De Sharab Masjid Main Beth Ke Ghalib.
Ya Woh Jaga Bata Jahan Khuda Nahi Hai.
पीने दे शराब मस्जिद मैं बेठ के ग़ालिब .
या वह जगा बता जहाँ खुदा नही है .
پینے دے شراب مسجد میں بیٹھ کے غالب .
یا وہ جگا بتا جہاں خدا نہیں ہے .
---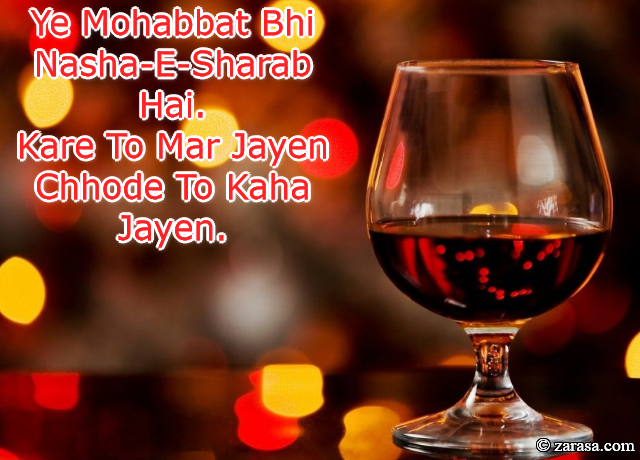 Ye Mohabbat Bhi Nasha-E-Sharab Hai.
Kare To Mar Jayen Chhode To Kaha Jayen.
ये मोहब्बत भी नशा -इ -शराब है .
करे तो मर जाएँ छोड़े तो कहा जाएँ .
یہ موحبّت بھی نشہ -ا -شراب ہے .
کرے تو مر جین چھوڈے تو کہا جین .
---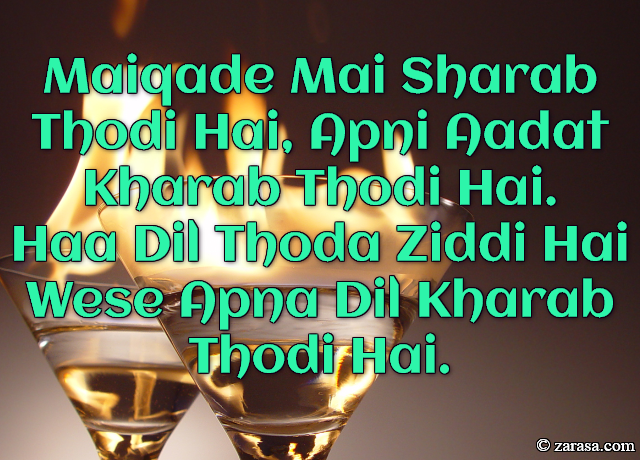 Maiqade Mai Sharab Thodi Hai, Apni Aadat Kharab Thodi Hai.
Haa Dil Thoda Ziddi Hai Wese Apna Dil Kharab Thodi Hai.
मैक़दे मै शराब थोड़ी है , अपनी आदत ख़राब थोड़ी है .
हाँ दिल थोड़ा ज़िद्दी है वैसे अपना दिल ख़राब थोड़ी है .
میقدے می شراب ٹھوڈی ہے , اپنی عادت خراب ٹھوڈی ہے .
ہا دل تھودا زادی ہے ویسے اپنا دل خراب ٹھوڈی ہے .
---