Shayari for Old peoples "Hame Pasand Nahi"
|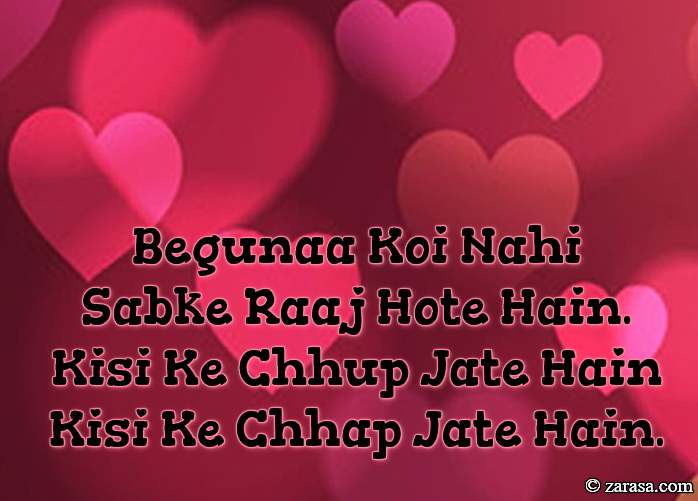 Begunaah Koi Nahi Sabke Raaj Hote Hain.
Kisi Ke Chhup Jate Hain Kisi Ke Chhap Jate Hain.
बेगुनाह कोई नहीं सबके राज़ होते हैं .
किसी के छुप जाते हैं किसी के छाप जाते हैं .

بیگناہ کوئی نہیں سبکے راز ہوتے ہیں .
کسی کے چھپ جاتے ہیں کسی کے چھپ جاتے ہیں .
---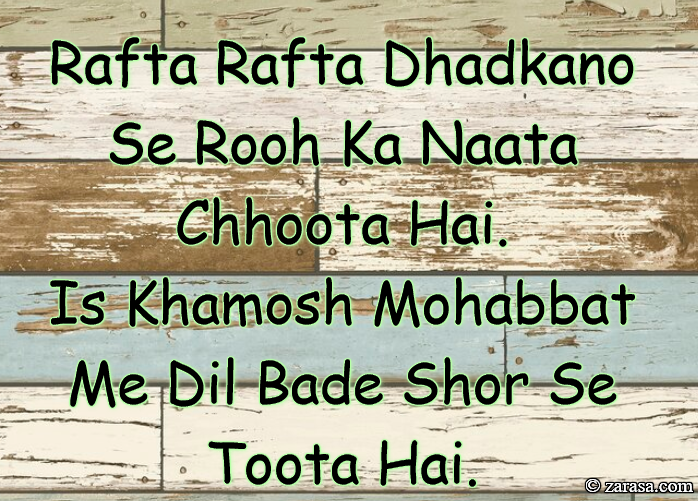 Rafta Rafta Dhadkano Se Rooh Ka Naata Chhoota Hai.
Is Khamosh Mohabbat Me Dil Bade Shor Se Toota Hai.
रफ्ता रफ्ता धड़कनो से रूह का नाता छूटा है .
इस खामोश मोहब्बत में दिल बड़े शोर से टूटा है .
رفتہ رفتہ ودھدکان سے روح کا ناتا چھوٹا ہے .
اس خاموش موحبّت مے دل بدی شور سے ٹوٹا ہے .
---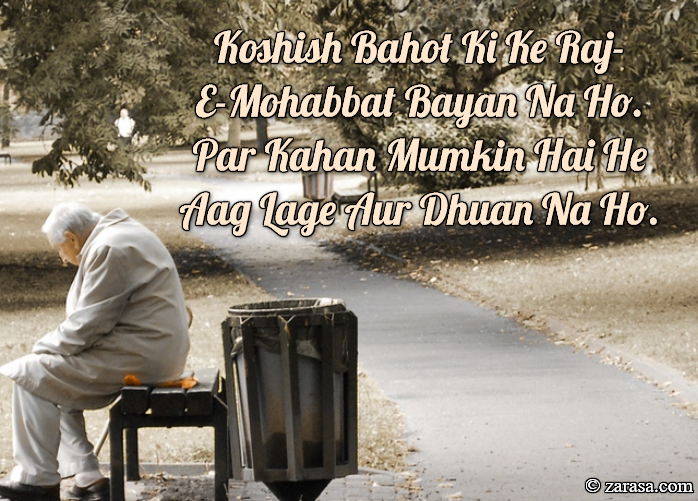 Koshish Bahot Ki Ke Raj-E-Mohabbat Bayan Na Ho.
Par Kahan Mumkin Hai He Aag Lage Aur Dhuan Na Ho.
कोशिश बहोत की के राज -इ -मोहब्बत बयां ना हो .
पर कहाँ मुमकिन है हे आग लगे और धुआं ना हो .

کوشش بھوت کی کے راج -ا -موحبّت بیان نہ ہو .
پر کہاں ممکن ہے ہے آگ لگے اور دھان نہ ہو .

---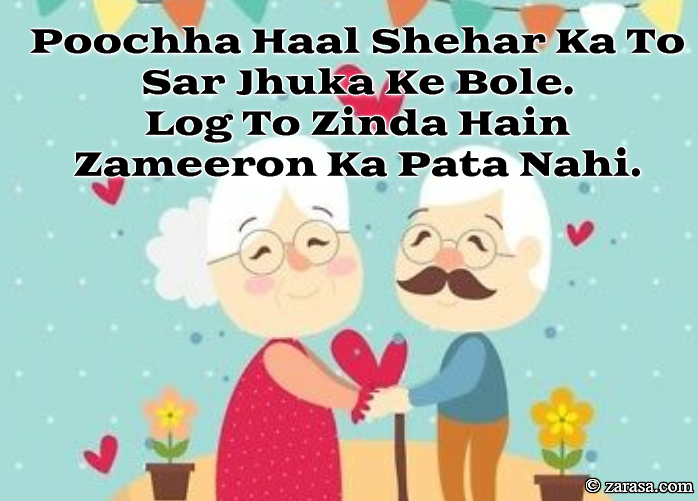 Poochha Haal Shehar Ka To Sar Jhuka Ke Bole.
Log To Zinda Hain Zameeron Ka Pata Nahi.
पूछा हाल शहर का तो सर झुका के बोले .
लोग तो ज़िंदा हैं ज़मीरों का पता नहीं .
پوچھ حال شہر کا تو سر جھکا کے بولے .
لوگ تو زندہ ہیں ضمیروں کا پتا نہیں .
---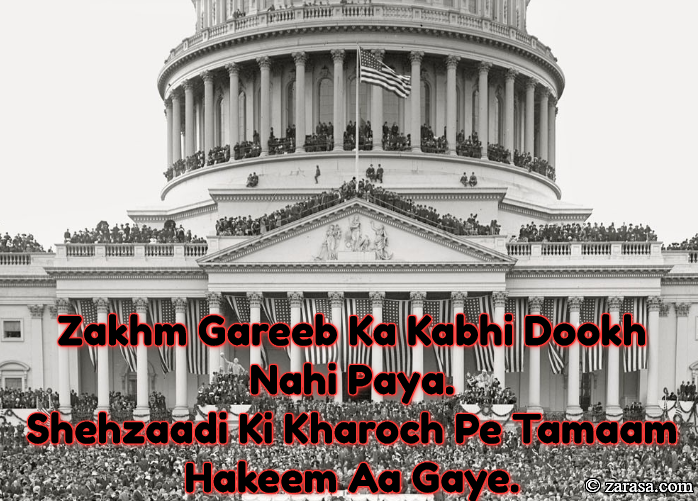 Zakhm Gareeb Ka Kabhi Dookh Nahi Paya.
Shehzaadi Ki Kharoch Pe Tamaam Hakeem Aa Gaye.
ज़ख्म गरीब का कभी दुख नहीं पाया .
शहज़ादी की खरोच पे तमाम हकीम आ गए .

زخم گریب کا کبھی دوخ نہیں پایا .
شہزادی کی خروچ پی تمام حکیم آگے .
---