Tanziya Shayari "Mat Soch Itna Zindagi Ke Bare Me"
|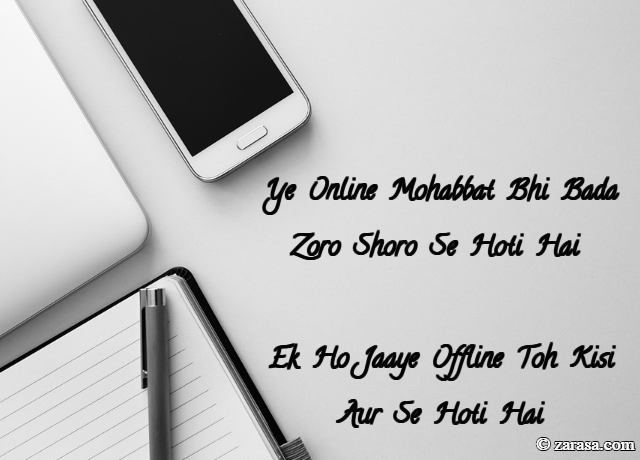 Ye Online Mohabbat Bhi Bada Zoro Shoro Se Hoti Hai
Ek Ho Jaaye Offline Toh Kisi Aur Se Hoti Hai...
ये ऑनलाइन मोहब्बत भी बड़ा ज़ोरो शोरों से होती है
एक हो जाए ऑफलाइन तोह किसी और से होती है।
یہ آن لائن موحبّت بھی بد زورو شورو سے ہوتی ہے
ایک ہو جائے وففلنے توہ کسی اور سے ہوتی ہے
---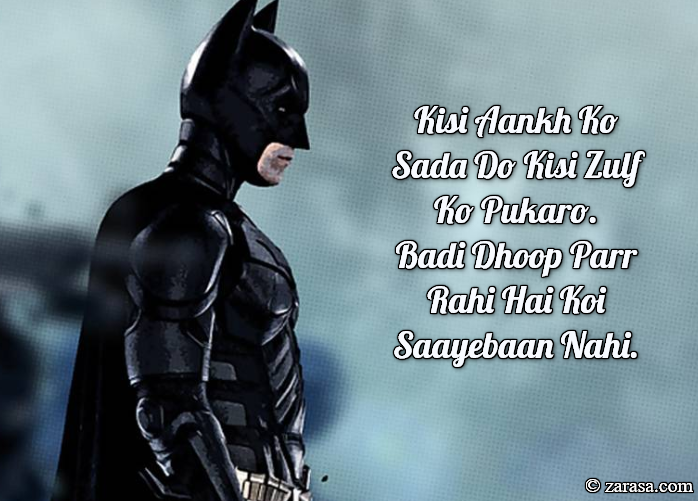 Kisi Aankh Ko Sada Do Kisi Zulf Ko Pukaro.
Badi Dhoop Parr Rahi Hai Koi Saayebaan Nahi.
किसी आँख को सदा दो किसी ज़ुल्फ़ को पुकारो .
बड़ी धुप पर रही है कोई सायबान नाही .
کسی آنکھ کو سادہ دو کسی زلف کو پکارو .
بدی دھوپ پرر رہی ہے کوئی ساےبان نہیں .
---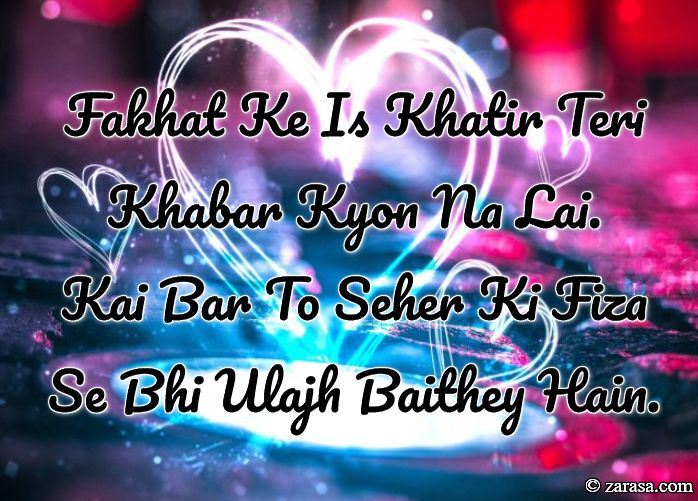 Fakhat Ke Is Khatir Teri Khabar Kyon Na Lai.
Kai Bar To Seher Ki Fiza Se Bhi Ulajh Baithey Hain.
फखत के इस खातिर तेरी खबर क्यों ना ले .
कई बार तो सेहर की फ़िज़ा से भी उलझ बैठे हैं .
فاخت کے اس خاطر تیری خبر کیوں نہ لی .
کی بار تو سہر کی فضا سے بھی الجھ بیٹھے ہیں .
---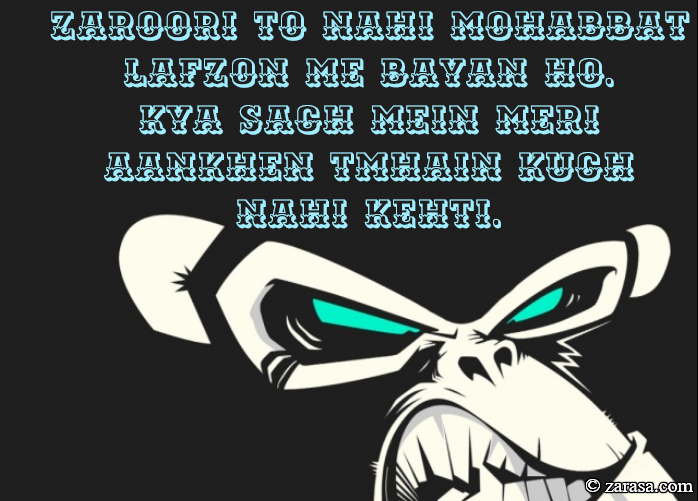 Zaroori To Nahi Mohabbat Lafzon Me Bayan Ho.
Kya Sach Mein Meri Aankhen Tmhain Kuch Nahi Kehti.
ज़रूरी तो नहीं मोहब्बत लफ़्ज़ों में बयां हो .
क्या सच में मेरी आँखें तम्हें कुछ नहीं कहती .

ضروری تو نہیں موحبّت لفظوں مے بیان ہو .
کیا سچ میں میری آنکھیں تمہیں کچھ نہیں کہتی .

---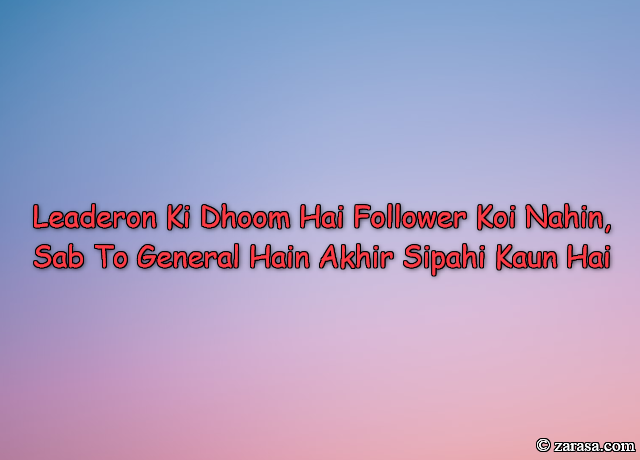 Leaderon Ki Dhoom Hai Follower Koi Nahin,
Sab To General Hain Akhir Sipahi Kaun Hai


लीडरों की धूम है फोल्लोवेर कोई नहीं ,
सब तो जनरल हैं आखिर सिपाही कौन है
              अकबर अल्लहाबादी
لیڈروں کی دھوم ہے فولّور کوئی نہیں ,
سب تو جنرل ہیں اکھڑ سپاہی کون ہے -
              اکبر اللہآبادی
---