Tanziya Shayari (Sarcastic) "Ham Kya Kahen Ahbab Kya Kar-e-numayan kar gaye "
|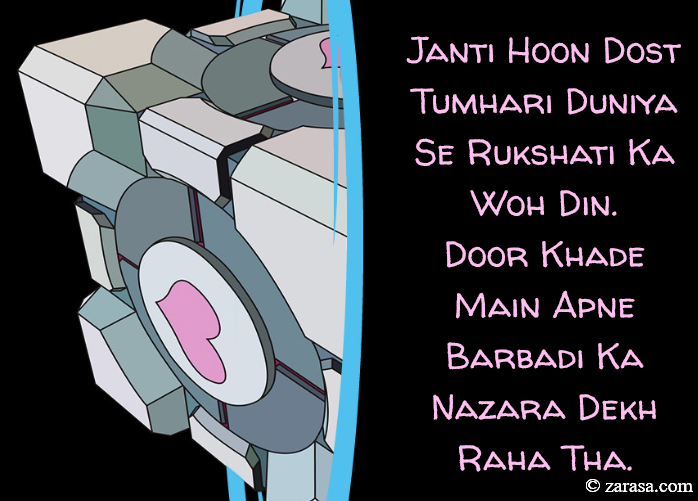 Janti Hoon Dost Tumhari Duniya Se Rukshati Ka Woh Din.
Door Khade Main Apne Barbadi Ka Nazara Dekh Raha Tha.
जानती हूँ दोस्त तुम्हारी दुनिया से रुक्षती का वह दिन .
दूर खड़े मैं अपने बर्बादी का नज़ारा देख रहा था .
جانتی ہوں دوست تمہاری دنیا سے رکشاتی کا وہ دن .
دور کھڈے میں اپنے بربادی کا نظارہ دیکھ رہا تھا .
---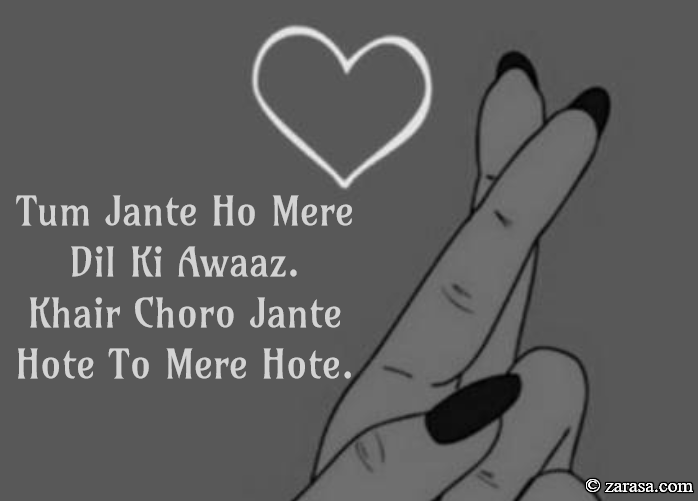 Tum Jante Ho Mere Dil Ki Awaaz.
Khair Choro Jante Hote To Mere Hote.
तुम जानते हो मेरे दिल की आवाज़ .
खैर चोरो जानते होते तो मेरे होते .
تم جانتے ہو میرے دل کی آواز .
خیر چھوڑو جانتے ہوتے تو میرے ہوتے .
---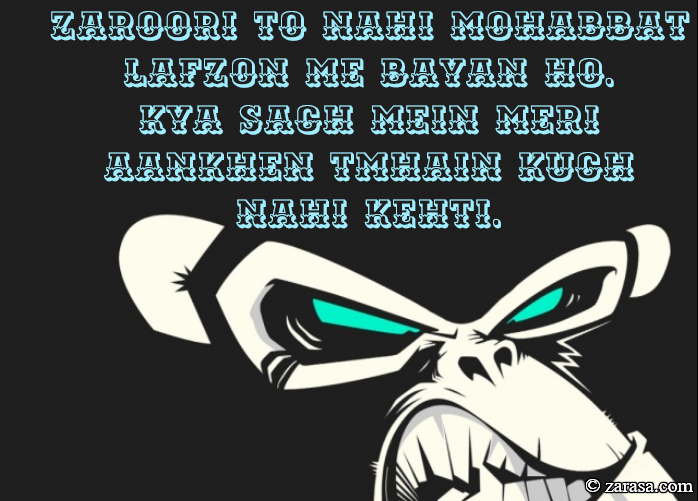 Zaroori To Nahi Mohabbat Lafzon Me Bayan Ho.
Kya Sach Mein Meri Aankhen Tmhain Kuch Nahi Kehti.
ज़रूरी तो नहीं मोहब्बत लफ़्ज़ों में बयां हो .
क्या सच में मेरी आँखें तम्हें कुछ नहीं कहती .

ضروری تو نہیں موحبّت لفظوں مے بیان ہو .
کیا سچ میں میری آنکھیں تمہیں کچھ نہیں کہتی .

---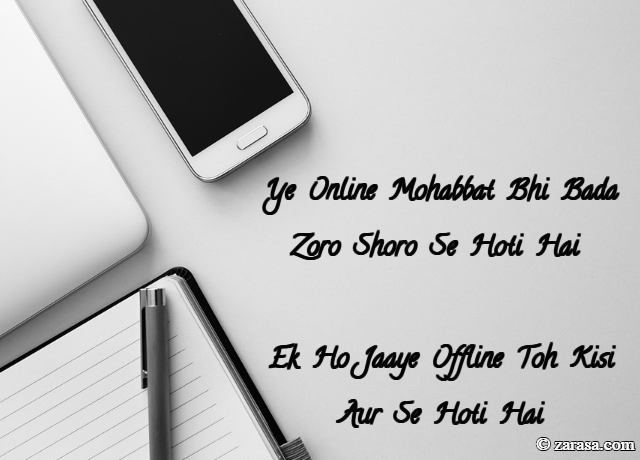 Ye Online Mohabbat Bhi Bada Zoro Shoro Se Hoti Hai
Ek Ho Jaaye Offline Toh Kisi Aur Se Hoti Hai...
ये ऑनलाइन मोहब्बत भी बड़ा ज़ोरो शोरों से होती है
एक हो जाए ऑफलाइन तोह किसी और से होती है।
یہ آن لائن موحبّت بھی بد زورو شورو سے ہوتی ہے
ایک ہو جائے وففلنے توہ کسی اور سے ہوتی ہے
---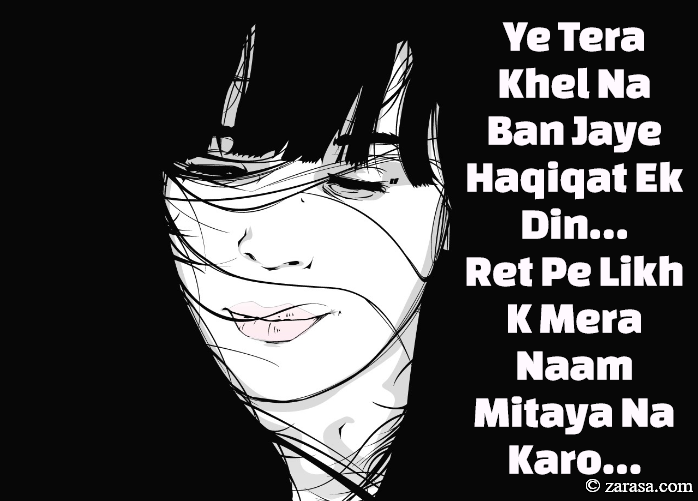 Ye Tera Khel Na Ban Jaye Haqiqat Ek Din…
Ret Pe Likh K Mera Naam Mitaya Na Karo…
ये तेरा खेल न बन जाये हक़ीक़त एक दिन …
रेट पे लिख क मेरा नाम मिटाया ना करो …
یہ تیرا کھل نہ بن جائے حقیقت ایک دن …
ریت پی لکھ کے میرا نام مٹایا نہ کرو …
---