Tanziya Shayari "Rakh Chori Hai"
|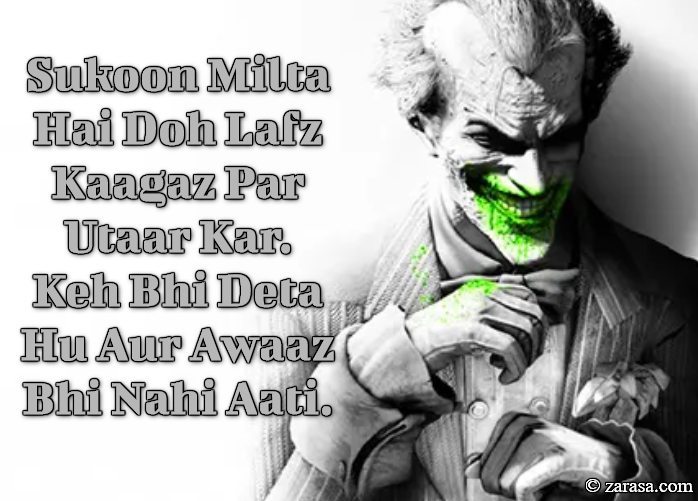 Sukoon Milta Hai Doh Lafz Kaagaz Par Utaar Kar.
Keh Bhi Deta Hu Aur Awaaz Bhi Nahi Aati.
सुकून मिलता है दो लफ्ज़ कागज़ पर उतार कर .
कह भी देता हु और आवाज़ भी नहीं आती .
سکون ملتا ہے دوہ لفظ کاگز پر اتار کر .
کہ بھی دیتا ہو اور آواز بھی نہیں آتی .
---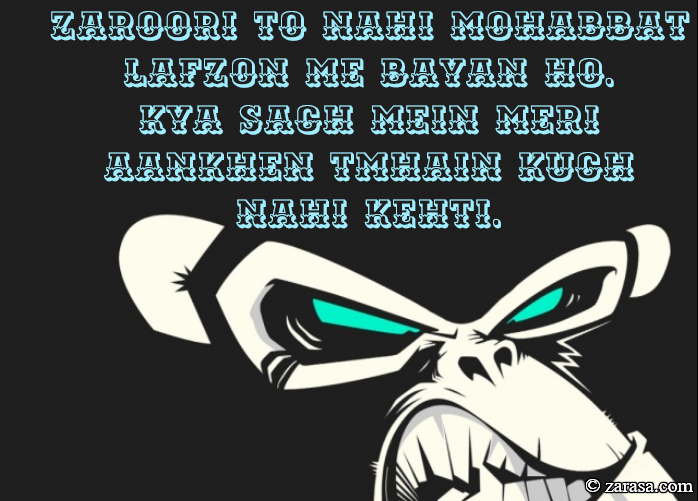 Zaroori To Nahi Mohabbat Lafzon Me Bayan Ho.
Kya Sach Mein Meri Aankhen Tmhain Kuch Nahi Kehti.
ज़रूरी तो नहीं मोहब्बत लफ़्ज़ों में बयां हो .
क्या सच में मेरी आँखें तम्हें कुछ नहीं कहती .

ضروری تو نہیں موحبّت لفظوں مے بیان ہو .
کیا سچ میں میری آنکھیں تمہیں کچھ نہیں کہتی .

---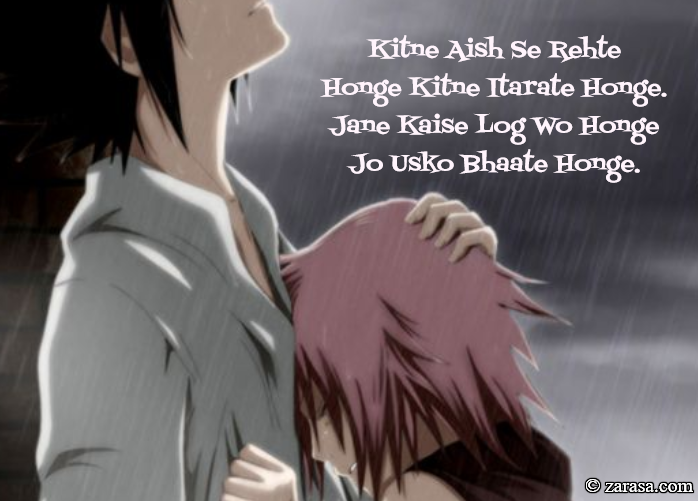 Kitne Aish Se Rehte Honge Kitne Itarate Honge.
Jane Kaise Log Wo Honge Jo Usko Bhaate Honge.
कितने ऐश से रहते होंगे कितने इतराते होंगे .
जाने कैसे लोग वो होंगे जो उसको भाते होंगे .
کتنے ایش سے رہتے ہونگے کتنے اترتے ہونگے .
جانے کیسے لوگ وو ہونگے جو اسکو بھاتے ہونگے .
---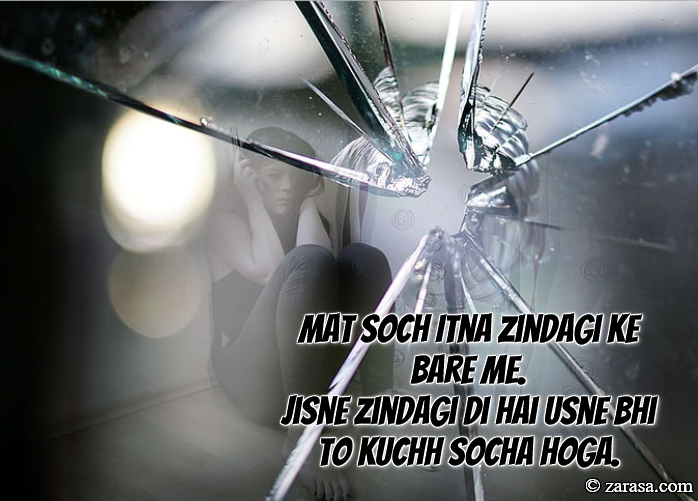 Mat Soch Itna Zindagi Ke Bare Me.
Jisne Zindagi Di Hai Usne Bhi To Kuchh Socha Hoga.
मत सोच इतना ज़िन्दगी के बारे में .
जिसने ज़िन्दगी दी है उसने भी तो कुछ सोचा होगा .
مت سوچ اتنا زندگی کے بارے مے .
جسنے زندگی دی ہے اسنے بھی تو کچھ سوچا ہوگا .
---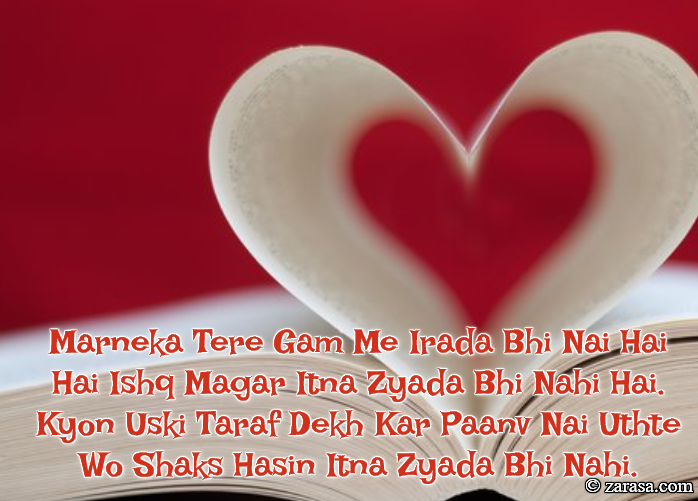 Marneka Tere Gam Me Irada Bhi Nai Hai Hai Ishq Magar Itna Zyada Bhi Nahi Hai.
Kyon Uski Taraf Dekh Kar Paanv Nai Uthte Wo Shaks Hasin Itna Zyada Bhi Nahi.
मरनेका तेरे गम में इरादा भी नहीं है इश्क़ मगर इतना ज़्यादा भी नहीं है .
क्यों उसकी तरफ देख कर पाँव नहीं उठते वो शख्स हसीं इतना ज़्यादा भी नहीं .
مرنیکا تیرے گم مے ارادہ بھی نہیں ہے عشق مگر اتنا زیادہ بھی نہیں ہے .
کیوں اسکی طرف دیکھ کر پہنو نہیں اٹھیں وو شکس حسین اتنا زیادہ بھی نہیں .
---