Tanziya Shayari (Sarcastic) "जानती हूँ दोस्त ,तुम्हारी दुनिया से रुखसती का वह दिन"
|
Janti Hoon Dost,Tumhari Duniya Se Rukshati Ka Woh Din,
Door Khade Main Apne Barbadi Ka Nazara Dekh Raha Tha.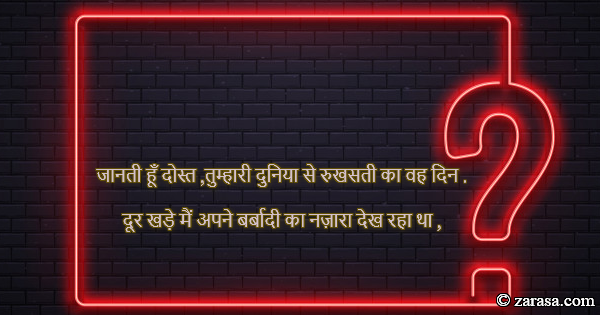 ---

जानती हूँ दोस्त ,तुम्हारी दुनिया से रुखसती का वह दिन .
दूर खड़े मैं अपने बर्बादी का नज़ारा देख रहा था ,


---

جانتی ہوں دوست ,تمہاری دنیا سے رکستی کا وہ دن .
دور کھڈے میں اپنے بربادی کا نظارہ دیکھ رہا تھا ,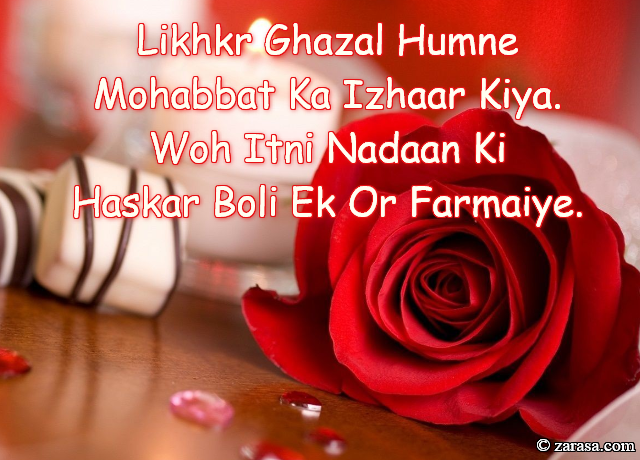 Likhkr Ghazal Humne Mohabbat Ka Izhaar Kiya.
Woh Itni Nadaan Ki Haskar Boli Ek Or Farmaiye.
लिखकर ग़ज़ल हमने मोहब्बत का इज़्हार किया .
वह इतनी नादान की हसकर बोली एक और फरमाइए .
لکھکر غزل ہمنے موحبّت کا اظہار کیا .
وہ اتنی ناداں کی حسکر بولی ایک اور فرمائے .
---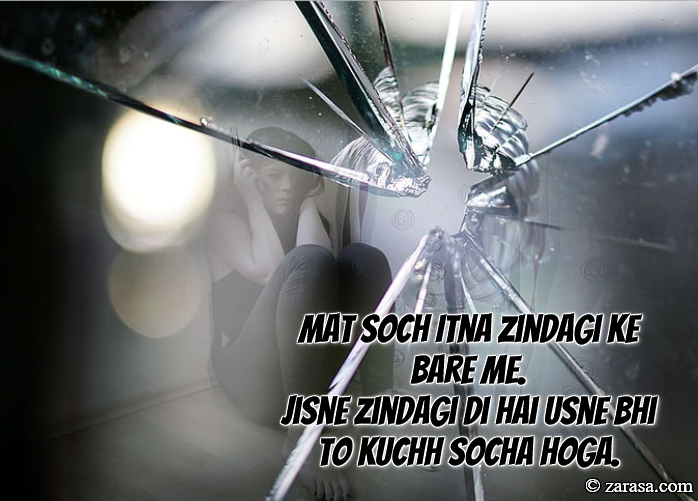 Mat Soch Itna Zindagi Ke Bare Me.
Jisne Zindagi Di Hai Usne Bhi To Kuchh Socha Hoga.
मत सोच इतना ज़िन्दगी के बारे में .
जिसने ज़िन्दगी दी है उसने भी तो कुछ सोचा होगा .
مت سوچ اتنا زندگی کے بارے مے .
جسنے زندگی دی ہے اسنے بھی تو کچھ سوچا ہوگا .
---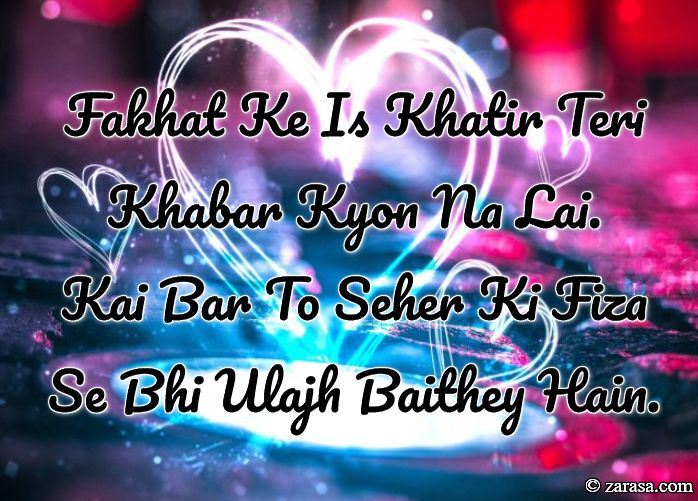 Fakhat Ke Is Khatir Teri Khabar Kyon Na Lai.
Kai Bar To Seher Ki Fiza Se Bhi Ulajh Baithey Hain.
फखत के इस खातिर तेरी खबर क्यों ना ले .
कई बार तो सेहर की फ़िज़ा से भी उलझ बैठे हैं .
فاخت کے اس خاطر تیری خبر کیوں نہ لی .
کی بار تو سہر کی فضا سے بھی الجھ بیٹھے ہیں .
---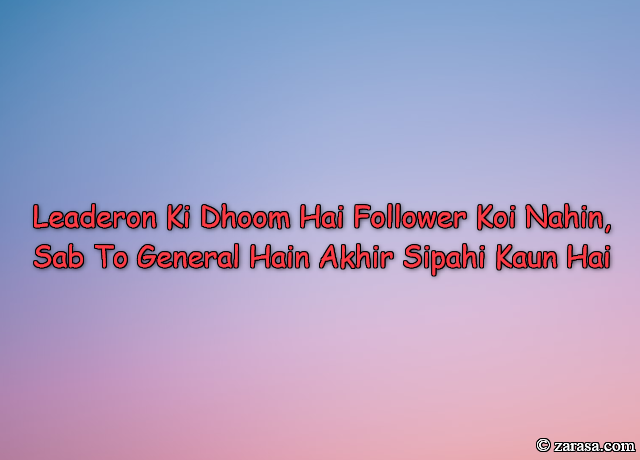 Leaderon Ki Dhoom Hai Follower Koi Nahin,
Sab To General Hain Akhir Sipahi Kaun Hai


लीडरों की धूम है फोल्लोवेर कोई नहीं ,
सब तो जनरल हैं आखिर सिपाही कौन है
              अकबर अल्लहाबादी
لیڈروں کی دھوم ہے فولّور کوئی نہیں ,
سب تو جنرل ہیں اکھڑ سپاہی کون ہے -
              اکبر اللہآبادی
---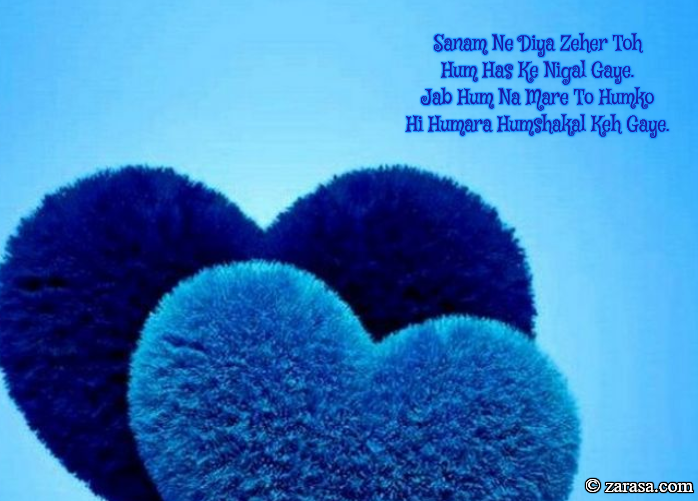 Sanam Ne Diya Zeher Toh Hum Has Ke Nigal Gaye.
Jab Hum Na Mare To Humko Hi Humara Humshakal Keh Gaye.
सनम ने दिया ज़हर तोह हम है के निगल गए .
जब हम ना मारे तो हमको ही हमारा हमशकल कह गए .
صنم نے دیا زہر ٹوہ ہم حس کے نگل گئے .
جب ہم نہ مارے تو ہمکو ہی ہمارا ہمشکل کہ گئے .
---