Tanziya Shayari (Sarcastic) "जानती हूँ दोस्त ,तुम्हारी दुनिया से रुखसती का वह दिन"
|
Janti Hoon Dost,Tumhari Duniya Se Rukshati Ka Woh Din,
Door Khade Main Apne Barbadi Ka Nazara Dekh Raha Tha.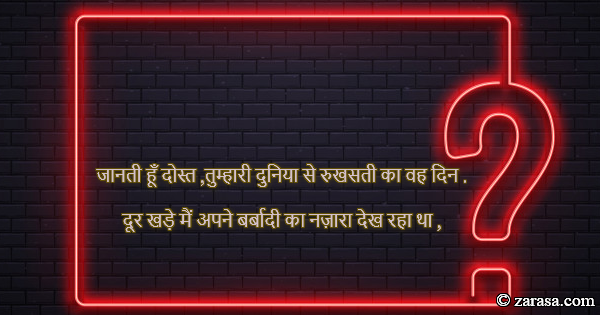 ---

जानती हूँ दोस्त ,तुम्हारी दुनिया से रुखसती का वह दिन .
दूर खड़े मैं अपने बर्बादी का नज़ारा देख रहा था ,


---

جانتی ہوں دوست ,تمہاری دنیا سے رکستی کا وہ دن .
دور کھڈے میں اپنے بربادی کا نظارہ دیکھ رہا تھا ,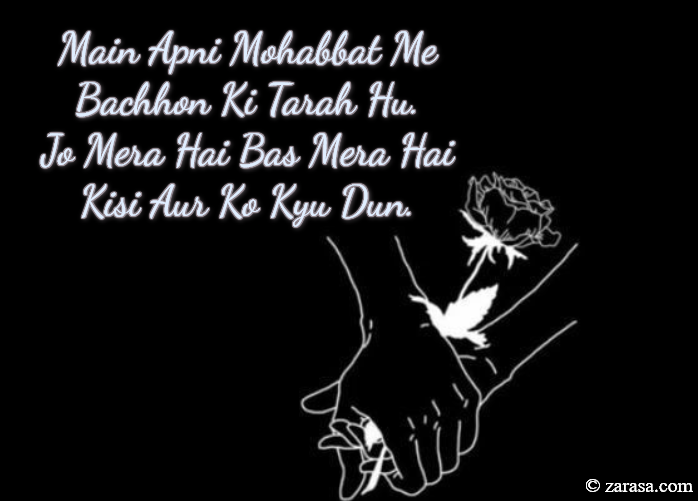 Main Apni Mohabbat Me Bachhon Ki Tarah Hu.
Jo Mera Hai Bas Mera Hai Kisi Aur Ko Kyu Dun.
मैं अपनी मोहब्बत में बच्चों की तरह हु .
जो मेरा है बस मेरा है किसी और को क्यों दूँ .
میں اپنی موحبّت مے بچھون کی طرح ہو .
جو میرا ہے بس میرا ہے کسی اور کو کیو دن .
---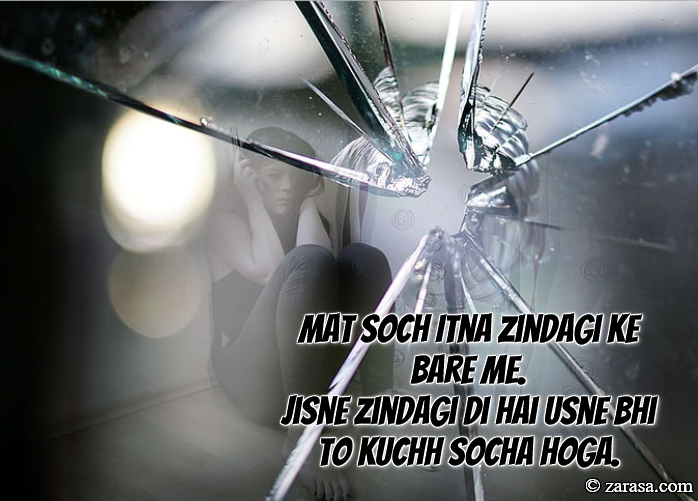 Mat Soch Itna Zindagi Ke Bare Me.
Jisne Zindagi Di Hai Usne Bhi To Kuchh Socha Hoga.
मत सोच इतना ज़िन्दगी के बारे में .
जिसने ज़िन्दगी दी है उसने भी तो कुछ सोचा होगा .
مت سوچ اتنا زندگی کے بارے مے .
جسنے زندگی دی ہے اسنے بھی تو کچھ سوچا ہوگا .
---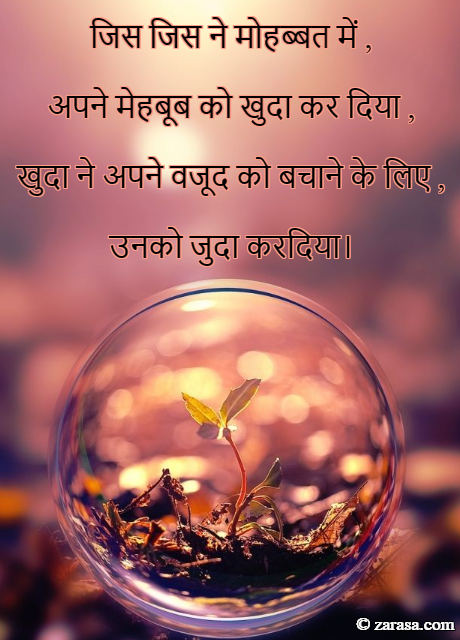 Jis Jis Ne Mohabbat Mai,
Apne Mehboob Ko Khuda Kar Diya ,
Khuda Ne Apne Wajud Ko Bachane Ke Liye ,
Unko Juda Kr Diya.
जिस जिस ने मोहब्बत में ,
अपने मेहबूब को खुदा कर दिया ,
खुदा ने अपने वजूद को बचाने के लिए ,
उनको जुदा करदिया।
جس جس نے موحبّت می
اپنے محبوب کو خدا کر دیا
خدا نے اپنے وجود کو بچانے کے لئے
انکو جودا کر دیا
---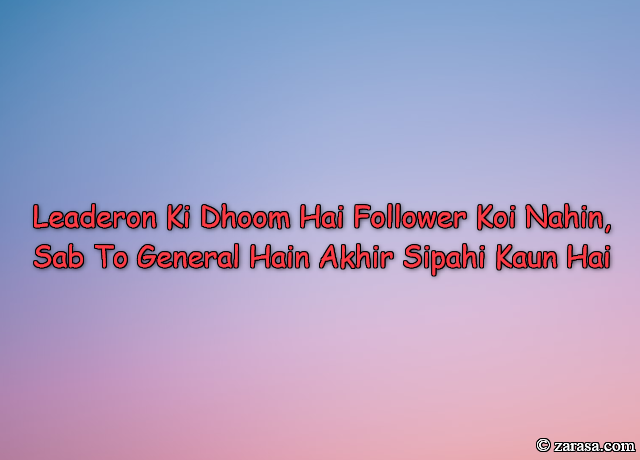 Leaderon Ki Dhoom Hai Follower Koi Nahin,
Sab To General Hain Akhir Sipahi Kaun Hai


लीडरों की धूम है फोल्लोवेर कोई नहीं ,
सब तो जनरल हैं आखिर सिपाही कौन है
              अकबर अल्लहाबादी
لیڈروں کی دھوم ہے فولّور کوئی نہیں ,
سب تو جنرل ہیں اکھڑ سپاہی کون ہے -
              اکبر اللہآبادی
---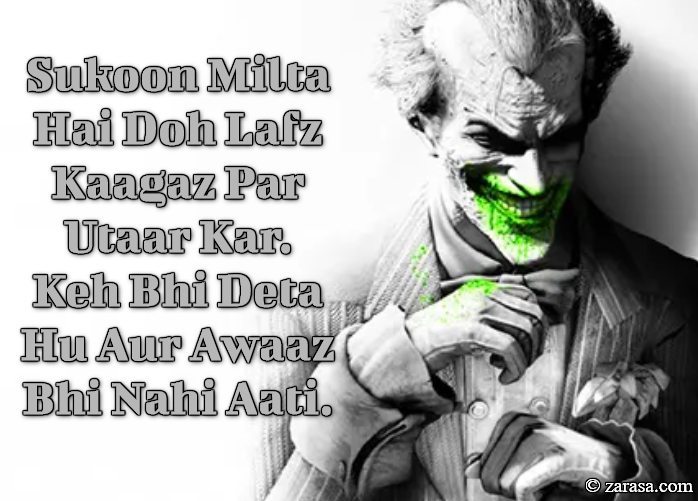 Sukoon Milta Hai Doh Lafz Kaagaz Par Utaar Kar.
Keh Bhi Deta Hu Aur Awaaz Bhi Nahi Aati.
सुकून मिलता है दो लफ्ज़ कागज़ पर उतार कर .
कह भी देता हु और आवाज़ भी नहीं आती .
سکون ملتا ہے دوہ لفظ کاگز پر اتار کر .
کہ بھی دیتا ہو اور آواز بھی نہیں آتی .
---