Shayari for Speeches "मेरी मंज़िल तो आसमान है"
|
Sidiyan Unhe Mubarak Hon,
Jinhe Sirf Chhat Tak Jana Hai,
Meri Manzil To Aasmaan Hai,
Rasta Mujhe Khud Banana Hai.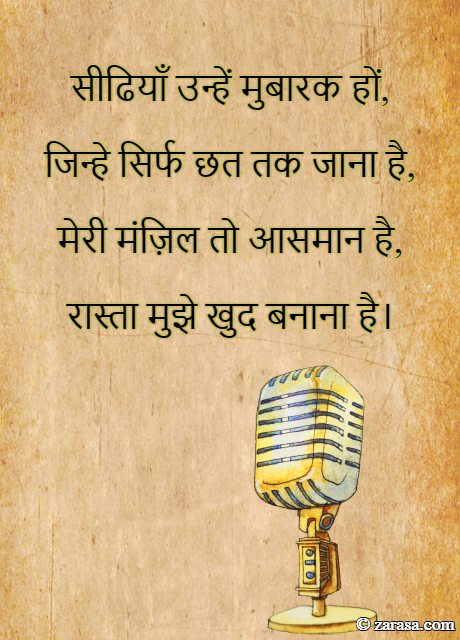 ---

सीढियाँ उन्हें मुबारक हों,
जिन्हे सिर्फ छत तक जाना है,
मेरी मंज़िल तो आसमान है,
रास्ता मुझे खुद बनाना है।


---

سیڈیاں انھ مبارک ہوں
جنھ صرف چھت تک جانا ہے
میری منزل تو آسمان ہے
راستا مجھے خود بنانا ہے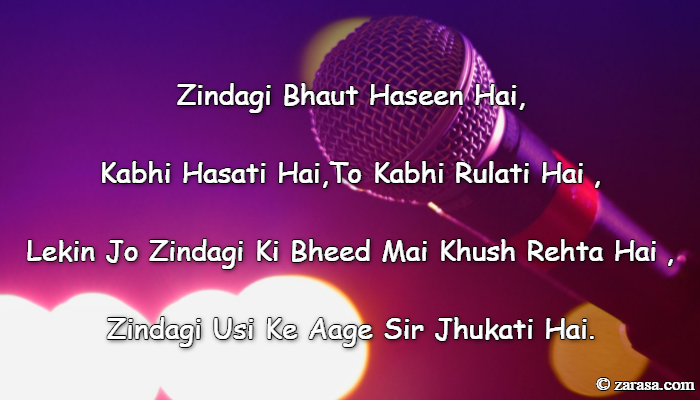 Zindagi Bhaut Haseen Hai,
Kabhi Hasati Hai,To Kabhi Rulati Hai ,
Lekin Jo Zindagi Ki Bheed Mai Khush Rehta Hai ,
Zindagi Usi Ke Aage Sir Jhukati Hai.
ज़िन्दगी बहुत हसीन है,
कभी हंसाती है, तो कभी रुलाती है,
लेकिन जो ज़िन्दगी की भीड़ में खुश रहता है,
ज़िन्दगी उसी के आगे सिर झुकाती है।
زندگی بہت حسین ہے
کبھی حسنتی ہے ،ٹوہ کبھی رلاتی ہے
لیکن جو زندگی کی بھیڈ می خوش رہتا ہے
زندگی اسی کے آگے سر جھکتی ہے
---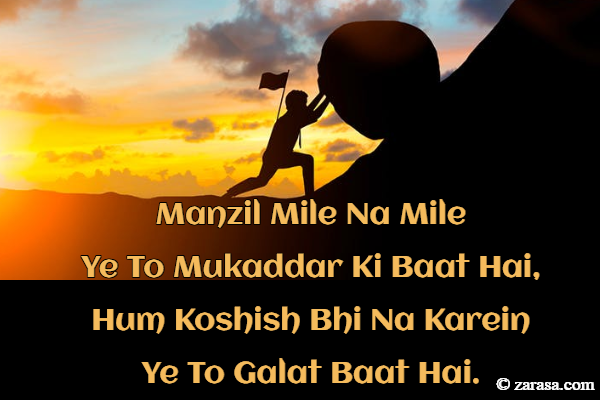 Manzil Mile Na Mile
Ye To Mukaddar Ki Baat Hai,
Hum Koshish Bhi Na Karein
Ye To Galat Baat Hai.

मंज़िल मिले न मिले
ये तो मुकद्दर की बात है,
हम कोशिश भी न करें
ये तो गलत बात है।
منزل میل نہ میل
یہ تو مقدار کی بات ہے
ہم کوشش بھی نہ کرے
یہ تو گلت بات ہے
---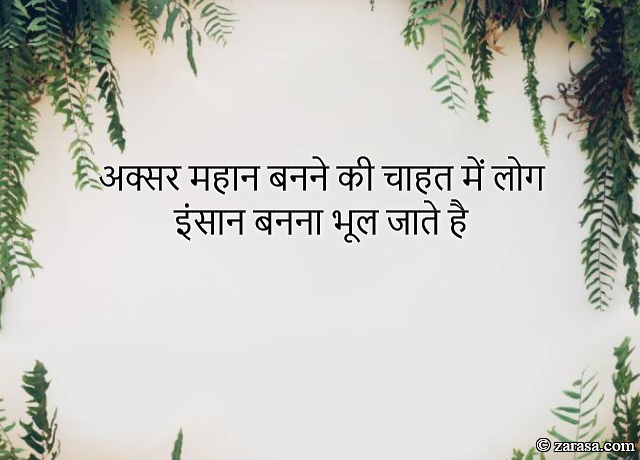 AKSER MAHAAN BANNNE KI CHAHAT
MEIN LOG INSAN BANNA BHUL JATE HAI
अक्सर महान बनने की चाहत में लोग
इंसान बनना भूल जाते है
اکثر مہان بننے کی چاہت میں لوگ
انسان بننا بھول جاتے ہے
---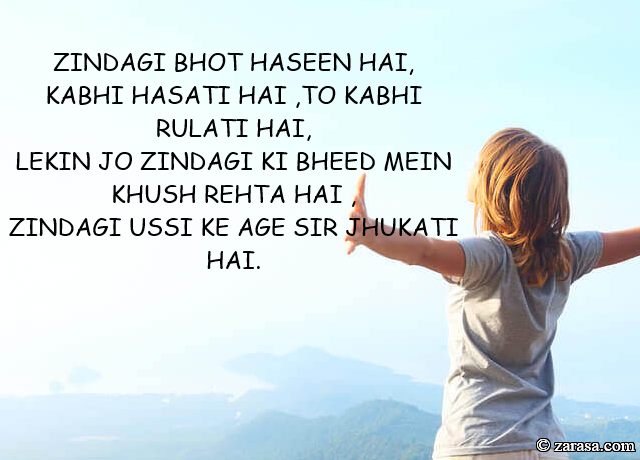 ZINDAGI BHOT HASEEN HAI,
HABHI HASTI HAI ,TO KABHI RULATI HAI,
LEKIN JO ZINDAGI KI BHEED MEIN KHUSH REHTA HAI ,
ZINDAGI USSI KE AGE SIR JHUKATI HAI.
ज़िन्दगी बोहोत हसींन है
कभी हसती है ,तोह कभी रुलाती है
लेकिन जो ज़िन्दगी की भीड़ में खुश रहता है
ज़िन्दगी उसी के आगे सर झुकाती है
زندگی بھوت حسین ہے -
کبھی ہستی ہے ,توہ کبھی رلاتی ہے -
لیکن جو زندگی کی بھیڈ میں خوش رہتاہ-
زندگی اسی کے اگے سر جھکاتی ہے -

---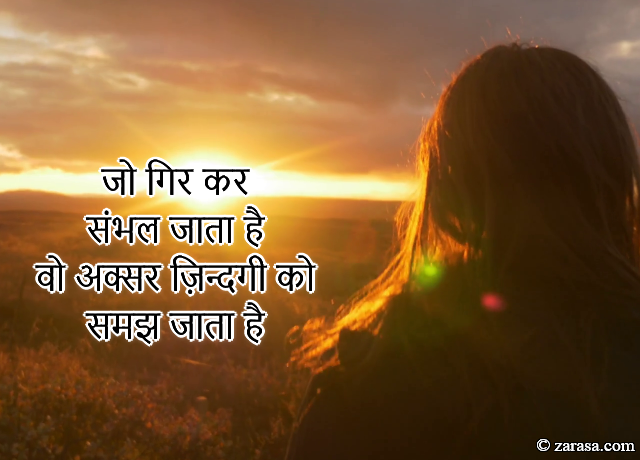 JO GIR KAR
SAMBHAL JATA HAI ,
WO AQSAR ZINDAGI KO
SAMAJH JATA HAI
जो गिर कर
संभल जाता है
वो अक्सर ज़िन्दगी को
समझ जाता है

جو گر کر
سمبھال جاتا ہے ,
وو اکثر زندگی کو
سمجھ جاتا ہے
---