Shayari for Speeches "मेरी मंज़िल तो आसमान है"
|
Sidiyan Unhe Mubarak Hon,
Jinhe Sirf Chhat Tak Jana Hai,
Meri Manzil To Aasmaan Hai,
Rasta Mujhe Khud Banana Hai.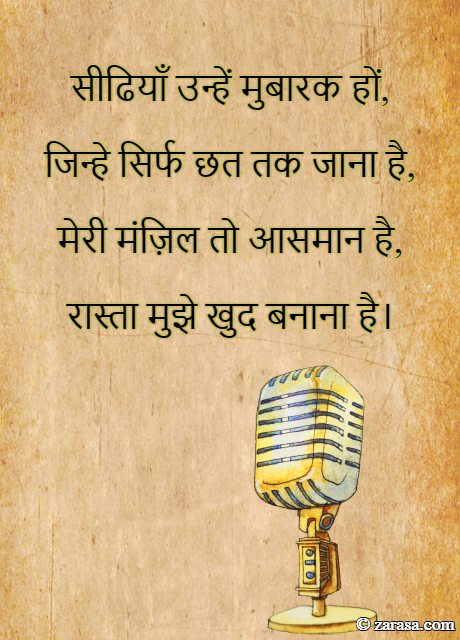 ---

सीढियाँ उन्हें मुबारक हों,
जिन्हे सिर्फ छत तक जाना है,
मेरी मंज़िल तो आसमान है,
रास्ता मुझे खुद बनाना है।


---

سیڈیاں انھ مبارک ہوں
جنھ صرف چھت تک جانا ہے
میری منزل تو آسمان ہے
راستا مجھے خود بنانا ہے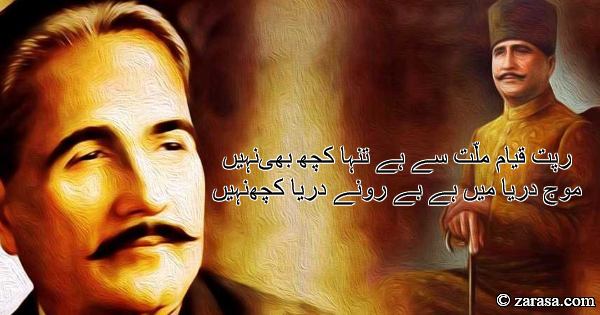 Rapt Qayam Millat se Hai, Tanha Kuchh Bhi Nahi
Moj Darya Mein Hai, Beroone Darya Kuchh Nahi.
रप्त क़ायम मिल्लत से है, तनहा कुछ भी नहीं
मौज दरया में है बेरूने दरया कुछ नहीं
رپت قیام ملّت سے ہے تنہا کچھ بھی نہیں
موج دریا میں ہے بے رونے دریا کچھ نہیں
---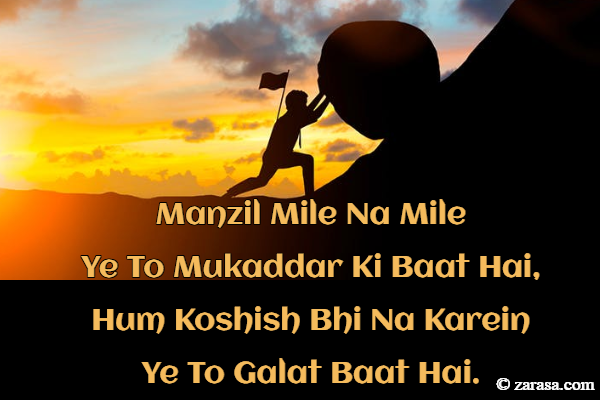 Manzil Mile Na Mile
Ye To Mukaddar Ki Baat Hai,
Hum Koshish Bhi Na Karein
Ye To Galat Baat Hai.

मंज़िल मिले न मिले
ये तो मुकद्दर की बात है,
हम कोशिश भी न करें
ये तो गलत बात है।
منزل میل نہ میل
یہ تو مقدار کی بات ہے
ہم کوشش بھی نہ کرے
یہ تو گلت بات ہے
---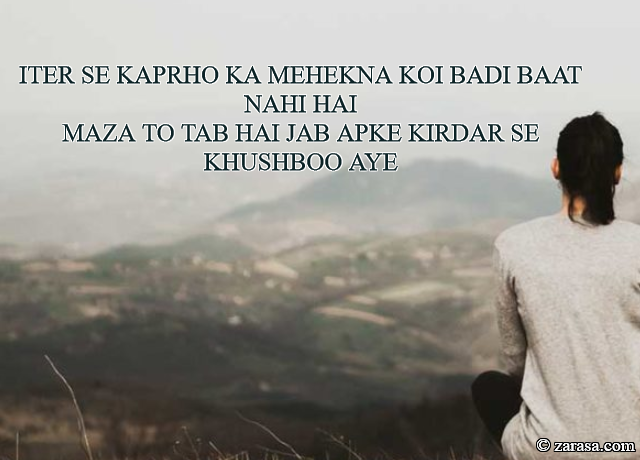 ITER SE KAPRHO KA MEHEKNA KOI BADI BAAT NAHI HAI
MAZA TO TAB HAI JAB APKE KIRDAR SE KHUSHBOO AYE
इतर से कपड़ो का मेहकना कोई बड़ी बात नहीं
मज़ा तो तब है जब आपके किरदार से खुशबू आए
اتر سے کپڑھو کا مہکنا کوئی باڈی بات نہیں ہے
مزہ تو تب ہے جب آپکے کردار سے خوشبو اے
---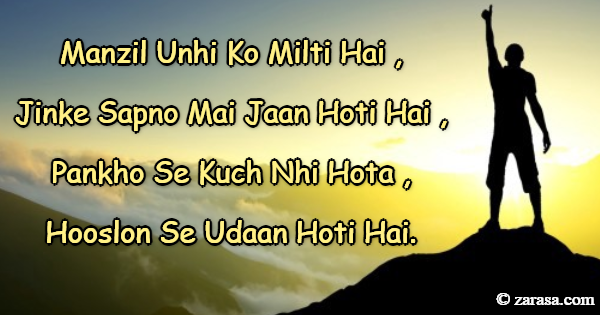 Manzil Unhi Ko Milti Hai ,
Jinke Sapno Mai Jaan Hoti Hai ,
Pankho Se Kuch Nhi Hota ,
Hooslon Se Udaan Hoti Hai.
मंजिल उन्हीं को मिलती है,
जिनके सपनों में जान होती है,
पंखों से कुछ नहीं होता,
हौसलों से उड़ान होती है |
منزل انہی کو ملتی ہے
جنکے سپنو می جان ہوتی ہے
پنکھو سے کچھ نہی ہوتا
حوصلوں سے وڈان ہوتی ہے
---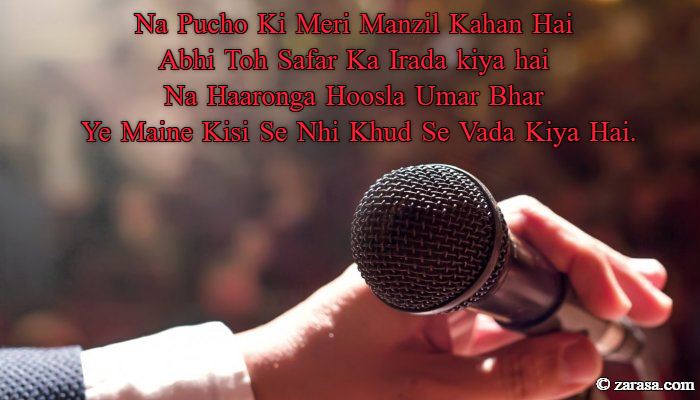 Na Pucho Ki Meri Manzil Kahan Hai
Abhi Toh Safar Ka Irada kiya hai
Na Haaronga Hoosla Umar Bhar
Ye Maine Kisi Se Nhi Khud Se Vada Kiya Hai.
ना पूछो कि मेरी मंजिल कहाँ है
अभी तो सफर का इरादा किया है
ना हारूंगा हौंसला उम्र भर
ये मैंने किसी से नहीं खुद से वादा किया है |
نہ پچو کی میری منزل کہاں ہے
ابھی تو سفر کا ارادہ کیا ہے
نہ ہارونگا حوصلہ امر بھر
یہ مہینے کسی سے نہی خود سے وادا کیا ہے
---