Tanziya Shayari (Sarcastic ) "रकीबों ने रपट लिखवाई है जा जा के थाने में "
|
Raqueebon Ne Rapat Likhwai Hai Jaa Jaa Ke Thane Men
Ki 'Akbar' Naam Leta Hai Khuda Ka Zamane Men.
Akbar Allahabadi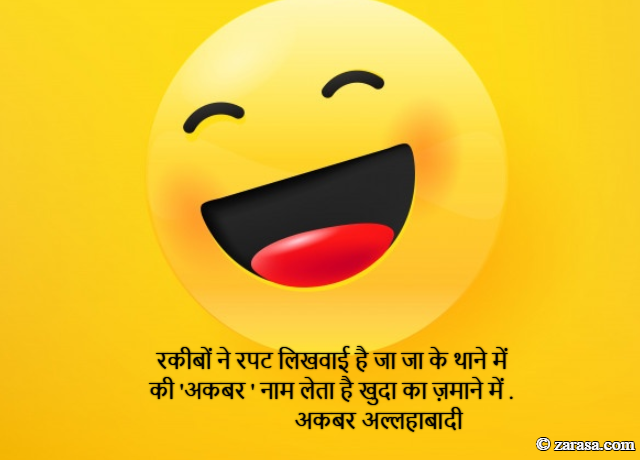 ---

रकीबों ने रपट लिखवाई है जा जा के थाने में
की 'अकबर ' नाम लेता है खुदा का ज़माने में .
                 अकबर अल्लहाबादी


---

رقیبوں نے رپٹ لکھوی ہے جا جا کے تانی میں
کی 'اکبر ' نام لیتا ہے خدا کا زمانے میں .
                 اکبر اللہآبادی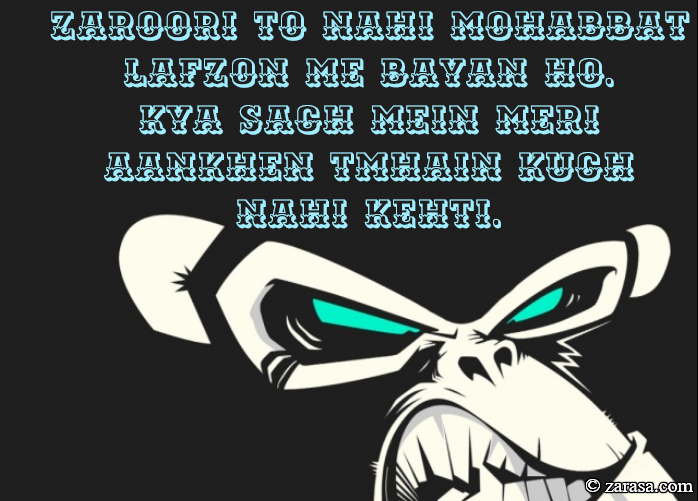 Zaroori To Nahi Mohabbat Lafzon Me Bayan Ho.
Kya Sach Mein Meri Aankhen Tmhain Kuch Nahi Kehti.
ज़रूरी तो नहीं मोहब्बत लफ़्ज़ों में बयां हो .
क्या सच में मेरी आँखें तम्हें कुछ नहीं कहती .

ضروری تو نہیں موحبّت لفظوں مے بیان ہو .
کیا سچ میں میری آنکھیں تمہیں کچھ نہیں کہتی .

---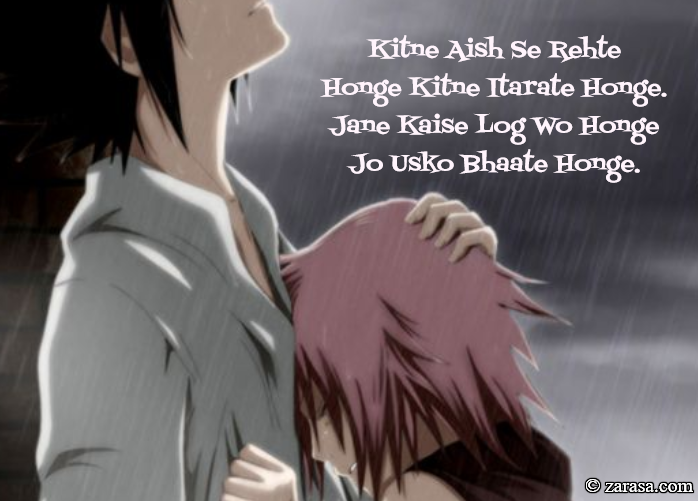 Kitne Aish Se Rehte Honge Kitne Itarate Honge.
Jane Kaise Log Wo Honge Jo Usko Bhaate Honge.
कितने ऐश से रहते होंगे कितने इतराते होंगे .
जाने कैसे लोग वो होंगे जो उसको भाते होंगे .
کتنے ایش سے رہتے ہونگے کتنے اترتے ہونگے .
جانے کیسے لوگ وو ہونگے جو اسکو بھاتے ہونگے .
---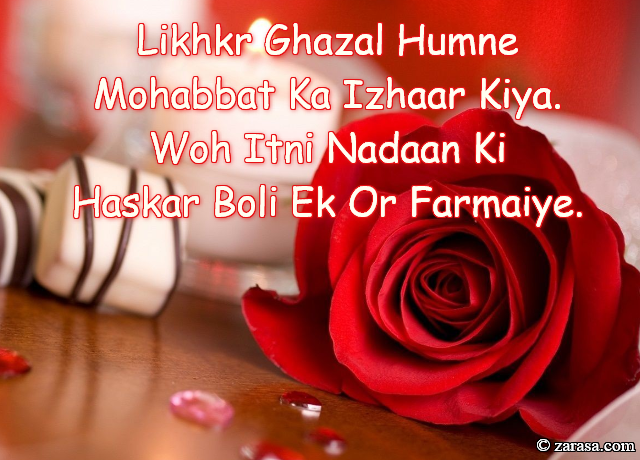 Likhkr Ghazal Humne Mohabbat Ka Izhaar Kiya.
Woh Itni Nadaan Ki Haskar Boli Ek Or Farmaiye.
लिखकर ग़ज़ल हमने मोहब्बत का इज़्हार किया .
वह इतनी नादान की हसकर बोली एक और फरमाइए .
لکھکر غزل ہمنے موحبّت کا اظہار کیا .
وہ اتنی ناداں کی حسکر بولی ایک اور فرمائے .
---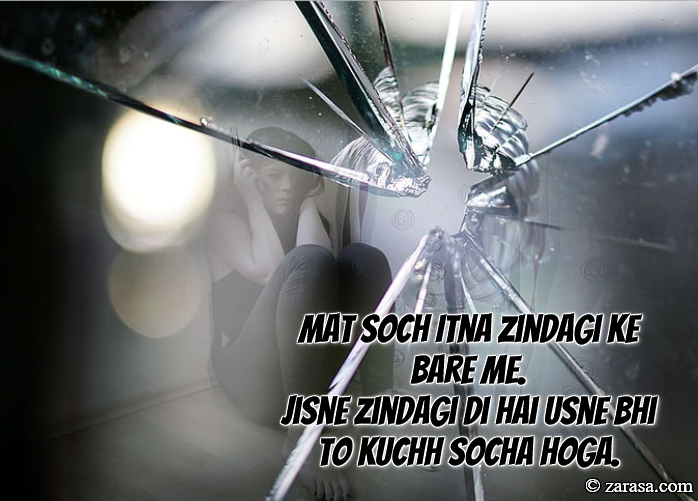 Mat Soch Itna Zindagi Ke Bare Me.
Jisne Zindagi Di Hai Usne Bhi To Kuchh Socha Hoga.
मत सोच इतना ज़िन्दगी के बारे में .
जिसने ज़िन्दगी दी है उसने भी तो कुछ सोचा होगा .
مت سوچ اتنا زندگی کے بارے مے .
جسنے زندگی دی ہے اسنے بھی تو کچھ سوچا ہوگا .
---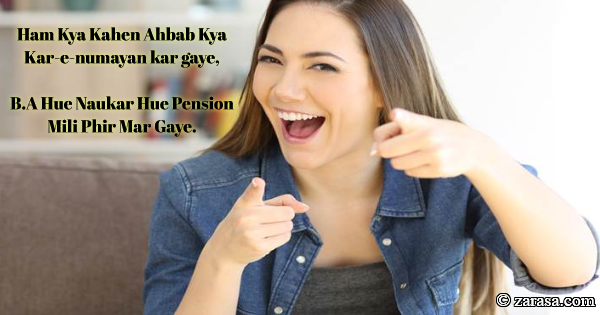 Ham Kya Kahen Ahbab Kya Kar-e-numayan kar gaye,
B.A Hue Naukar Hue Pension Mili Phir Mar Gaye.

           











हम क्या कहें अहबाब क्या कर -ए -नुमायां कर गए ,
B.A हुए नौकर हुए पेंशन मिली फिर मर गए .



ہم کیا کہیں احباب کیا کر-ے- نمایاں کر گئے ,
بی .اے ہوئے نوکر ہوئے پنشن ملی پھر مر گئے .


           
---