Tanziya Shayari "Sanam Ne Diya Zeher"
|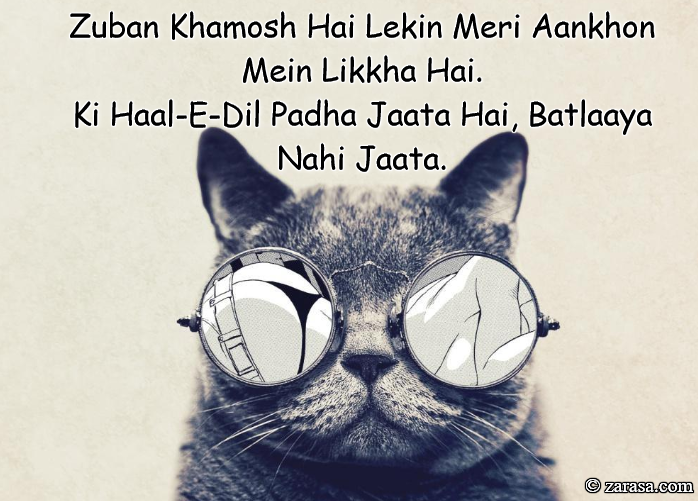 Zuban Khamosh Hai Lekin Meri Aankhon Mein Likkha Hai.
Ki Haal-E-Dil Padha Jaata Hai, Batlaaya Nahi Jaata.
ज़ुबान खामोश है लेकिन मेरी आँखों में लिखा है .
की हाल -इ -दिल पढ़ा जाता है , बतलाया नहीं जाता .
زبان خاموش ہے لیکن میری آنکھوں میں لکّھا ہے .
کی حال -ا -دل پڑھا جاتا ہے , بتلایا نہیں جاتا .
---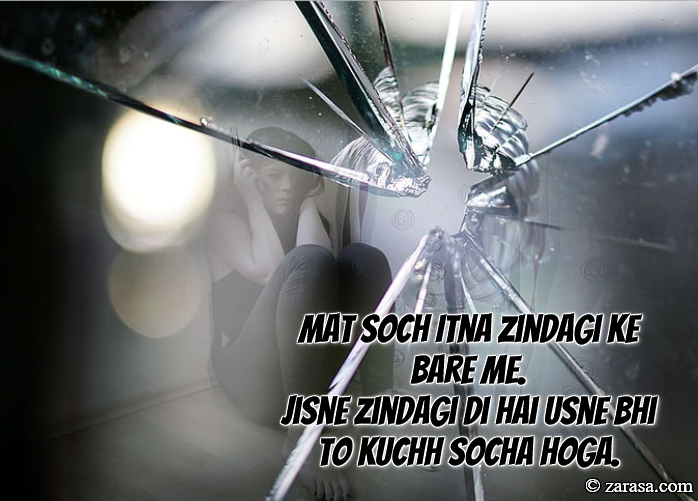 Mat Soch Itna Zindagi Ke Bare Me.
Jisne Zindagi Di Hai Usne Bhi To Kuchh Socha Hoga.
मत सोच इतना ज़िन्दगी के बारे में .
जिसने ज़िन्दगी दी है उसने भी तो कुछ सोचा होगा .
مت سوچ اتنا زندگی کے بارے مے .
جسنے زندگی دی ہے اسنے بھی تو کچھ سوچا ہوگا .
---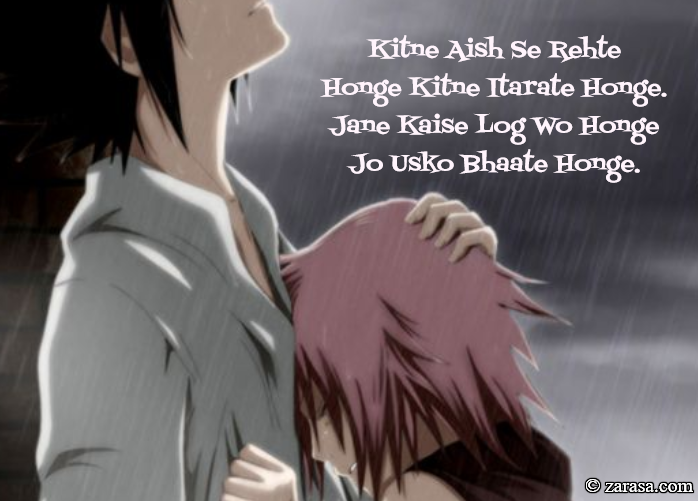 Kitne Aish Se Rehte Honge Kitne Itarate Honge.
Jane Kaise Log Wo Honge Jo Usko Bhaate Honge.
कितने ऐश से रहते होंगे कितने इतराते होंगे .
जाने कैसे लोग वो होंगे जो उसको भाते होंगे .
کتنے ایش سے رہتے ہونگے کتنے اترتے ہونگے .
جانے کیسے لوگ وو ہونگے جو اسکو بھاتے ہونگے .
---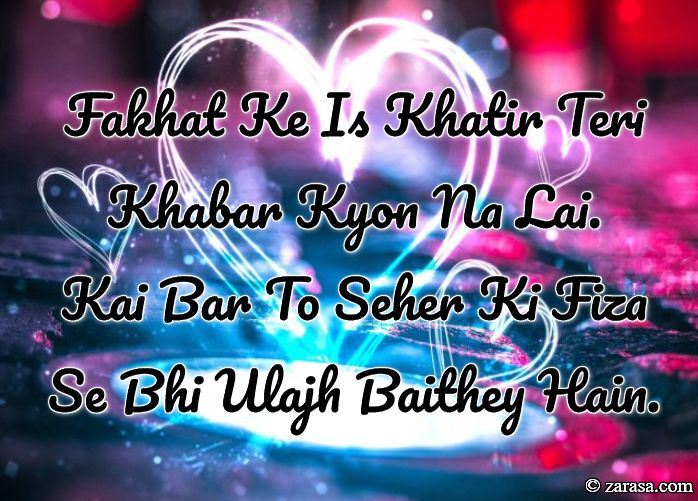 Fakhat Ke Is Khatir Teri Khabar Kyon Na Lai.
Kai Bar To Seher Ki Fiza Se Bhi Ulajh Baithey Hain.
फखत के इस खातिर तेरी खबर क्यों ना ले .
कई बार तो सेहर की फ़िज़ा से भी उलझ बैठे हैं .
فاخت کے اس خاطر تیری خبر کیوں نہ لی .
کی بار تو سہر کی فضا سے بھی الجھ بیٹھے ہیں .
---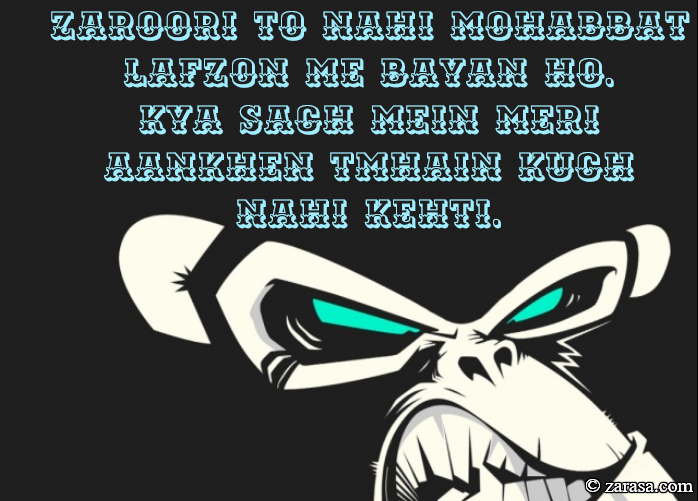 Zaroori To Nahi Mohabbat Lafzon Me Bayan Ho.
Kya Sach Mein Meri Aankhen Tmhain Kuch Nahi Kehti.
ज़रूरी तो नहीं मोहब्बत लफ़्ज़ों में बयां हो .
क्या सच में मेरी आँखें तम्हें कुछ नहीं कहती .

ضروری تو نہیں موحبّت لفظوں مے بیان ہو .
کیا سچ میں میری آنکھیں تمہیں کچھ نہیں کہتی .

---